Rush Bowls, a popular coast-to-coast Colorado-based fast-casual restaurant, offers flavorful ways of surviving the metro area's summer heat with nutritious blended fruit bowls topped with healthy ingredients like organic granola, honey and fresh fruit.
Rush Bowls, which originated in 2004 and started franchising a dozen years later, locally opened in St. Louis' Central West End neighborhood in 2018 and in Kirkwood in 2019. Local franchisees Kim and Ken Moroney brought it to the metro area.
"We loved the idea of quick-service, healthy, all-natural food to go," Kim Moroney says. "We really felt this was a kind of niche that was missing in St. Louis and something we were always looking for personally, so we were very excited when we learned about Rush Bowls."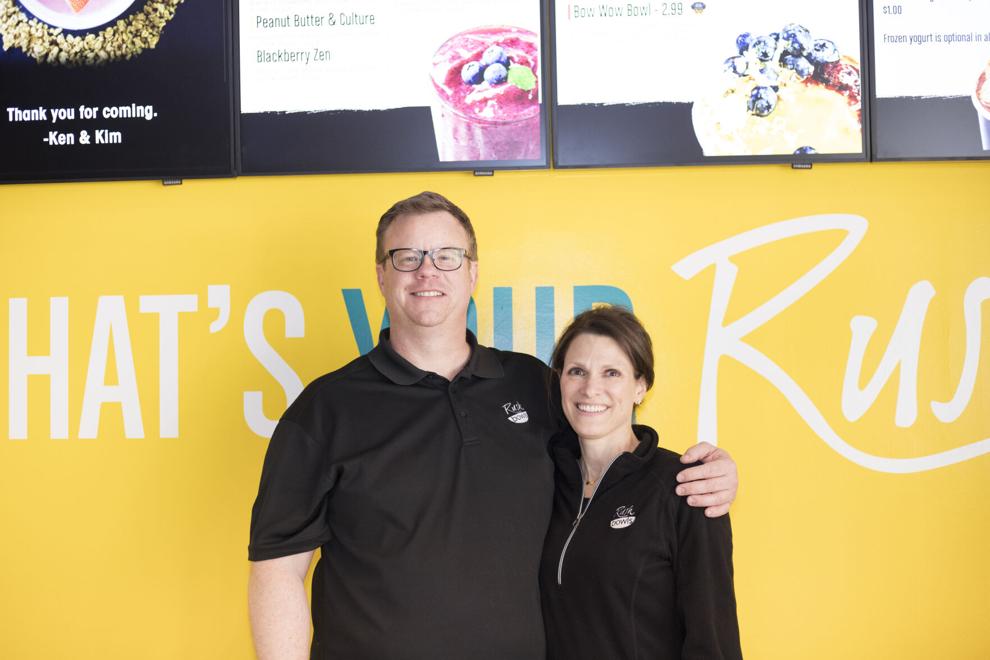 Designed primarily for those on the go, the Moroneys' venture features eclectic modern interior design like a custom wood wall and digital menus displaying a selection of all-natural smoothies and nearly 20 signature bowl options.
"They're complete meals in a bowl with three to five servings of fruits and vegetables and up to 40 grams of protein," Moroney continues. "It's all blended together into this thick, creamy base that's the consistency of a frozen concrete. They're topped with granola, drizzled with honey and a plethora of toppings like fruit, almonds and coconut."
Menu highlights include the signature Beach Bowl, an açaí bowl with mango, banana and guava juice, topped with organic granola and honey. Another popular pick, the peanut butter and jelly bowl, sports banana, strawberry, peanut butter and fat-free frozen yogurt, vanilla soy or fat-free milk, all topped with granola, honey, house-made jelly and a scoop of freshly ground peanut butter.
Smoothie options include fruity concoctions like the Peach Pump with peach, strawberry, banana, vanilla whey, peach juice and frozen yogurt. Each item on the menu can be customized to cater to specific dietary needs, with plentiful vegan, gluten-free, soy-free and dairy-free options.
Additions for extra protein, energy and antioxidants include a kale-and-spinach combination, chocolate or vanilla whey, and matcha. Rush Bowls uses no artificial sweeteners, artificial additives, artificial preservatives or MSG.
"We love the whole concept of the blended fruit bowl," Moroney concludes. "You can get so much nutrition in one bowl that's so filling. They're simply delicious and so healthy."
Rush Bowls, 227 N. Euclid Ave., St. Louis, 314-367-2900, rushbowls.com/st-louis; 343 S. Kirkwood Road, Ste. 103, Kirkwood, 314-394-2021, rushbowls.com/kirkwood