Rock Star Taco Shack, which debuted in June 2019 in St. Charles' New Town neighborhood, serves its namesake dish seasoned with Rock Star Dust – a unique spice blend that contains 13 ingredients (among them five different chile powders) and that attracts area residents and, yes, rock stars alike.
"It's sweet, sour, salty and umami," says chef/co-owner Wil Pelly, who works with St. Louis' McCarthy Spice & Blends to produce the seasoning in bulk. "I've been working on the recipe for about 10 years. We send batches to [guitarist] Billy Gibbons from [classic Houston rockers] ZZ Top because he loves it so much."
Pelly owns Rock Star Taco Shack with Matt Arana, a longtime friend and, for 20 years now, bandmate in the musical group Kingpin. Since opening the restaurant, they've catered for touring musicians including Gibbons, Alice Cooper and Cheap Trick.
Although Arana comes from a mortgage background, Pelly brings many years of cooking expertise to the table, crediting friends and local mentors Qui Tran of Nudo House and Mike Emerson of Pappy's Smokehouse. He previously served as a chef for Nudo House as well as such area hot spots as Sanctuaria Wild Tapas, Diablitos Cantina, The Libertine (now defunct) and Hendricks BBQ. While working for Diablitos, in fact, Pelly traveled to Mexico on a few occasions to develop his repertoire.
"We wanted to make some fun food for New Town – it's our take on tacos," Pelly says. "During our first pop-up across the street for Cinco de Mayo, we sold 2,000 tacos in two hours."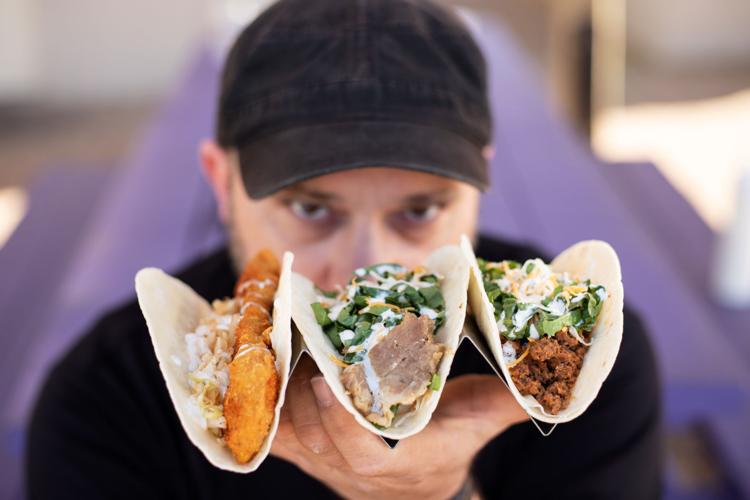 The eatery fills a small stand-alone building previously occupied by a toy store. To order, guests either visit an outdoor counter or phone ahead for contact-free pickup.
Starters include chips with queso or salsa, as well as street corn. Tacos, topped with lettuce, cheese and sauce, rotate based on availability. Although a ground beef taco sells best, Pelly personally favors a slow-simmered citrus-and-garlic pork – an homage to his mother's Cuban heritage.
Finally, Rock Star Taco Shack groupies should groove to a recent plan to expand the operation to a secondary location in the St. Peters entertainment venue Diamond Music Hall. 
Rock Star Taco Shack, 3242-1 Rue Royale, St. Charles, 636-395-7454, facebook.com/rockstartacoshack
Be the first to know
Get local news delivered to your inbox!