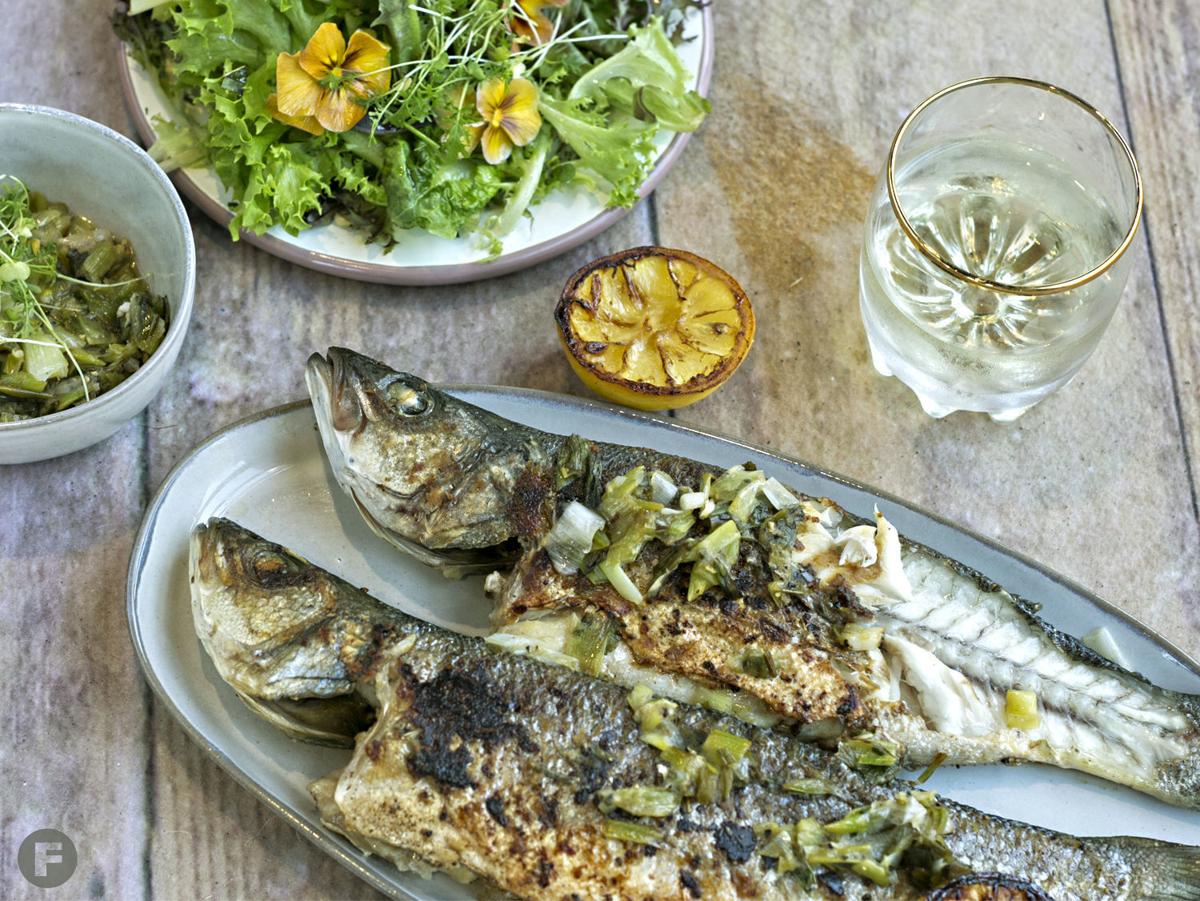 Branzino – the flaky, white Mediterranean fish also known as sea bass – pairs beautifully with flatbread, rice or a simple salad. Whole branzino with charred onions currently obsesses me for its heartiness combined with lightness, making it perfect for any summertime meal. Although branzino isn't always readily available in the Midwest, I've found Fulton Fish Market to be a reliable source for seafood, which you can order online for overnight delivery. Home cooks also can easily swap out the branzino for trout, red snapper or another similar whole fish in this recipe.
Serves | 2 to 4 |
Charred Onions
2 Tbsp olive oil, divided
2 bunches scallions, whites trimmed off
¾ tsp salt, divided
4 cloves garlic, grated
juice and zest of 1 lemon
Whole Branzino
2 Tbsp canola oil
5 cloves garlic, grated
¼ tsp salt, plus more for seasoning
zest of 1 lemon
2 whole branzino (approximately 1 lb each)
freshly ground black pepper, to taste
Preparation – Charred Onions | Set a large cast-iron pan over medium-high heat. Add 1 tablespoon of oil and scallions; season with ¼ teaspoon of salt. Char scallions for 2 to 3 minutes on each side side. Remove from heat and let cool.
In a small bowl, combine all remaining ingredients. Once scallions have cooled, roughly chop them and add to bowl; toss to combine. Reserve as topping for fish.
Preparation – Whole Branzino | Heat oil in a cast-iron pan over medium-high heat. In a small bowl, mix garlic, salt and lemon zest together until a paste forms. Rub inside cavity of fish with paste; season outside with salt and pepper to taste. Add fish to pan; sear each side for 8 to 10 minutes, or until fish is cooked through (165 degrees). Remove fish from pan and plate. Dress with charred onions and serve immediately.
Amanda Elliott is the executive chef at Peachtree Catering (peachtreebanquet.com) in Columbia and the chef-owner there of Beet Box (eatabeetbox.com). Elliott also authors the website Rustic Supper (rusticsupper.com), where she shares recipes centering on the idea of the communal table and embracing the heritage of food through travel. She otherwise hosts a series of pop-up dinners in Columbia called Sunday Suppers.
Be the first to know
Get local news delivered to your inbox!