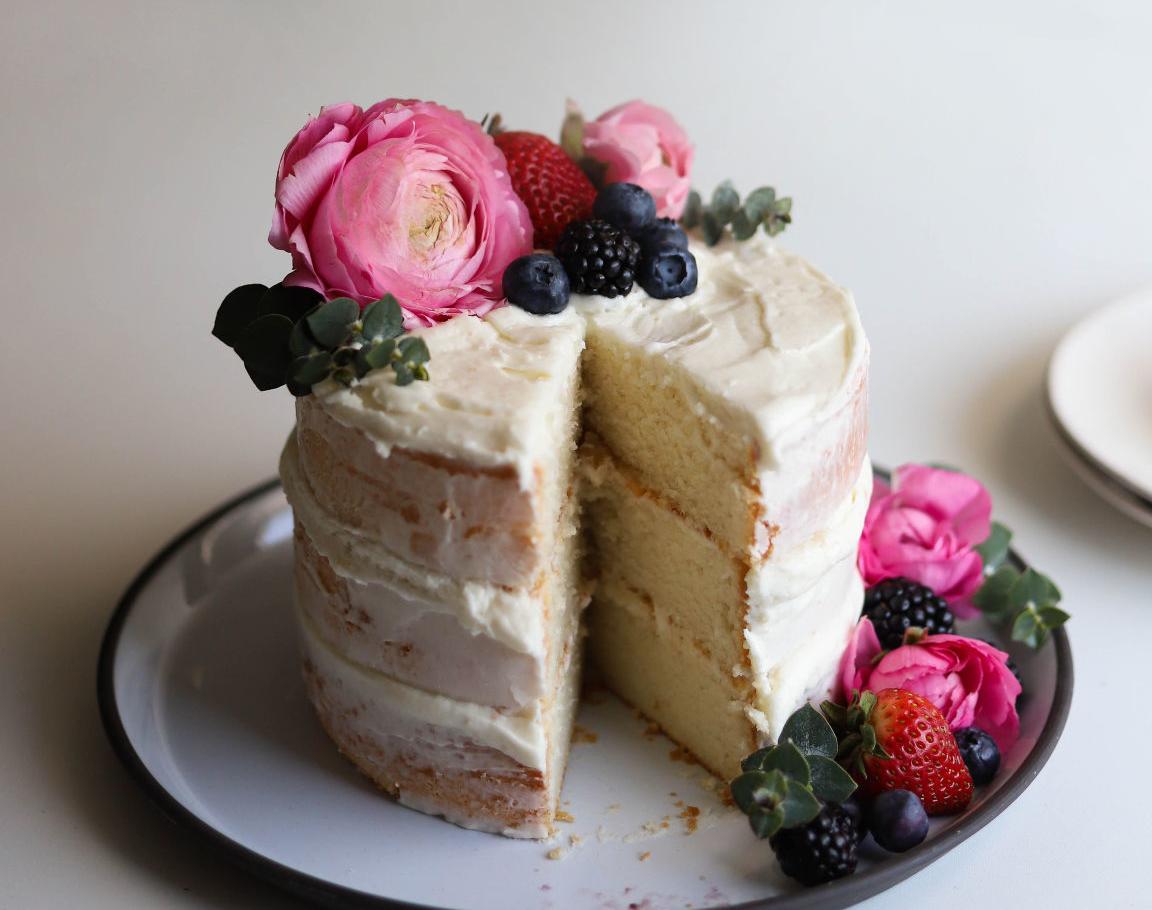 Ingredients
White Wine Cake
nonstick cooking spray
3¼ cups cake flour, sifted
1 Tbsp + ½ tsp baking powder
¾ tsp fine sea salt
2 sticks unsalted butter, softened
1½ cups granulated sugar
1½ cups sweet white wine
berries and floral decorations of your choosing
Goat Cheese Frosting
5 oz soft goat cheese
1 stick unsalted butter
3-4 cups powdered sugar
1 Tbsp whole milk
½ tsp vanilla
Instructions
Goat Cheese Frosting
1. In the work bowl of a stand mixer fitted with paddle attachment, beat goat cheese and butter together until smooth.
2. With the mixer turned on low, gradually add 3 cups of powdered sugar. If frosting seems too loose, add extra cup of powdered sugar.
3. Add the milk and vanilla, and beat until they are incorporated and frosting is fluffy.
White Wine Cake
1. Preheat oven to 350 degrees. Spray three 6-inch pans with nonstick cooking spray, and dust with flour. Set aside.
2. Whisk together flour, baking powder and salt in medium bowl. Set aside.
3. In work bowl of a stand mixer fitted with paddle attachment, beat butter on medium speed until smooth. Add sugar and beat for 5 more minutes until light and fluffy. Stop occasionally to scrape sides of bowl.
4. Turn mixture on low, and gradually add flour mixture in three batches, alternating with wine. Then, turn up speed for 30 seconds to make sure everything is incorporated well.
5. Evenly divide batter among prepared pans. Bake for 35 minutes or until a toothpick inserted in center comes out clean. Let cakes cool on wire racks for about 15 minutes until removing from pans.
6. For cake assembly, level off tops of cakes with serrated knife. Place one cake layer on each plate. Top cake layer with ⅓ cup of frosting, and spread to edges of cake. Repeat with next two layers. Cover sides with light layer of frosting, and scrape edges with bench scraper or offset spatula. Remove or add as much frosting as you like. Top with berries and floral decoration. Place in the fridge until ready to serve.
Be the first to know
Get local news delivered to your inbox!