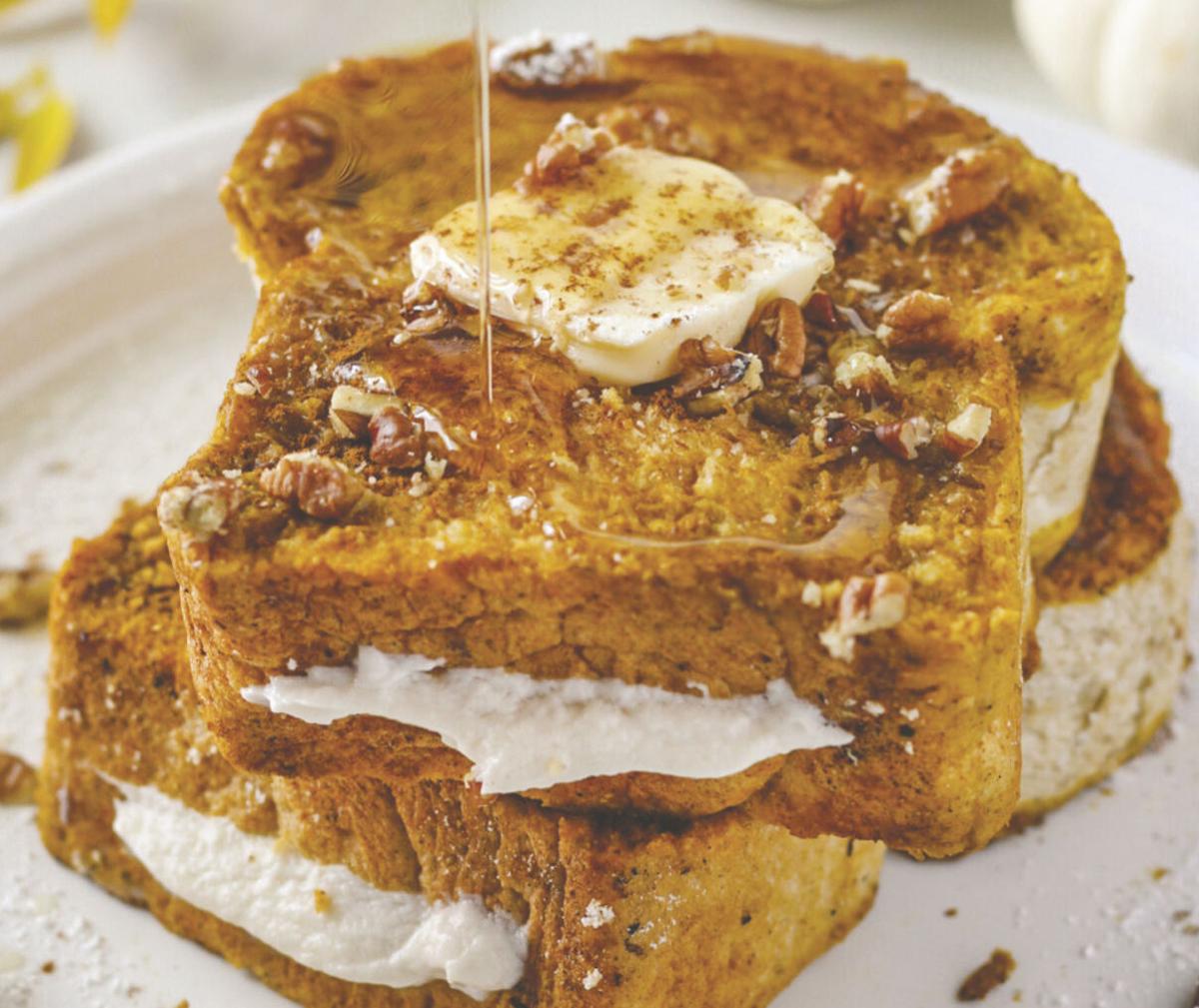 Online influencer and blogger Marissa Wong regularly shares delicious plant-based diet tips and recipes through her Instagram and blog, It's All Good Vegan. 
"For fall recipes, I love anything pumpkin!" she tells Ladue News. "One of my favorite recipes is my pumpkin cream cheese stuffed French toast. It is thick, fluffy, bursting with pumpkin flavor – stuffed with a creamy cream cheese, drizzled with maple syrup and topped with crunchy pecans."
Stick around for the full recipe, and click here to read more about Wong and her business. 
Vegan Pumpkin Cream Cheese Stuffed French Toast
Servings: 3 | Time: 30 minutes | Difficulty: Easy
Pumpkin French Toast
½ loaf of bread (substitute with gluten-free bread)
¼ cup pumpkin purée (I used it from a can)
1 tsp pumpkin pie spice
1 tsp cinnamon
1 Tbsp vanilla
1 Tbsp ground flaxseed
1 cup dairy-free milk (I used oat milk)
1 Tbsp oil (I used canola spray)
Cream Cheese Filling
1 Tbsp vanilla
8 ounces or one container of vegan cream cheese, room temperature
Toppings
1 Tbsp powdered sugar (optional)
¼ cup pecans
4 slices of diary-free butter (optional)
¼ cup maple syrup
Directions
Cut bread into 3-inch slices. Using a small knife, cut a slit in the middle of bread, making a pocket.
In a bowl, mix vanilla and cream cheese. Fill a piping bag with the cream cheese mixture. Stuff the cream cheese in the bread pocket you made. Avoid having cream cheese overflow pocket.
In a shallow bowl, combine the pumpkin purée, pumpkin pie spice, cinnamon, vanilla, ground flaxseed and dairy-free milk, then whisk.
Spray a medium-large pan with oil, and heat on medium.
Completely dunk the stuffed French toast on both sides in pumpkin mixture. Fry slices on both sides until golden brown.
Sprinkle the toast with powdered sugar, pecans, butter and drizzled maple syrup.
Leftovers will last one day in the refrigerator.
Be the first to know
Get local news delivered to your inbox!