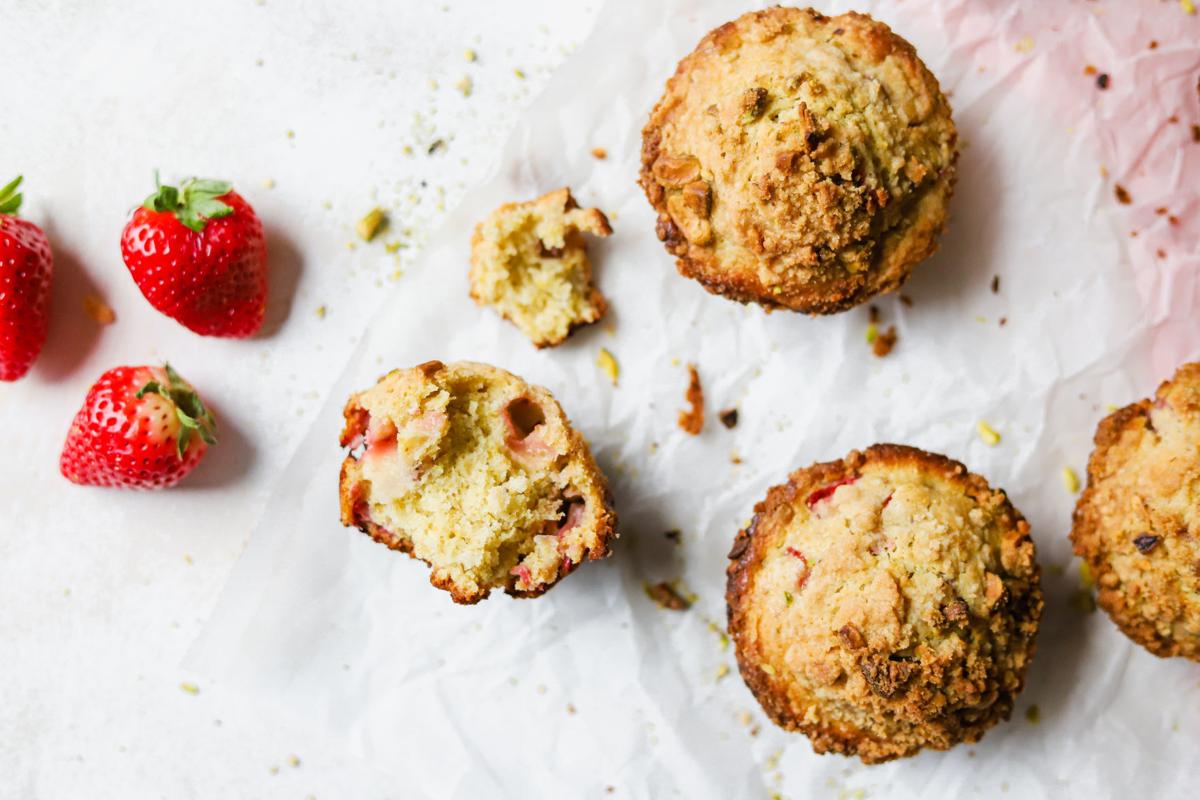 Ingredients
Muffins
½ cup unsalted butter, melted
¾ cup granulated sugar
zest from 2 lemons
2 Tbsp lemon juice
1 tsp vanilla extract
2 eggs
¾ cup whole milk
2 cups all-purpose flour
2 tsp baking powder
pinch of salt
½ cup ground pistachios, sifted
1 cup strawberries, chopped
2 Tbsp all-purpose flour
Pistachio crumble
3 Tbsp unsalted butter, chilled
¼ cup brown sugar
½ tsp vanilla extract
½ cup all-purpose flour
¼ cup pistachios, roughly chopped
Instructions
1. Preheat oven to 375 degrees. Coat a muffin pan with nonstick cooking spray and set aside.
2. In a medium bowl, whisk together melted butter, granulated sugar, lemon zest, lemon juice, vanilla extract, eggs and milk.
3. In a separate large bowl, whisk together 2 cups of flour, baking powder, salt and sifted pistachios. Pour wet ingredients into dry ingredients, and fold everything together.
4. In a small bowl, toss together strawberries and 2 tablespoons of flour. Gently fold strawberries into muffin batter.
5. In a separate small bowl, combine all ingredients for the crumble (except for pistachios) with your hands, and pinch butter together so it has a coarse texture, like sand. Toss pistachios into mix.
6. Spoon batter evenly into each cup of muffin pan. (I use a ¼ measuring cup to ensure uniformity.) Top muffins with crumble, and then bake for 25 to 30 minutes. When a toothpick inserted in middle comes out clean, they're done. Let cool in muffin pan on a wire rack for 10 minutes. Then remove from pan, and let cool completely on wire rack.
Be the first to know
Get local news delivered to your inbox!