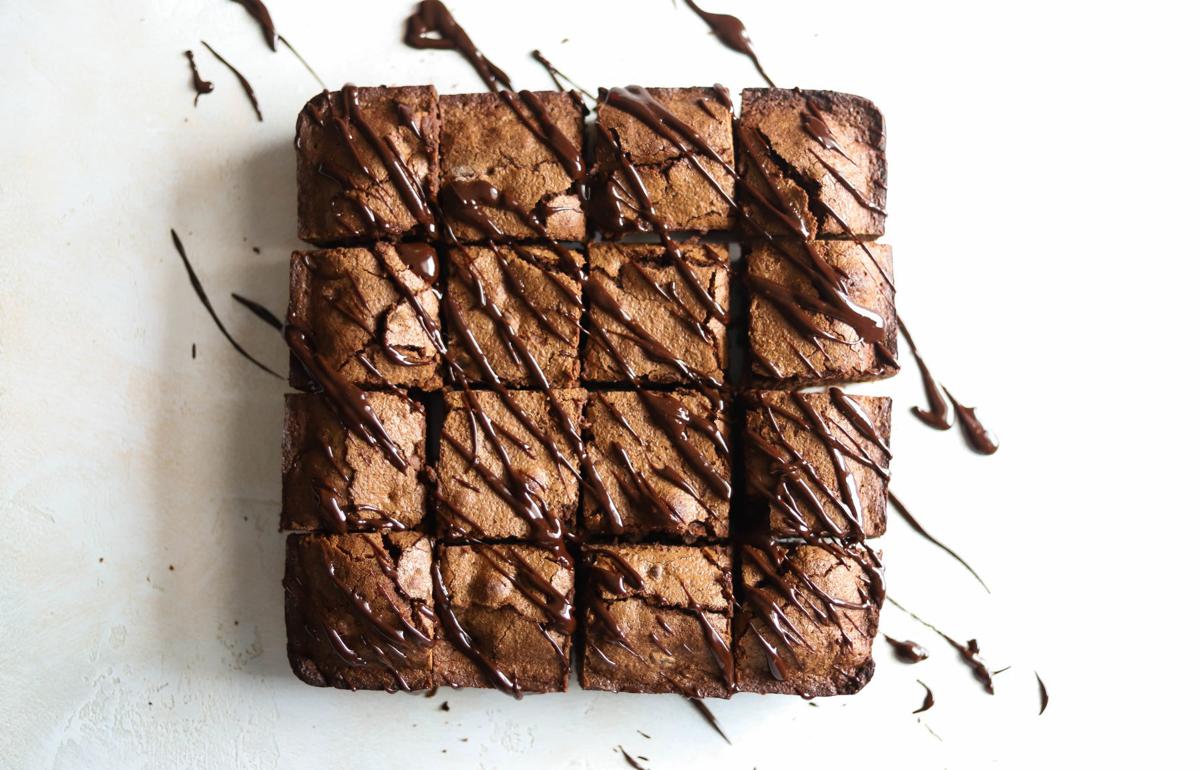 Ingredients
Brownies
6 Tbsp unsalted butter
2 Tbsp canola oil
1 cup dark or semisweet chocolate chips
¾ cup light brown sugar
1 cup granulated sugar
4 large eggs
2½ tsp vanilla extract
¾ cup all-purpose flour
½ cup cocoa powder
1¼ tsp fine sea salt
sourdough discard (a scant 8 oz. of starter)
Ganache
1 cup dark or semisweet chocolate chips
½ cup heavy cream
1 tsp instant coffee powder
Instructions
1. Preheat oven to 350 degrees. Spray a 9-inch-square pan with nonstick spray, and line pan with parchment paper, leaving some overhang on opposite sides. Give paper a spritz of nonstick spray. Set aside.
2. In a medium saucepan, combine butter, oil and 1 cup of chocolate chips over medium-low heat. Stir together until everything is melted and well-combined. Remove from heat and whisk in both sugars. Cool for a few minutes.
3. Add eggs to chocolate mixture, whisking well between each addition. Whisk in vanilla extract.
4. In a medium bowl, whisk together flour, cocoa powder and salt. Pour flour mixture into chocolate mixture, and fold until ingredients are well-combined. Pour in sourdough discard, and fold until completely combined.
5. Pour brownie batter into prepared pan. Bake for 35 to 40 minutes. Because these brownies are so dense, you won't necessarily get a clean toothpick when inserted in center to test; just be sure they're more like crumbs instead of wet batter. Let cool in pan on a wire rack for about 10 minutes. Pull them out of pan with parchment paper overhang, and let cool completely before cutting into squares and drizzling with ganache (if desired).
6. For ganache, place 1 cup of chocolate chips in a medium heatproof bowl, and set aside.
7. In a small saucepan over medium heat, combine heavy cream and coffee powder. Once mixture begins bubbling, pour over chocolate chips. Let sit for 5 minutes. Whisk together until smooth. Drizzle on top of brownies.
Be the first to know
Get local news delivered to your inbox!