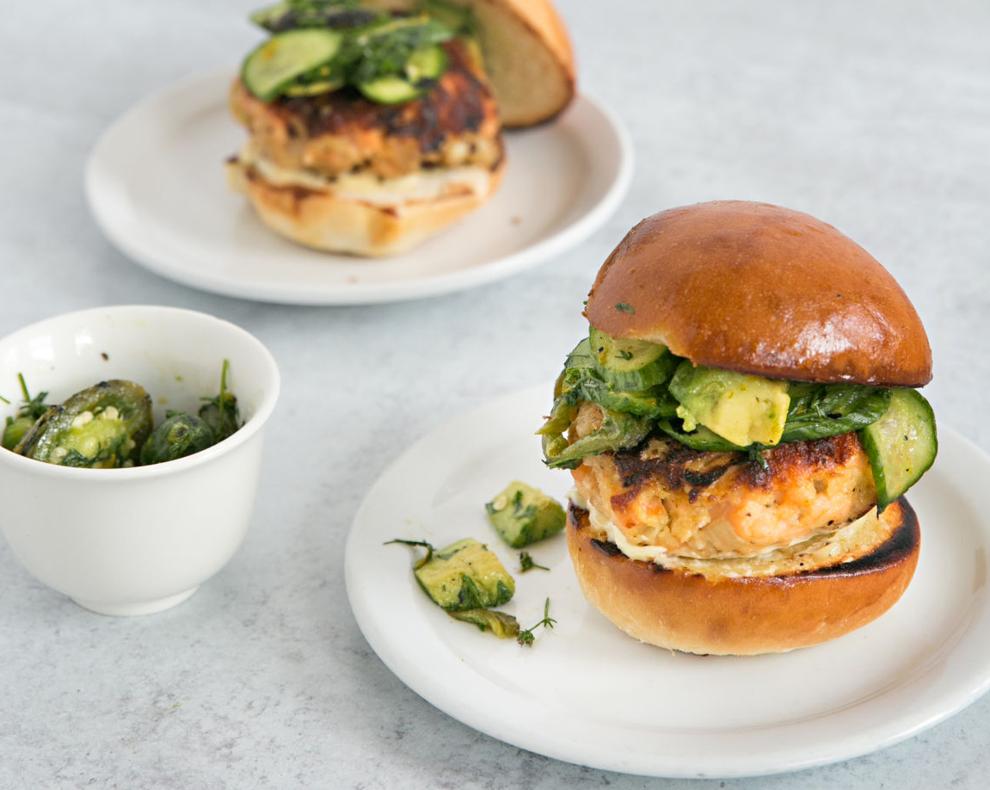 Nothing heightens the bliss of grilling season more than a burger – and here's one with a twist. Delicate yet flavorful, this salmon burger may become the star of your summer cookouts. I myself top it with a drizzle of hot honey and a cucumber-jalapeño salad for extra zing.
Serves | 5 |
Cucumber-Jalapeño Salad
2 cups Persian cucumbers, cut on the bias
3 jalapeños,charred and cut on the bias
1 avocado, cubed
1 cup cilantro
1 Tbsp sugar
1 Tbsp salt
½ Tbsp freshly ground black pepper
2 Tbsp olive oil
1 orange, zested and juiced
1 lime, zested and juiced
Salmon Burgers
2 Tbsp olive oil
1 onion, small dice
5 garlic cloves, sliced
salt and freshly ground black pepper, to taste
1 lb salmon, finely chopped
1 cup panko breadcrumbs
1 egg
5 Tbsp mayonnaise
5 buns, sliced
5 Tbsp hot honey
| Preparation – Cucumber- Jalapeño Salad | In a medium bowl, add all ingredients, and toss to combine. Set aside till ready to use.
| Preparation – Salmon Burgers | Preheat grill. Heat a small saucepan over medium heat; add olive oil. Once oil is shimmering, add onion and garlic; season with salt and pepper. Cook until translucent, for approximately 5 minutes, and then transfer to a large heatproof bowl to cool. Add salmon, breadcrumbs and egg to cooled onion mixture; thoroughly hand-mix. Divide mixture into five even patties, set on plates and place in refrigerator for 15 to 20 minutes. Transfer chilled patties to grill, and lightly season with salt and pepper; cook 5 to 7 minutes per side. Remove from grill and set aside. Spread mayonnaise on both halves of buns; place cut-side down on grill to toast for 1 to 2 minutes.
| Assembly | Layer each toasted bun with a salmon patty, a drizzle of hot honey and cucumber-jalapeño salad.
Amanda Elliott is the chef at Peachtree Catering (peachtreebanquet.com) in Columbia and authors the website Rustic Supper (rusticsupper.com), where she shares recipes centering on the idea of the communal table and embracing the heritage of food through travel. She also hosts a series of pop-up dinners in Columbia called Sunday Suppers.