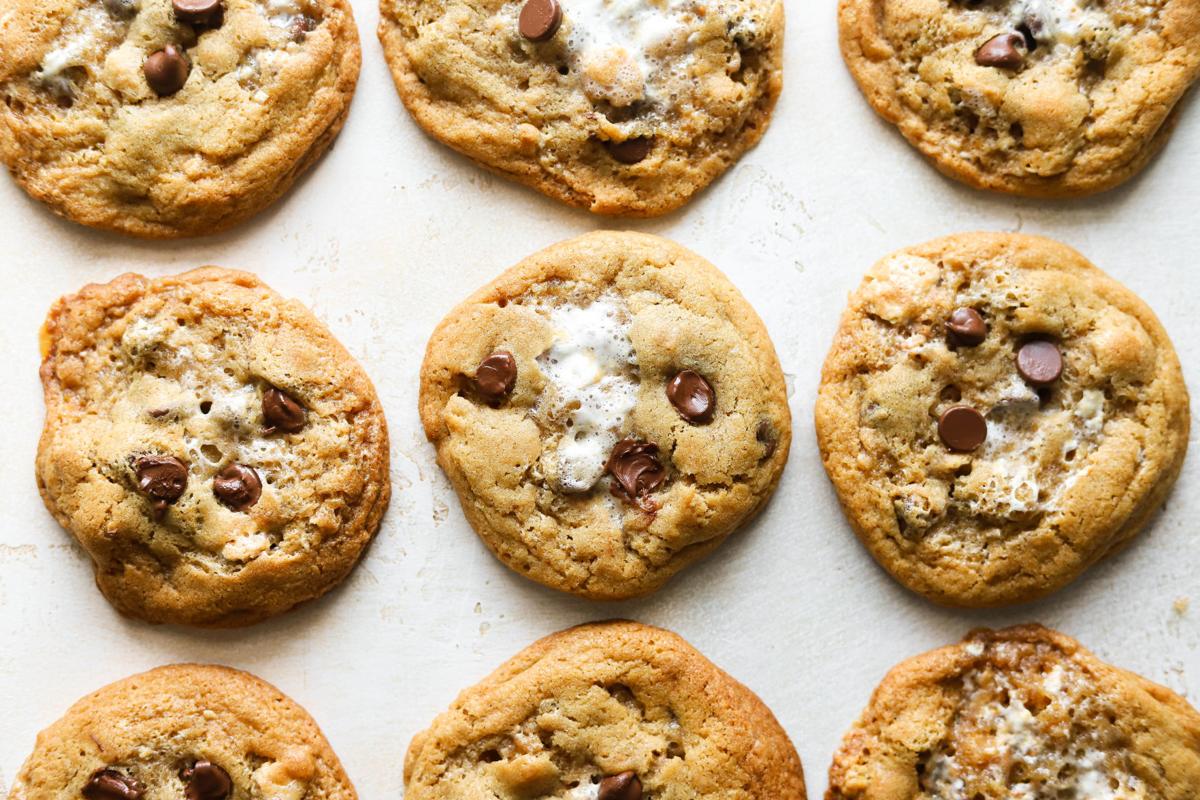 Ingredients
1 cup mini marshmallows
nonstick cooking spray
2 sticks unsalted butter
1 cup light brown sugar
½ cup granulated sugar
2 eggs
1 tsp vanilla extract
2½ cups all-purpose flour
1 tsp fine sea salt
1 tsp cinnamon
1 tsp baking soda
1½ tsp baking powder
1 cup crushed graham crackers
1 cup semisweet chocolate chips, plus extra for garnish
Instructions
1. Turn on your broiler. Line a sheet pan with parchment paper, and lightly spray with nonstick cooking spray. Array marshmallows on prepared pan. Place them under broiler for 1 to 2 minutes, until browned and puffy. Set aside.
2. Turn off broiler and set oven temperature to 375 degrees. Line two baking sheets with parchment paper, and set aside.
3. In work bowl of a stand mixer, combine butter and sugars for about 4 minutes, until light and fluffy. Scrape down sides of bowl as needed, and add eggs, one at a time, incorporating well between each addition. Add vanilla extract and mix well.
4. In a separate medium bowl, whisk together flour, salt, cinnamon, baking soda and baking powder. Turn mixer on low and slowly add dry ingredients. Mix for about 1 minute, until flour is well-incorporated.
5. Add graham crackers, chocolate chips and toasted marshmallow, and fold by hand. (The marshmallows are very sticky after toasting, and I found the best way to remove them from the pan was by using a silicone spatula.)
6. Roll dough into about 2-tablespoon-size balls; use extra chocolate chips, and press two to three chips into tops of cookies. Place them on prepared pans about 1½ inches apart, since they spread. Bake 9 to 10 minutes. Let cool on pan for about 5 minutes before moving to a wire rack to cool completely. These cookies will still be soft and chewy as they cool.
Be the first to know
Get local news delivered to your inbox!