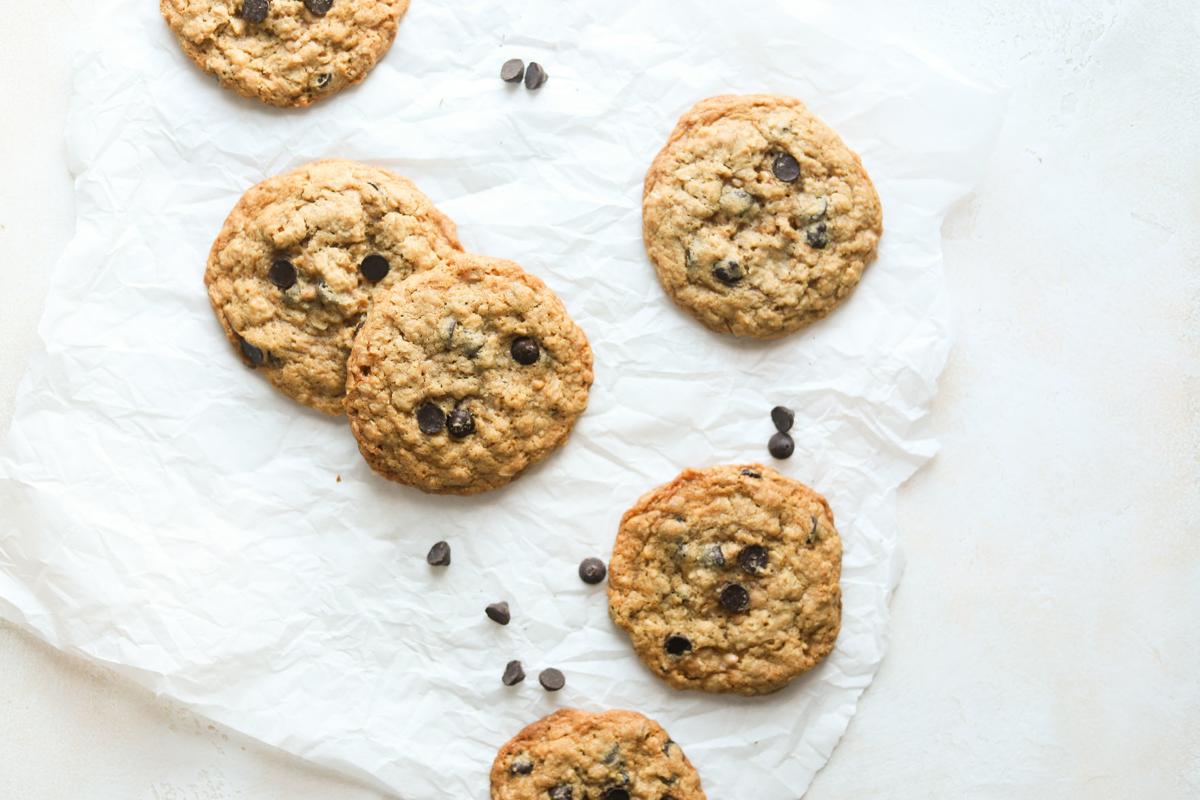 Ingredients
2 sticks unsalted butter at room temperature
1 cup light brown sugar
⅓ cup granulated sugar
2 large eggs
1 tsp vanilla extract
1¾ cups all-purpose flour
1 tsp baking soda
½ tsp baking powder
1 tsp sea salt
1 tsp cinnamon
2 cups old-fashioned rolled oats
Instructions
1. Preheat oven to 350 degrees. Adjust oven racks so they are in top and bottom thirds. Line two baking sheets with parchment paper.
2. In work bowl of a stand mixer fitted with paddle attachment, beat butter for about 1 minute, until fluffy, then add in both sugars, turn speed to medium and beat for 5 minutes.
3. With mixer still running on medium, add eggs, one a time, mixing well between each addition. Add vanilla and mix until combined. Stop to scrape down sides of bowl.
4. In a separate medium bowl, whisk together flour, baking soda, baking powder, salt and cinnamon. Add flour mixture to butter mixture all at once, and then mix on low for about 2 minutes. Scrape down sides of bowl, then add oats. Mix for 1 minute longer before adding any other desired mix-ins. Fold those in by hand until well-distributed.
5. Using a quarter-cup measuring cup, scoop portions of dough out, roll into balls and place on prepared baking sheets about 2 inches apart.
6. Bake cookies 14 to 16 minutes total, rotating pan from front to back and from top to bottom oven racks at halfway mark. Transfer cookies to wire racks to cool completely.
Be the first to know
Get local news delivered to your inbox!