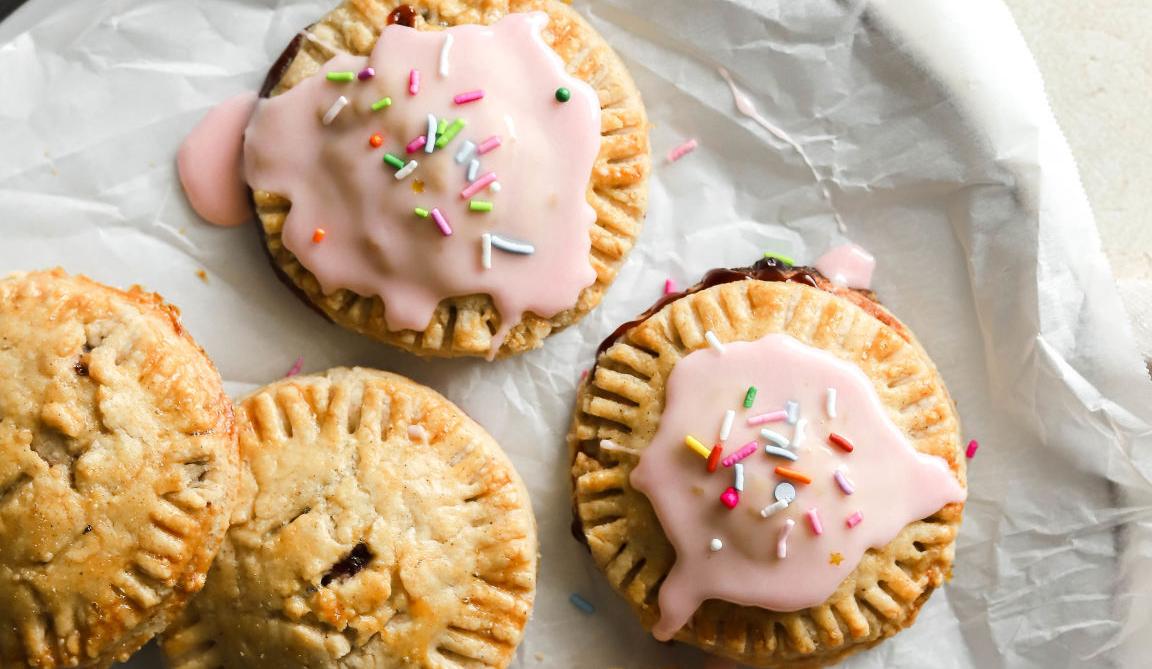 Ingredients
2½ cups all-purpose flour
1 tsp salt
1 tsp cinnamon
¼ tsp nutmeg
10 Tbsp unsalted butter, cubed and chilled
6 Tbsp vegetable shortening, cubed and chilled
3-5 Tbsp ice-cold water
your favorite jam or jelly
1 egg, lightly beaten
1 cup powdered sugar
3-4 Tbsp whole milk
food coloring, optional
sprinkles, optional
Instructions
1. In a large bowl, whisk together flour, salt, cinnamon and nutmeg. Add butter and vegetable shortening. Cut in butter and shortening using a pastry blender or use your hands, until texture is a crumbly sand. Add 2 tablespoons of water, and stir until it comes together to form a dough. If dough does not come together, add an extra 1 tablespoon of water at a time until dough forms. Form dough into a round disc and wrap with plastic wrap. Place in fridge and let chill for 1 to 2 hours.
2. Preheat oven to 425 degrees. Line a baking sheet with parchment paper.
3. Take dough from fridge, and divide in half. Take half of dough, and roll out onto a floured surface until about ¼-inch thick. Cut desired shapes of your pies out of rolled-out dough.
4. Take one dough shape, and top with 1 to 2 teaspoons of jam or jelly, keeping it in center and leaving about ½-inch border. Top with another dough shape, then take a fork and use prongs to seal edges. Using fork or a sharp knife, make a couple of holes in top of hand pie to let air escape. Brush top of hand pie with lightly beaten egg. Repeat to assemble remaining hand pies.
5. Bake hand pies for 20 to 22 minutes or until they are lightly browned on top. Let cool completely before icing.
6. In a small bowl, whisk together powdered sugar, milk and optional food coloring for frosting. If consistency is too thick, add another teaspoon of milk until it comes together to desired consistency.
7. Take a spoonful of frosting, and cover top of baked hand pie. Add optional sprinkles on top while frosting remains wet so they stick.
Be the first to know
Get local news delivered to your inbox!