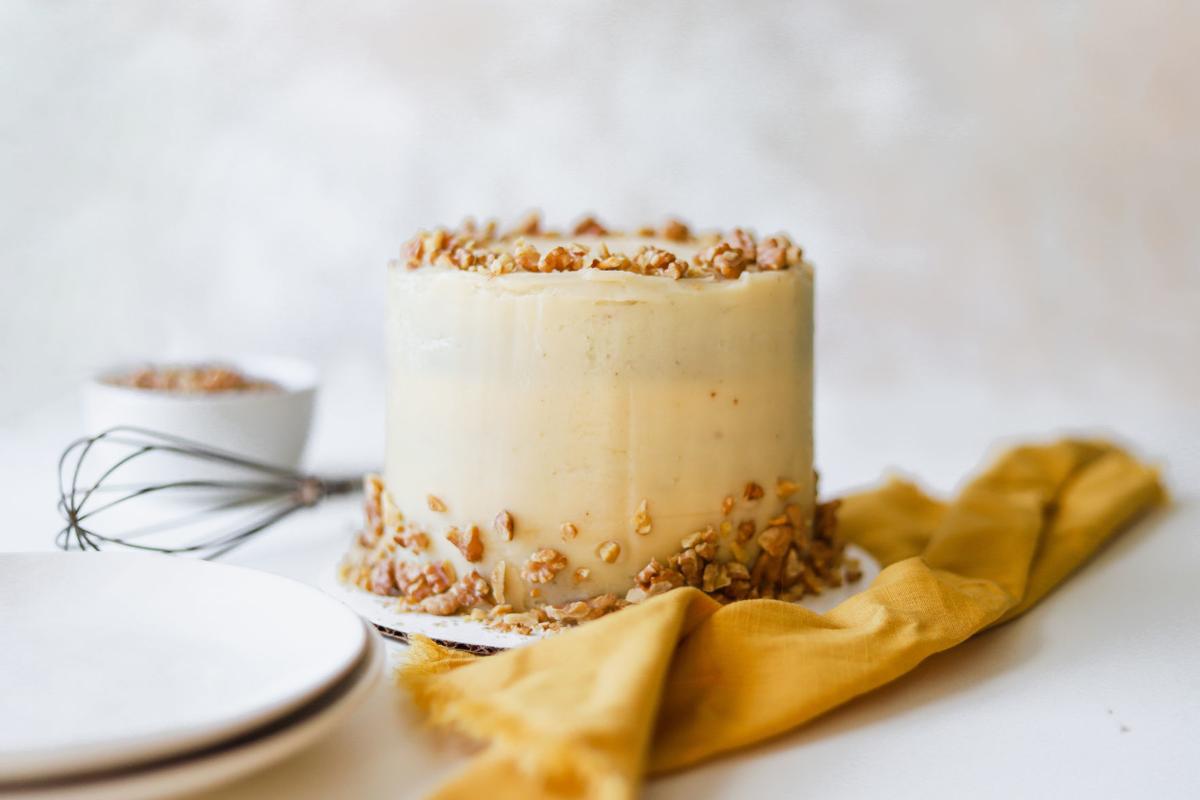 Ingredients
Honey Walnut Spice Cake
2¾ cups cake flour, sifted
2 tsp baking powder
1 tsp baking soda
1 Tbsp cinnamon
1 tsp ground ginger
½ tsp nutmeg
¼ tsp cloves
½ tsp fine sea salt
1¼ cups whole milk
1 Tbsp lemon juice
1½ sticks butter at room temperature
¼ cup vegetable oil
¼ cup honey
1 cup sugar
4 large eggs
½ tsp vanilla extract
¼ tsp almond extract
1 to 1½ cups walnuts, toasted and chopped
Honey Swiss Meringue Buttercream
½ cup egg whites
1 cup granulated sugar
3 sticks butter at room temperature
6 Tbsp honey
pinch of salt, optional
Instructions
Honey Walnut Spice Cake
1. Preheat oven to 350 degrees. Grease and flour three 6-inch round cake pans. Set aside.
2. In a large bowl, sift together cake flour, baking powder, baking soda, cinnamon, ginger, nutmeg, cloves and salt. Set aside.
3. In a measuring cup, measure out milk, and add in lemon juice. Stir together lightly, and then set aside.
4. In work bowl of a stand mixer, beat butter with paddle attachment for 2 to 3 minutes on medium speed until creamy. Add in vegetable oil, honey and sugar, and mix for another 3 minutes on medium until well combined. Set mixer on low speed, and add in eggs one at a time, letting them combine a bit between each addition. Then add in extracts. Turn speed up to medium for 30 seconds, and scrape down sides of bowl.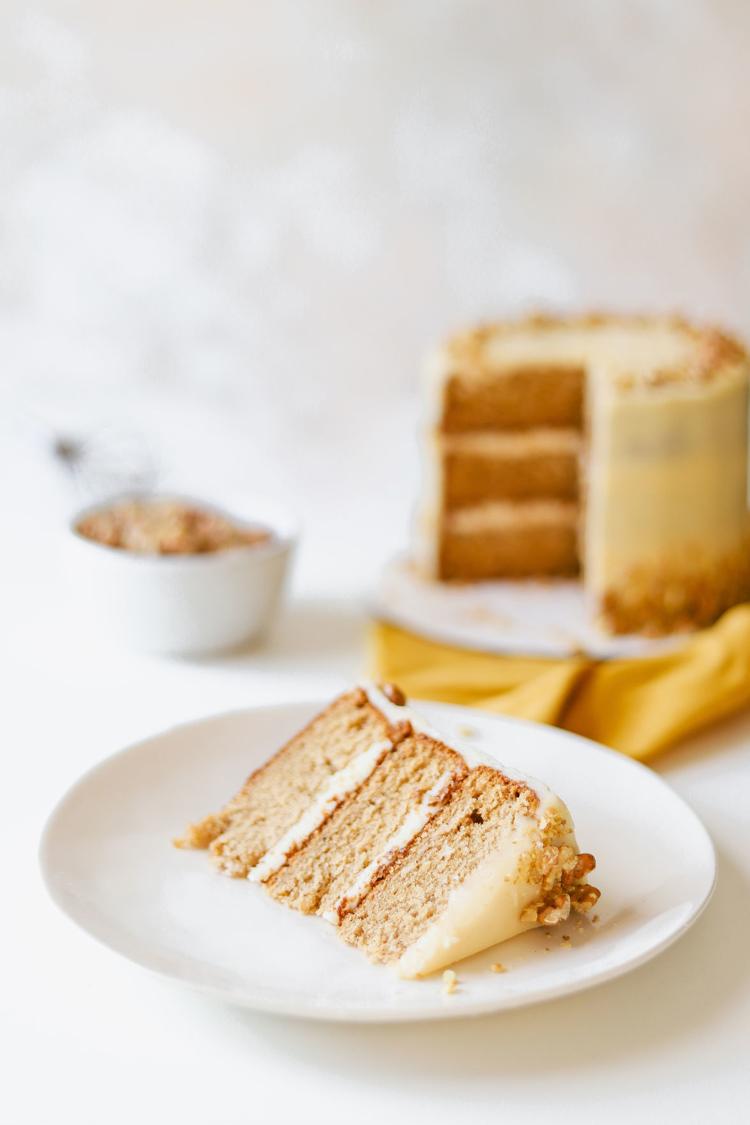 5. Add in flour mixture in three additions, alternating with milk mixture. After last addition of flour, scrape down sides of bowl, and mix on medium for 20 to 30 seconds.
6. Fill prepared baking pans about halfway with batter. Bake for 30 to 35 minutes or until a toothpick inserted in center comes out clean. Let cakes cool in pan for about 15 minutes or until they're cool enough to handle. Turn cakes out onto a wire rack, and let them cool completely for 1 to 2 hours.
7. Once cake is completely cooled, it's ready to frost and decorate to your liking using the walnuts.
Honey Swiss Meringue Buttercream
1. In a small heatproof bowl, whisk together egg whites and sugar.
2. Fill bottom of a small saucepan with water, and place on low heat at a simmer. Place heatproof bowl over saucepan, and whisk sugar and egg whites together until they are opaque and sugar has melted.
3. Pour into work bowl of a stand mixer fitted with whisk attachment. Beat for 8 to 10 minutes on medium-high speed until you get medium-stiff peaks.
4. Swap out whisk attachment for paddle attachment. Set mixer on low speed, and add in butter a tablespoon at a time. Once you add in all butter, set mixer on high speed, and beat for 5 minutes. Scrape down sides of bowl. Continue beating for another 5 to 10 minutes, until it comes together in a smooth frosting.
5. Once your mixture is smooth, add in honey and optional pinch of salt, and beat for another 3 to 5 minutes until combined and silky. 
Be the first to know
Get local news delivered to your inbox!