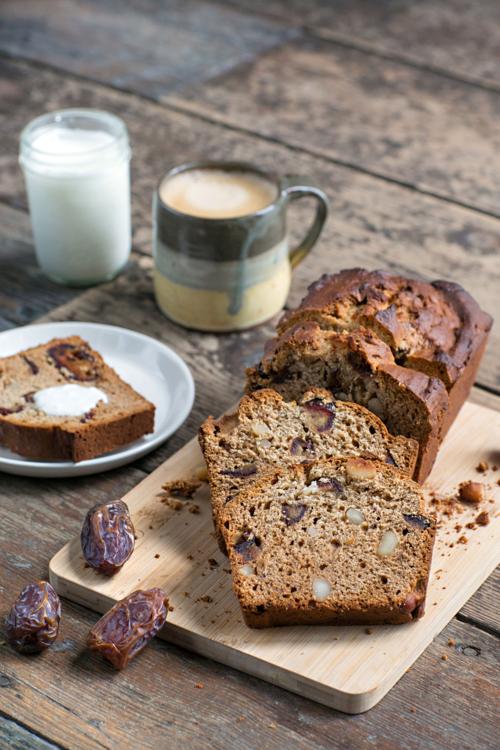 Perfect for breakfast, dessert or an afternoon snack, this quick bread abounds with nutritious nuts and naturally sweet dates. Honey and cinnamon round out the flavor profile, and serving it with whipped yogurt makes every bite doubly moist. I wouldn't be surprised if this recipe becomes a regular part of your baking lineup. 
Serves | 6 to 8 |
1⅔ cup flour
1 tsp baking soda
½ tsp ground cinnamon
½ tsp salt
1 cup honey
2 eggs, room temperature
½ cup (1 stick) butter, softened
2 Tbsp sour cream
1 tsp almond extract
1 tsp vanilla extract
5 oz dates, pitted and chopped
1 cup macadamia nuts, toasted and chopped
whipped yogurt, to serve (optional)
| Preparation | Preheat oven to 350 degrees. Coat a 9- by 5-inch loaf pan with nonstick cooking oil spray. Sift flour, baking soda, cinnamon and salt into a bowl. In a separate bowl, add honey and eggs; using an electric mixer, beat on high speed until thickened, for 5 to 10 minutes. Reduce speed, and add butter; mix until incorporated, for approximately 2 minutes. Add sour cream, extracts and dates; mix until well combined, for approximately 1 minute. Fold in flour mixture and nuts. Add batter to prepared loaf pan; bake for approximately 1 hour, until golden brown or a toothpick inserted into center comes out clean. Remove from oven and cool on a wire rack, for 10 minutes. Turn loaf out of pan, and allow it to cool completely. Slice and serve with whipped yogurt, if desired.
Amanda Elliott is the chef at Peachtree Catering (peachtreebanquet.com) in Columbia and authors the website Rustic Supper (rusticsupper.com), where she shares recipes centering on the idea of the communal table and embracing the heritage of food through travel. She also hosts a series of pop-up dinners in Columbia called Sunday Suppers.