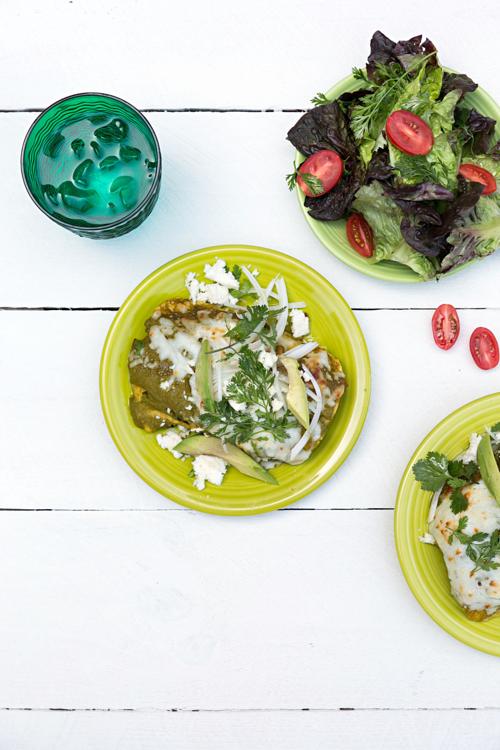 This month, as farmers market stalls continue to fill with fresh produce, build your dinner menus accordingly. These enchiladas feature some of the best seasonal offerings, all but guaranteed to be readily available at your local farmers market. 
Farmers Market Enchiladas
Serves | 4 |
1 yellow onion, roughly chopped
10 cloves garlic
7 jalapeños or serrano peppers
1 pint cherry tomatoes
3 Tbsp olive oil, divided
salt and freshly ground black pepper, to taste
1 red onion, large dice
2 carrots, large dice
2 cups large dice shiitake mushrooms
4 cups spinach
1 cup pea shoot tops
5 cups Chihuahua cheese, divided
3 cups cilantro
12 corn tortillas
sliced avocado, chopped white onion and cilantro, for serving
| Preparation | Preheat oven to 350 degrees. On a half-sheet pan, place yellow onion, garlic, jalapeños or serrano peppers, and tomatoes; drizzle with 1 tablespoon of olive oil, and toss to coat. Season with salt and pepper to taste. Roast for 20 minutes.
Meanwhile, heat remaining olive oil in a medium saucepan over medium-high heat. Add red onion and carrots, and season with salt and pepper; cook until carrots are tender, approximately 10 minutes. Add mushrooms; cook for 5 minutes. Add spinach and pea shoots; cook for 2 minutes. Taste, and adjust seasoning as needed. Remove from heat and allow to cool slightly before adding 3 cups of cheese to filling. Set aside.
Remove vegetables from oven, and transfer to a high-speed blender along with cilantro; blend until a thick purée forms. Taste and adjust seasoning as needed. Pour sauce into a shallow pan. Set a plate next to pan and a 9-inch-square baking dish next to that. Working with one tortilla at a time, dip tortilla in sauce; transfer to plate. Fill tortilla with 2 tablespoons of filling; roll and place seam-side down in baking dish. Repeat process with remaining tortillas. Pour any remaining sauce over enchiladas, and spread it with a spatula; sprinkle remaining cheese over top. Bake until filling is bubbling and cheese is browned, 15 minutes. Remove from oven and carefully transfer to plates. Serve with avocado, white onion and cilantro, if desired.
Amanda Elliott is the chef at Peachtree Catering (peachtreebanquet.com) in Columbia and authors the website Rustic Supper (rusticsupper.com), where she shares recipes centering on the idea of the communal table and embracing the heritage of food through travel. She also hosts a series of pop-up dinners in Columbia called Sunday Suppers.