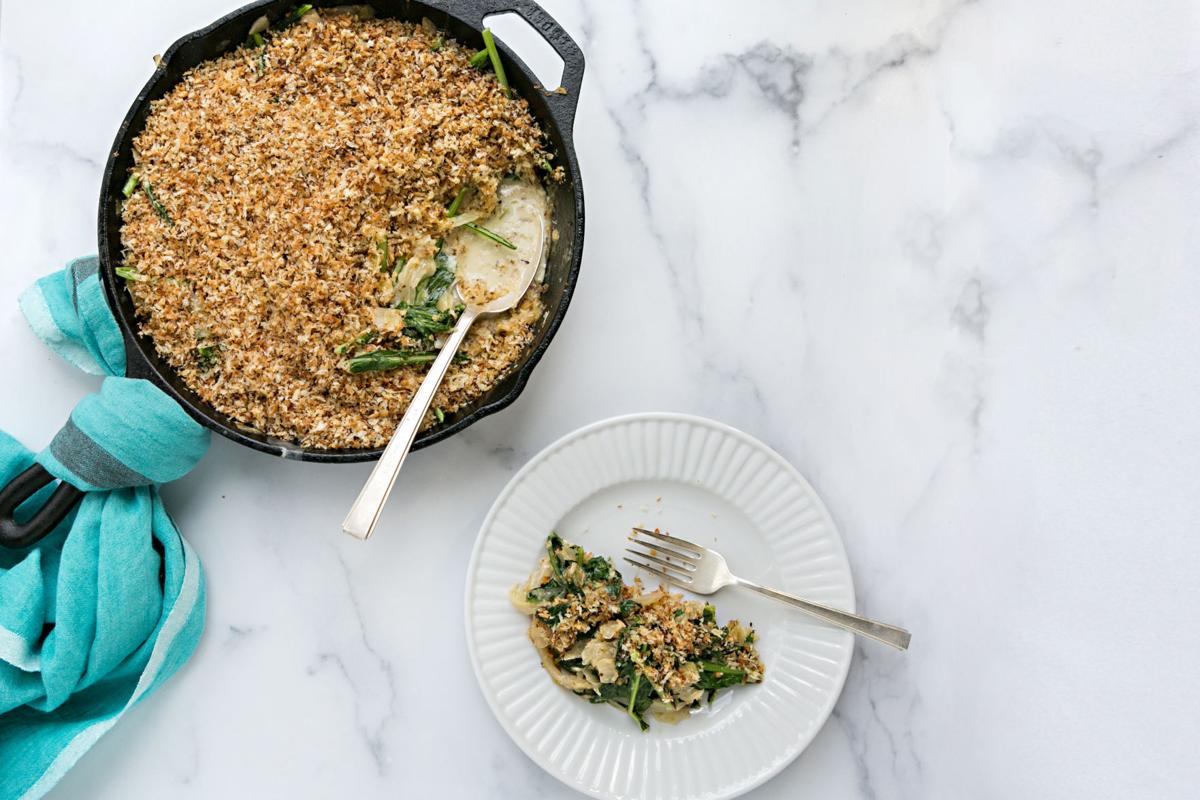 Set the tone of your Thanksgiving table with this gratin. I chose to combine cabbage and Swiss chard because they both pair beautifully with the simple yet decadent sauce made with cream and a blend of fontina and Parmesan. It's a one-pan execution, which I especially appreciate during the hectic holiday season, and you can easily start the process the day before any gathering – just add an additional 10 to 15 minutes if you're baking the next day. 
Cabbage and Swiss Chard Gratin
Serves | 4 to 6 |
3 Tbsp olive oil
½ white onion, julienned
2 cloves garlic, sliced
1 small head cabbage, julienned
3 Tbsp butter
salt and freshly ground black pepper
1 cup heavy cream
1½ cups water
1 cup shaved Parmesan and fontina blend, divided
1 bunch Swiss chard, stems removed
½ cup panko bread crumbs
| Preparation | Preheat oven to 350 degrees. Heat oil in 12-inch cast-iron pan over medium-high heat. Add onion, garlic, cabbage and butter; season generously with salt and pepper. Reduce heat to medium, and cook until cabbage has softened, 10 to 15 minutes. Add cream and water; cook 10 minutes. Add ½ cup of cheese blend; stir to combine. Add Swiss chard and adjust seasoning. Top with remaining cheese blend and bread crumbs. Transfer to oven and cook 30 minutes. Remove from oven and set on wire rack to cool slightly, 5 to 10 minutes. Serve warm right out of pan, if desired.
Amanda Elliott is the chef at Peachtree Catering (peachtreebanquet.com) in Columbia and authors the website Rustic Supper (rusticsupper.com), where she shares recipes centering on the idea of the communal table and embracing the heritage of food through travel. She also hosts a series of pop-up dinners in Columbia called Sunday Suppers.
Be the first to know
Get local news delivered to your inbox!