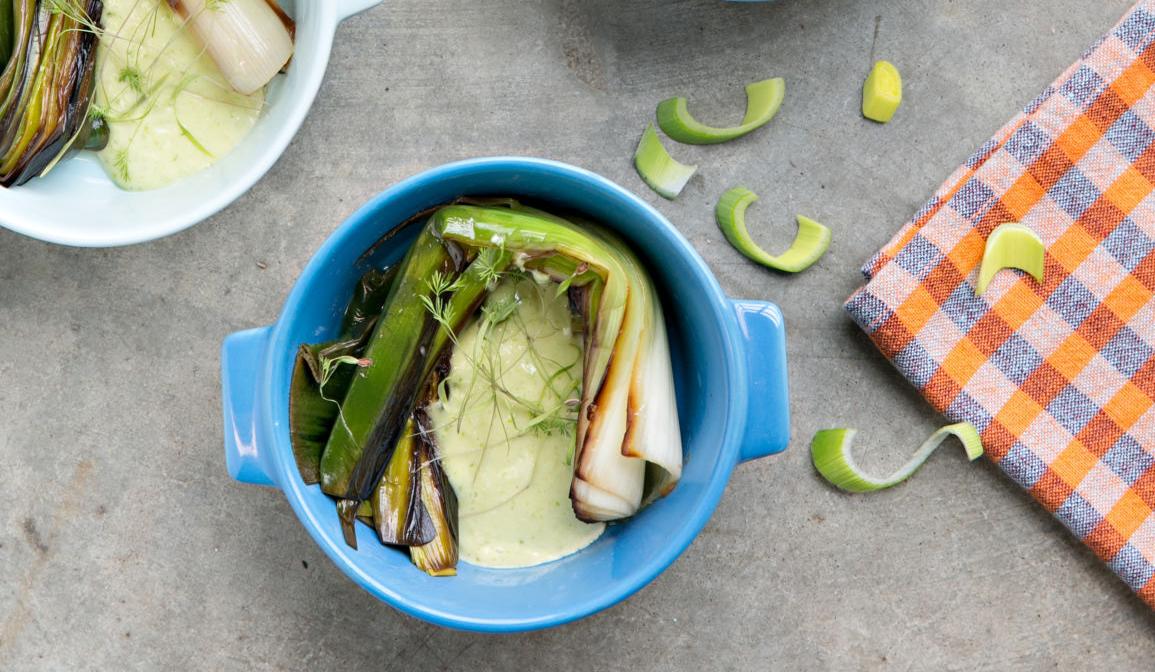 When braising leeks, I feel as if I'm channeling the legends of haute cuisine. Although used less than other onions, leeks, in their simplicity as a side dish, hopefully can combine with a more modern sauce to create renewed interest in the mellow vegetable. For the sauce, I spruced up a traditional mayonnaise with miso and chive, which pair perfectly with the white wine reduction braising liquid and the pop of citrus flavor at the end. 
Serves | 4 to 6 |
Miso-Chive Dressing (Yields 2 cups)
2 eggs
¼ cup chopped chives
2 Tbsp yellow miso
1 Tbsp honey
1 clove garlic, grated
1½ cups olive oil
salt and freshly ground black pepper, to taste
Braised Leeks
3 Tbsp canola oil
5 leeks, greens cut, sliced in half, rinsed and cleaned of sand
salt and freshly ground black pepper, to taste
2 Tbsp butter
1 cup white wine
½ cup miso-chive dressing
juice of ½ lemon
1 Tbsp chive microgreens, for garnish
| Preparation – Miso-Chive Dressing | Combine eggs, chives, miso, honey and garlic in a blender. Begin to blend and slowly add oil until mixture becomes stiff and holds together like mayonnaise. Season with salt and pepper to taste.
| Preparation – Braised Leeks | Preheat oven to 350 degrees. In a large sauté pan over medium-high heat, add oil. Once oil is hot, place leeks in pan cut-side down, and season with salt and pepper to taste; cook for 3 to 4 minutes. Carefully flip leeks; cook for 3 minutes. Carefully flip leeks again; add butter and white wine. Cover pan and place in oven; cook for 20 to 23 minutes. Remove pan from oven, and transfer leeks to a shallow serving dish. Peel off any tough outer layers, and then top with dressing and lemon juice. Garnish with microgreens and serve warm.
Amanda Elliott is the chef at Peachtree Catering (peachtreebanquet.com) in Columbia and authors the website Rustic Supper (rusticsupper.com), where she shares recipes centering on the idea of the communal table and embracing the heritage of food through travel. She also hosts a series of pop-up dinners in Columbia called Sunday Suppers.
Be the first to know
Get local news delivered to your inbox!