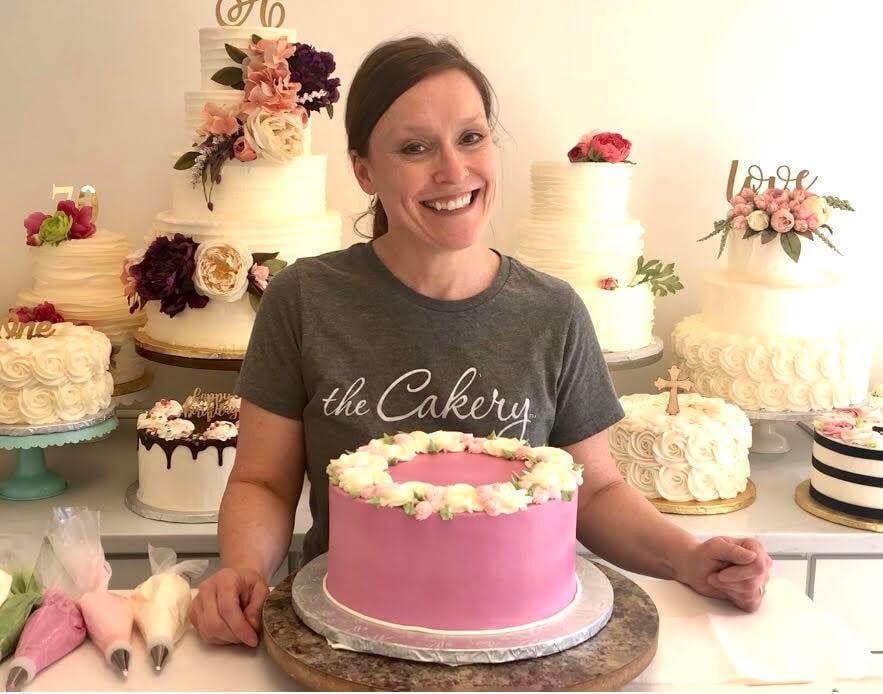 Ericka Frank, owner of The Cakery Bakery and The Cup, has loved honeybees since she was 12 years old. "I enjoyed watching them and having them land on me," she says. "But growing up, I actually didn't eat honey very often." That changed a few years ago when she decided to keep bees herself, and then started researching and attending local beekeeping meetings before setting up her own hive behind The Cakery Bakery in St. Louis' Dogtown neighborhood.
Although she usually eats honey raw to preserve more of its health properties, it's no surprise that the owner of one of St. Louis' most beloved bakeries also found a way to incorporate her newfound hobby into a delicious recipe for a comforting cake.
A personal adaptation of a recipe she found on allrecipes.com, Frank's honey cake, she says, perfectly pairs with a cup of hot tea during cooler months.
Honey Cake
1½ cups all-purpose flour
1⅓ cups oat flour
3 tsp baking powder
½ tsp baking soda
½ tsp salt
1 tsp ground cinnamon
¾ cup granulated sugar
1 cup honey
½ cup vegetable oil
4 eggs
2 tsp grated orange zest
1 cup orange juice
Preparation | Preheat oven to 350 degrees. Grease and flour a 9- by 13-inch pan. Sift together both flours, baking powder, baking soda, salt and cinnamon. Set aside.
In a large bowl, combine sugar, honey, oil, eggs and orange zest. Beat in flour mixture, alternating with orange juice, and mixing just till incorporated. Pour batter into prepared pan.
Bake for 30 to 40 minutes or till a toothpick inserted into center of cake comes out clean. Allow to cool, poke holes in cake with a skewer, and pour on a generous amount of glaze.
Glaze Option 1 | Melt 2 Tbsp salted butter in a small saucepan, and add ⅓ cup powdered sugar, ¼ cup milk, ½ tsp vanilla extract and ⅛ tsp of almond extract.
Glaze Option 2 | Stir together 2 Tbsp orange juice, ½ cup honey, a dash of salt and orange zest to taste.
For a faster and easier glaze, simply drizzle cake with honey.
The Cakery Bakery, 1420 Tamm Ave., St. Louis, 314-647-6000, thecakerybakery.net