Smoked meats, sandwiches and more inspired by Texas- and Kansas City-style barbecue reign at a fast-casual "Q" destination that debuted in June in St. Louis' Tower Grove East neighborhood: Navin's BBQ.
The eatery, which occupies Guerrilla Street Food's previous space, comes from owner and pitmaster Chris Armstrong, who "grew up in an Air Force family." Armstrong spent most of his youth living in central Texas, as well as the Kansas City area, before moving to St. Louis with his wife 6½ years ago. He learned his way around a pit while living in Texas and K.C. and from picking up family traditions around the grill.
"Barbecue has always been an interest and hobby of mine that grew into a true passion," Armstrong says. "My dad always had a Weber grill going, and my uncle was into the barbecue competition scene. He had been doing the American Royal [World Series of Barbecue] for 30 years. I joined his team to get into it and participated in the competition circuit for four to five years in the Kansas City area."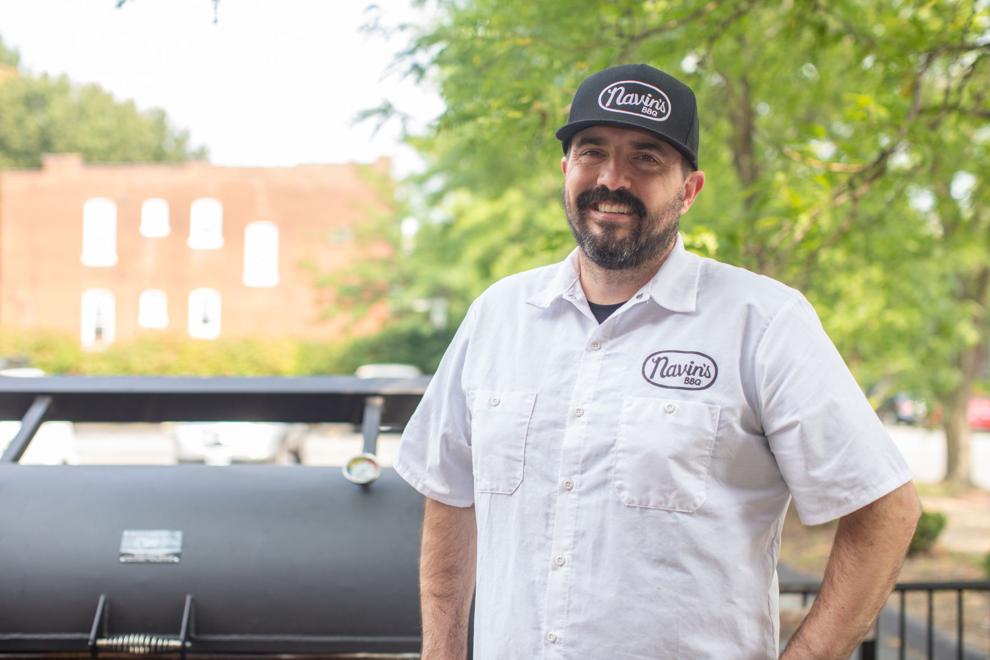 Like many, Armstrong faced furloughs from his previous job throughout the COVID-19 pandemic. After realizing the layoffs might be permanent, he decided to leave his career in the beverage-distribution industry and lean into his love for barbecue.
What began as smoking pork butts to share with family and neighbors soon turned into continuous orders from Armstrong's community, and his home smoker became filled with more than 150 chicken wings each week. To extend his reach, he also began offering his products in local collaborations with the metro area's multilocation BeerSauce Shop and Blood & Sand in St. Louis' Downtown West neighborhood.
Envisioning that his ideal barbecue restaurant would someday fill an old gas station or garage, Armstrong named Navin's BBQ after Steve Martin's character in the 1979 movie The Jerk – in particular, after a scene set in a St. Louis gas station garage. Although the initial iteration of his business doesn't occupy such a space, Armstrong thought the 1,000-square-foot South Grand business district storefront would be perfect to start small and build his brand.
The counter-service restaurant seats 10 to 15 diners and has a patio for his offset all-wood Smoker Co. smoker, which he fills with oak and hickory – plus a bit of applewood for seasoning – to flavor his barbecue.
"Our style is kind of a cross between my influences growing up in central Texas and Kansas City," Armstrong says. "We have Texas-style sliced brisket and Kansas City burnt ends. Some things that make us unique are our pork belly burnt ends and chicken wings."
He explains that the chicken wings, which are finished in a brown sugar-and-spice glaze on the grill, are the menu's most elaborate item – from start to finish, they take almost 24 hours. Another unique menu item, the Texas Twinkie, involves a seeded jalapeño stuffed with cream cheese and brisket, wrapped in bacon and smoked. And his brisket re-creates his childhood favorite: a thick, tender cut with a distinct smoke ring and a bit of garlic, plus a little give so it doesn't fall apart.
In addition to à la carte and meat-by-the-pound options, the menu at Navin's BBQ currently features seven different sandwiches like The Jerk, made with pulled jerk chicken, pepper cheese, bacon, sweet-heat slaw, crispy onion strings and Navin's white barbecue sauce. Vegetarian options include The ShiNOLA, also with sweet-heat slaw, collard greens, Swiss cheese and sweet pepper dressing on rye.
"St. Louis is a great food town, and there's no shortage of good barbecue," Armstrong says. "I hope people give us a shot and let us show them how different our take on it is." 
Navin's BBQ, 3559 Arsenal St., St. Louis, 314-449-1185, navinsbbq.com