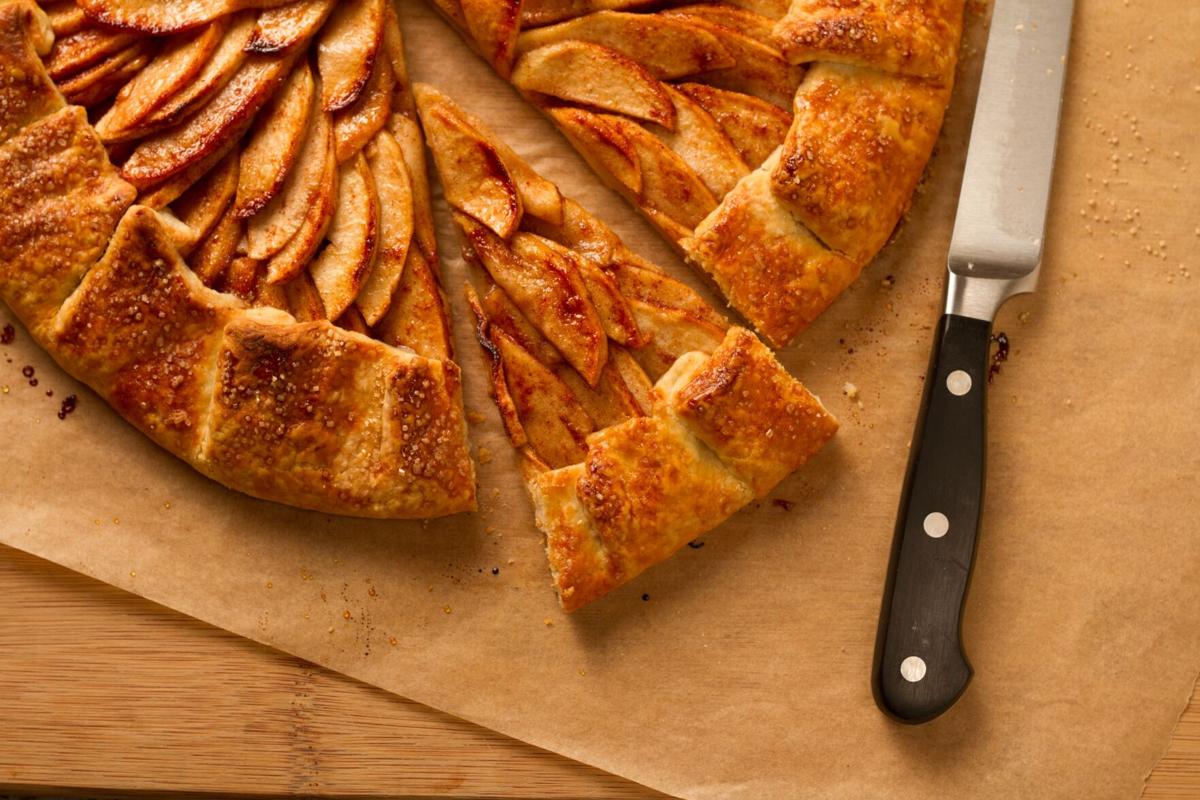 Years ago, Lia Holter of Florissant's Made. by Lia Craft Bakery developed a simple, delicious way to enjoy seasonal fruit without the stress of seasonality. A perfect way for at-home bakers to usher in autumn, her rustic apple galette brings the whole family together for a common goal: dessert. Step one for Holter involves a family trip to a local orchard for the main ingredient; step two involves keeping her kids in the kitchen as she bakes.
"My philosophy is not to be afraid to let them help," she says. "Getting them involved in the kitchen at an early age is so great, and it's fun to get a little messy and let loose a bit. They can play with the flour, stir the apples with the cinnamon and sugar, help roll the dough out and, if they are old enough, use a paring knife to slice the apples."
Holter emphasizes the forgiving and flexible nature of this recipe: You can add bourbon, switch out the fruit and make it gluten-free, vegan or both – and you'll still end up with a tasty fall treat.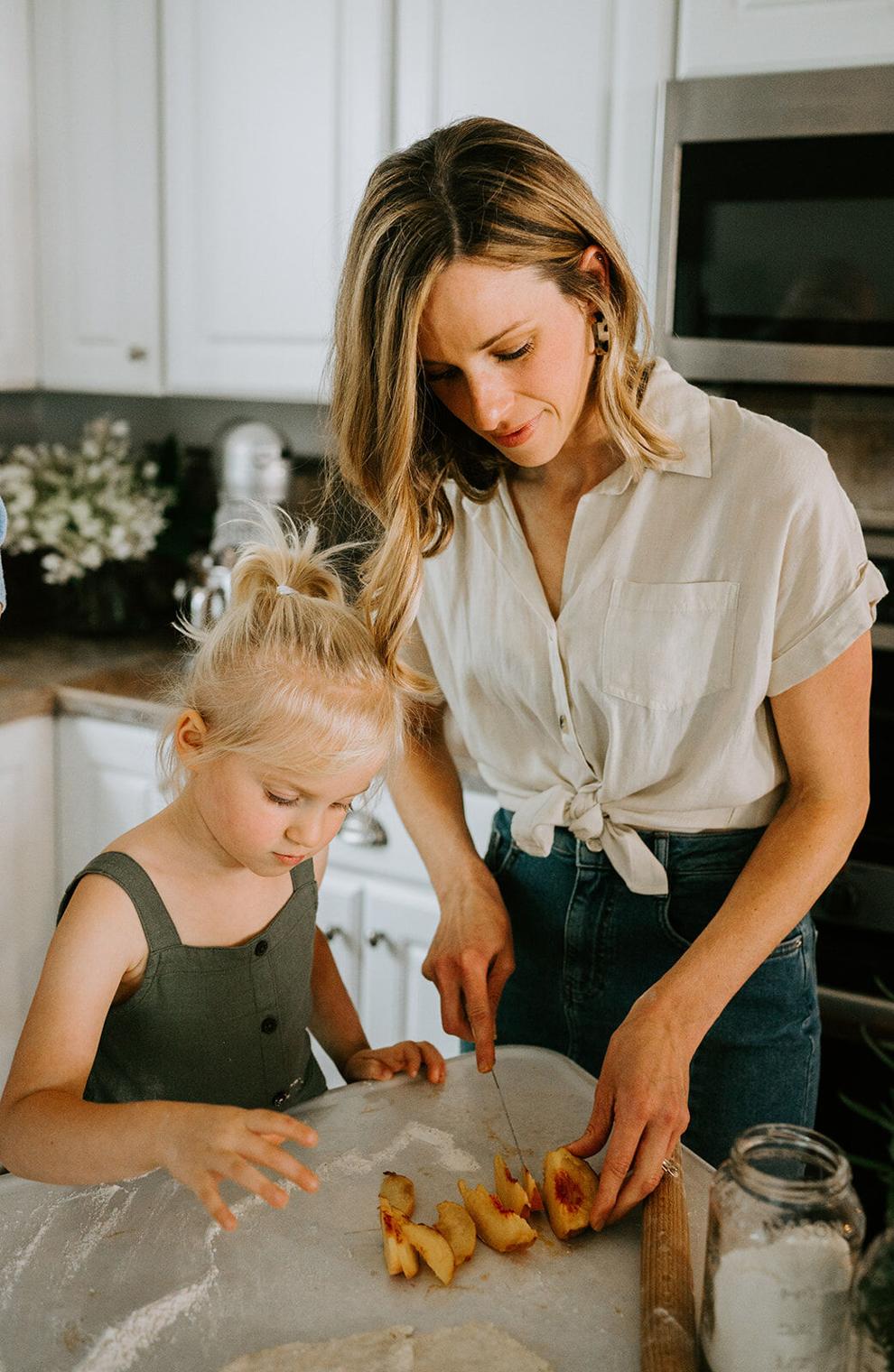 Apple Galette
2 Tbsp butter, softened
Vanilla ice cream for serving, if desired
Pie Crust
2 cups all-purpose flour
½ tsp salt
½ tsp baking powder
1 Tbsp sugar
8 oz unsalted butter, cold and cubed
½ cup sour cream, cold
Apple Filling
6 medium-large apples, sliced thin
2 Tbsp apple or lemon juice
3 tsp cinnamon
3 Tbsp sugar
Egg Wash
Whisk to combine; set aside.
Preparation – Pie Crust | With a pastry cutter, mix flour, salt, baking powder, sugar and cubed butter until small clumps form and mixture develops a crumbly texture. Clumps of butter should be no larger than pea-sized. Add cold sour cream until just combined. Do not overmix. Wrap with plastic wrap, and chill for one hour.
Preparation – Apple Filling | Peel and cut apples into thin slices. Place into a medium bowl with apple or lemon juice to prevent from browning. Add in sugar and cinnamon, making sure each apple has been coated.
Assembling Galette | Preheat oven to 350 degrees. On a floured surface, roll out pie crust into a circle; dough should be ¼-inch thick. Transfer dough to a parchment-lined baking sheet. Place apples onto dough; layer each slice into a circle to make a design, or just pile them on, leaving enough room to fold over edges of dough.
Once apples are placed in center of dough, fold over excess dough, covering outer edge of apples. Cut butter into pieces, and place them sporadically on apples. With a pastry brush, brush egg wash over edge of dough, and sprinkle with sugar.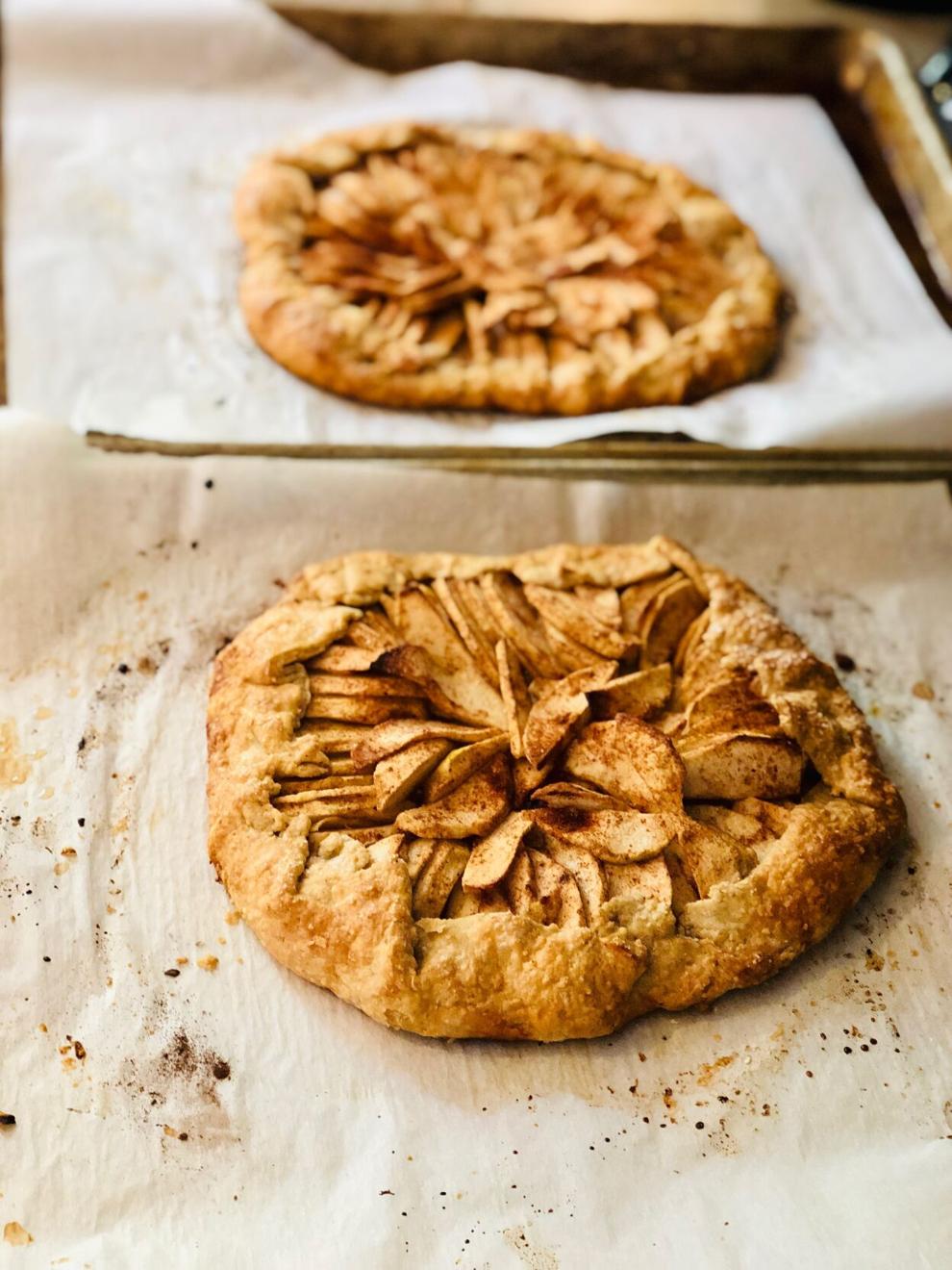 Place into oven and bake until crust is golden brown, for 35 to 45 minutes.
Let cool, cut into slices and serve! Add a scoop of vanilla ice cream if desired.
This dish can be made a day ahead; just leave at room temperature in an airtight container.
To make gluten-free: Substitute all-purpose flour with gluten-free flour. (Holter's favorite is Bob's Red Mill.)
To make vegan: Substitute vegan butter (Holter suggests Earth Balance) for regular butter, and use dairy-free cream or pure maple syrup instead of egg wash to give pie crust sheen.
Made. by Lia Craft Bakery, 610 Rue St. Francis, Florissant, 314-551-2383, madebylia.com
Lia Holter owns Made. by Lia, a craft bakery where wedding cakes and sweets are created from scratch. She also won the fourth season of Next Great Baker, a baking competition and reality TV show on TLC.