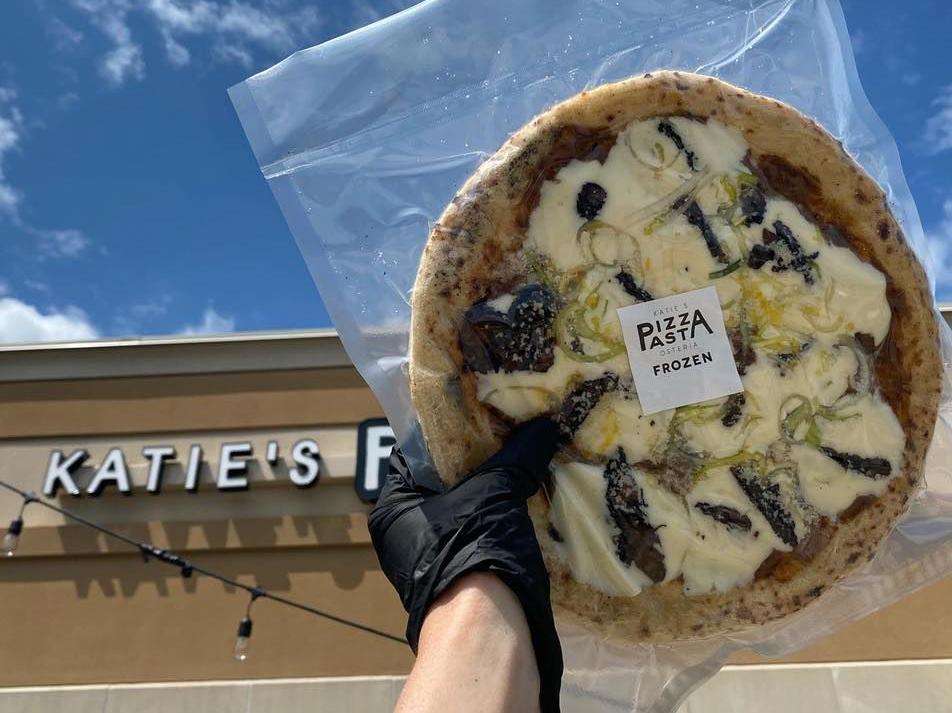 Despite engaging in two of the toughest endeavors in society – operating a thriving restaurant business and mothering a 1-year-old, Nadia – Katie Collier, the namesake of Katie's Pizza & Pasta Osteria, vivaciously retains her high energy, laughing regularly, freely and brightly.
Collier's laughter permeates a recent discussion of how the tandem enterprise co-owned with her husband, Ted, has pivoted in the COVID-19 era, especially regarding her osteria's recent expansion into producing affordable frozen pizza with nationwide delivery.
That expansion owes its origin directly to the current pandemic, given the Colliers' desire to continue to employ their 150-strong staff, both during and after the governmentally mandated lockdown on restaurants and most other ventures. "It was a quick decision of how are we going to stay in business, how are we going to, most importantly, keep everyone's job?" Collier recalls.
"We didn't know if restaurants would be able to serve at all, so we had to quickly, quickly figure out a way to solve that problem and keep everyone safe with the information that we had."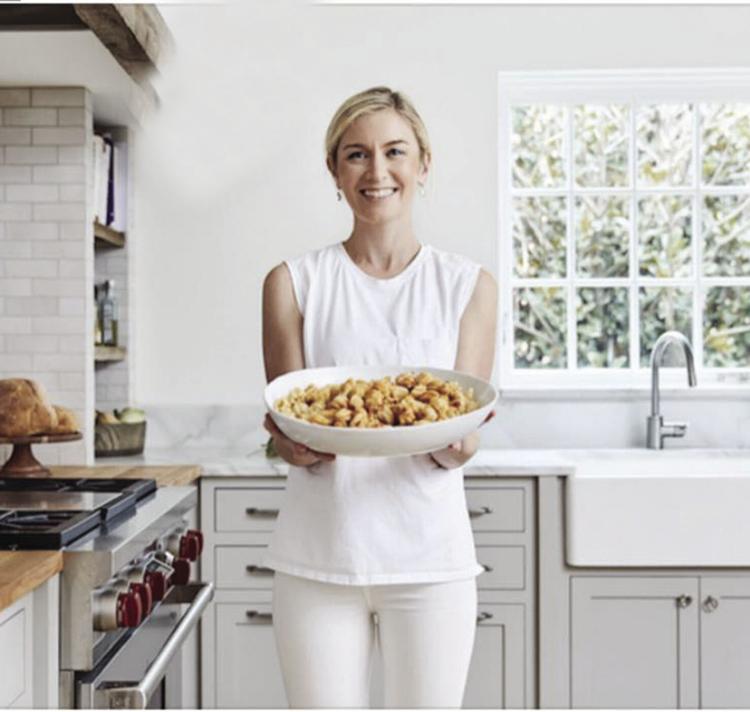 The frozen-pizza initiative blossomed from an earlier experiment by Katie's involving from-scratch meal kits that ultimately proved unworkable. That earlier experiment, though, left Collier and her team with the proverbial lessons learned, allowing them subsequently to leverage the capacity of walk-in freezers at Katie's and other felicities.
As a result, once the COVID-19 lockdown took effect, Collier and her team swiftly prototyped frozen pizzas, launched a dedicated website distinct from that of Katie's itself (katiespizza.com) and, within roughly a week, got the ball of dough rolling.
"It was really exciting and kind of kept hope alive, and maybe saved everyone's job," Collier says. "We turned our servers into delivery drivers and boxers, and turned the dining room into assembly lines, making these frozen pizzas.
"It was a really cool experience that shows just how a group can come together to survive but also make something really delicious and get it to people in a safe way."
Collier calls the initiative "our proudest moment in business." In a similar fashion, she mentions with pardonable pride another longtime initiative at Katie's, a community give-back program.
"We donate 100 percent of our proceeds once a month to a different charity," Collier says. "We've been doing that for almost seven years. And then, we do that with the frozen [initiative], as well – we donate frozen pizzas to food banks with every order."
Moreover, despite Katie's actual reopening, the new initiative continues to thrive. "The frozen pizzas are still doing really well," Collier reports.
"We recently improved them greatly – the way that we package them, the recipes – and dropped the price down because we know that there's a financial depression coming, and so it's important that people are able to buy these things."
Beyond the frozen-pizza initiative, Collier relates how regulars and other customers have reacted to the reopening of Katie's.
"We [serve restaurant customers] in a respectful way, and I think that's translated into a lot of trust," she says, mentioning the widespread use of masks and other hygienic products, as well as the installation of an antiviral plasma filtration system in Katie's ventilation.
"The goal of hospitality is, you want people to feel at home and relaxed, and [we] said, 'Oh, how can you do that when everyone's on high alert?' That's hard, but I think just being respectful, kind and understanding that we're all in different places mentally right now has produced a really welcoming and good vibe from everybody."
Given her responsibility for and to employees and customers alike, Collier concludes: "You've got to err on the side of caution and just keep it as light as you can."  
Katie's Pizza & Pasta Osteria, 9568 Manchester Road, Rock Hill,
314-942-6555; 14171 Clayton Road, Town and Country,
636-220-3238, katiespizzaandpasta.com
Be the first to know
Get local news delivered to your inbox!