A Mediterranean staple in South County recently reopened its doors following a temporary closure and offers dine-in, pickup and delivery options. J's Pitaria features scratch-made Mediterranean cuisine, including new items such as cevapi, gyros, falafel salad and more.
Husband-and-wife duo Zamir and Josi Jahic, who are both natives of Sarajevo, Bosnia, originally opened J's Pitaria in Bevo Mill three years ago. There, the specialties included their namesake Bosnian-style pita as well as doner kebabs and ustipci, or house-made fried dough balls. With the second iteration of their concept in Concord Plaza that debuted last fall, the Jahics expanded the savory selection to include even more authentic Mediterranean fare.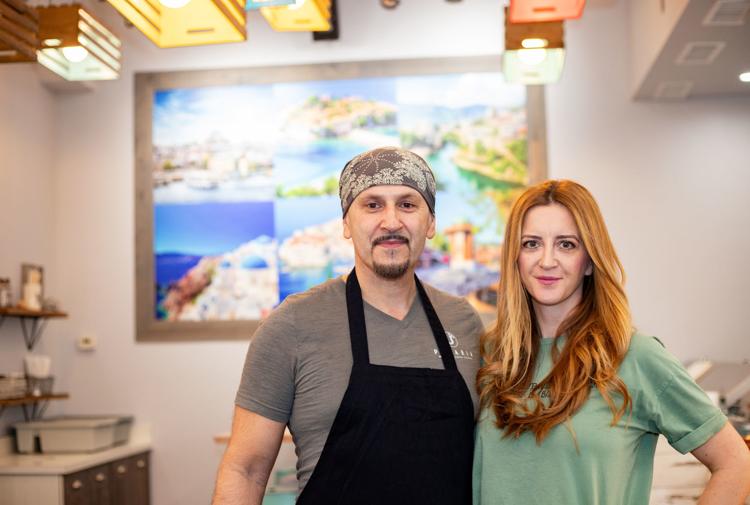 J's Pitaria fills a 1,350-square-foot space previously occupied by a Quiznos. The dining room was designed and executed by the Jahics themselves, featuring colorful decorative elements such as hand-built painted crate light fixtures, a text-based mural and a display case featuring mementos from their travels abroad.
The restaurant also features a small market area in the corner with some basic items such as European chocolate, ajvar (red pepper spread), spices, tea and preserves. Mediterranean pies and house-made desserts are ready for grab and go at the counter, in addition to a full menu of made-to-order savory dishes.
The grilled sausages for the house Sarajevski cevapi are ground in-house, as are the meats for the Mediterranean pies — a unique presentation for house-made pita with flaky hand-rolled phyllo filled with meat, cheese, or spinach and cheese. Certified Angus beef gyros are another highlight, and a chicken option is also available.
"We're using high-quality meats and organic produce, and our signature somun bread is made from scratch and baked in house daily," Josi says.
The bread is featured in many items such as pljeskavica, a grilled "Mediterranean XL Burger" served with lettuce, tomatoes, kajmak (buttery cheese spread), ajvar and onions. For dessert, choose from options such as baklava and cupavaci, or sponge cake dipped in chocolate and coconut.
J's Pitaria's is open Tuesday through Saturday from 11 a.m. to 8 p.m. and Sunday from 11 a.m. to 6 p.m.
J's Pitaria, 91 Concord Plaza, Sappington, Missouri, 314.270.8005, jspitaria.com
Be the first to know
Get local news delivered to your inbox!