In St. Louis' Dutchtown neighborhood, Gooseberries now offers "The Weekly Hookup," featuring a limited online menu of comforting prepared food and treats available for pickup.
The husband-and-wife duo of Ross Lessor and Kim Bond founded the self-proclaimed "Eats and Treats Emporium" in 2014. Since spring, the beloved eatery has offered free bags of grocery staples to anyone who could use them. The groceries are currently available Saturdays from 1 to 3 p.m.
"We've been in the industry for a long time and know how tight things can be," Bond says. "People can just not have anything for a couple days and live off of their jobs. If we have extra, we want to share what we have and make sure everybody can be fed. This is for anybody, honestly – even if it's just because you don't want to go in the store."
With "The Weekly Hookup," those hungry for a taste of the power couple's home cooking can support the business and its efforts by grabbing a food order to go. The menu for each week is posted online Sunday, and orders must be placed by Wednesday night, designating a scheduled pickup time during the weekend.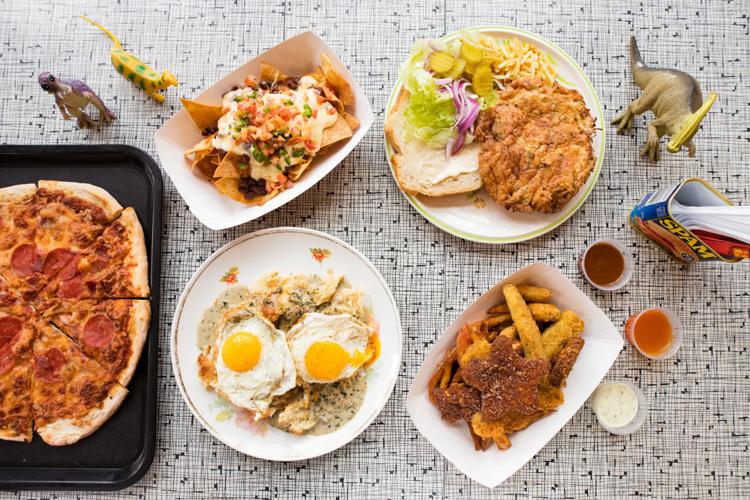 "Orders are picked up on Saturdays between to 4 and 6 p.m.," Bond says. "We have a selection of hand pies, pizzas, jellies, hot sauce, pickles, bread, soup and desserts."
The rotating menu features a variety of frozen savory goods ready to reheat in a toaster oven, air fryer or skillet. Those availing themselves of this service (depending on availability) can choose from such options as blackened Spam hand pies, KFTs ("krispy" fried tofu, that is) and pizzas with standard toppings, as well as fun combos like gyro pizza with house-made sauce and dough, gyro meat, spinach, red onion, the Greek yogurt sauce tzatziki and feta.
Additional prepared items ready to heat and eat may include everything from chicken and dumplings to blueberry waffles. Desserts form another Gooseberries specialty – look for items such as peanut butter and jelly cake, peach Melba pie and butterscotch potato chip cookies, again depending on availability. Plenty of vegan options are always on hand as well, such as coconut lime cookies and banana cashew bread.
To drink, visitors otherwise can choose from ginger iced coffee or pineapple lemonade. Additional goodies to consider may include such items as rosehip hibiscus jelly, sweet onion relish, gooseberry Anaheim hot sauce and jalapeño cheddar bread. Grab bags and mystery boxes are also available for the adventurous, as well as a way to contribute to the community grocery share. 
Visit gooseberriesstl.com​ for updates to Gooseberries' hours and offerings.
Gooseberries, 2754 Chippewa St., St. Louis, 314-577-6363, gooseberriesstl.com​
Be the first to know
Get local news delivered to your inbox!