Since last May, Creole With a Splash of Soul has been serving Creole cuisine in The Grove business district and, on Sundays, soul food: Creole catfish, St. Louis-style gumbo, smothered pork chops and other dishes.
At the eatery, chef-owner Ronda Walker, a former registered nurse, is pursuing her lifelong passion for cooking. After nearly 30 years in nursing, Walker faced a major health crisis that inspired her to follow her dream of opening a restaurant. She credits her father for her soul food roots and, from an early age, developed her from-scratch cooking style with him in the kitchen.
"Growing up, food was the center of love for everyone," Walker says. "We went to Grandma's house to eat if we were feeling down. It's such a comforting experience to have great food. That's why the restaurant is designed that way. It's a cozy, homelike environment – casual with a flare of elegance."
She herself decorated the interior, adorning the warm goldenrod walls with African American art illuminated by filigree lights. Heavy maroon drapes and a plush couch reinforce the intimate feel, and a menu brimming with comforting offerings brings everything together.
Appetizers include fried green tomatoes, Creole crabcakes, Creole chicken and shrimp nachos and Ronda's house wings. For something more substantial, customers can choose from sandwiches like shrimp or catfish po'boys and entrées like Cajun pasta with chicken, shrimp and bell peppers.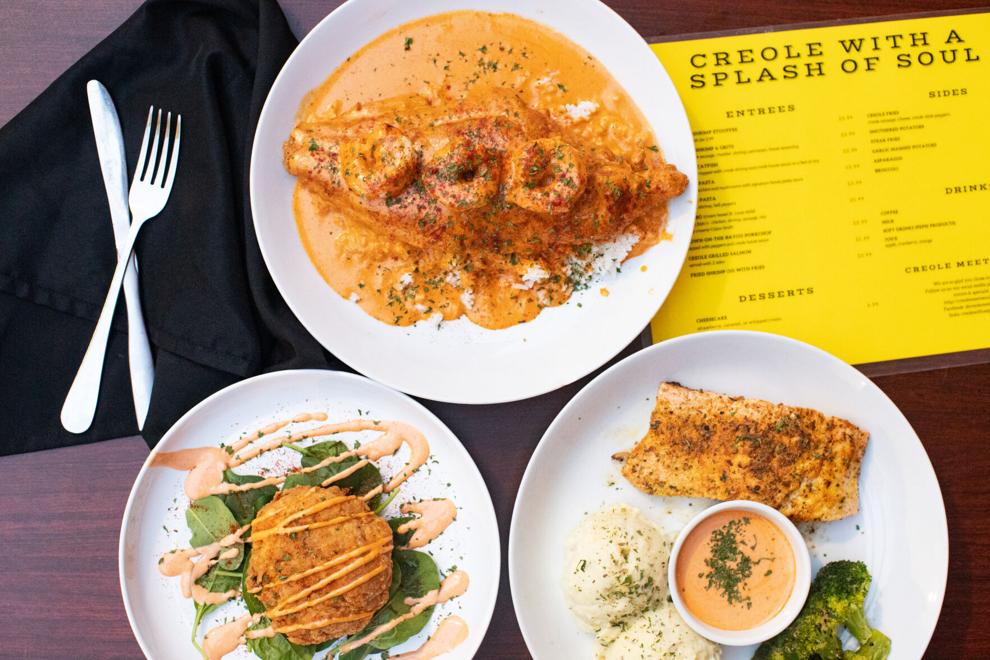 "I really believe in … quality, fresh food," Walker says. "Everything is cooked from scratch, and all our dishes are made to order."
For a can't-miss dish, Walker recommends her Creole catfish, featuring a catfish fillet topped with Creole shrimp and Creole hot sauce on a bed of rice. Her gumbo, which she calls St. Louis-style, features a cream-based, Cajun-spiced broth finished with chicken, shrimp, sausage and rice. On Sundays, a soul food menu features such items as oxtails, smothered chicken, fried fish, greens, red beans and rice, mac 'n' cheese and yams.
"In nursing, I've learned that the whole world is in need of emotional support, especially with the pandemic," Walker says. "It felt like a natural transition going from nursing to hospitality, because it's all about quality customer service. My focus here is on the customer every time. I want people to leave feeling like they've had a great meal with friendly service."
Creole With a Splash of Soul, 4353 Manchester Ave., St. Louis, 314-349-2385,facebook.com/creolewithasplashofsoul