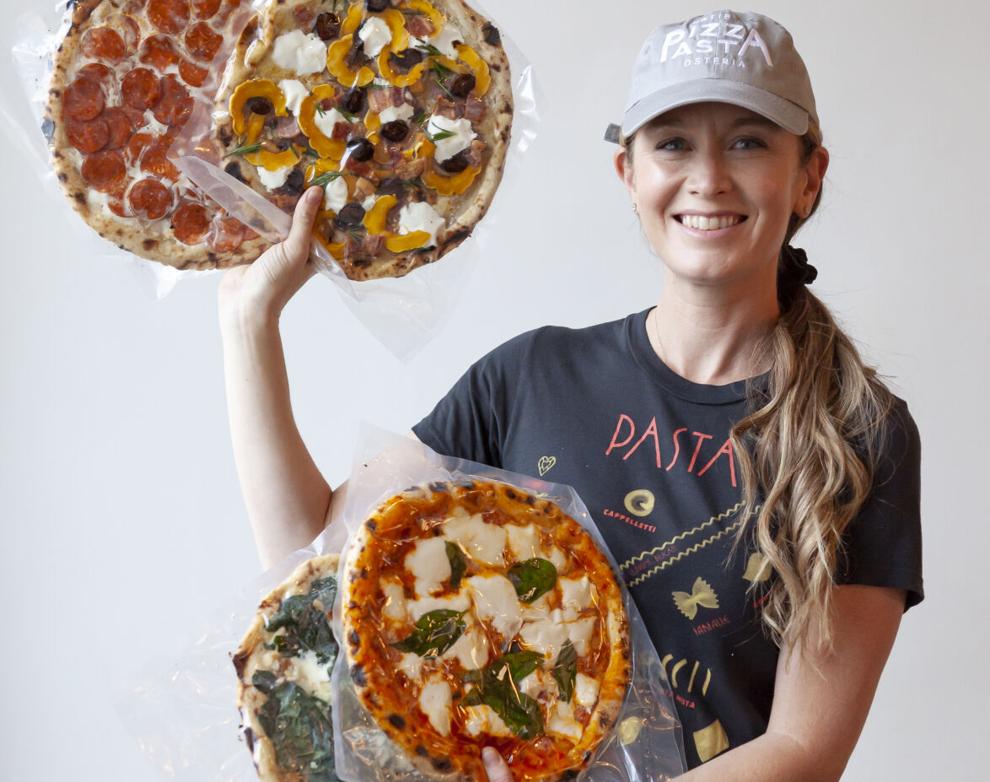 When the pandemic rocked the restaurant industry, Katie Collier of the eponymous Katie's Pizza & Pasta Osteria kneaded a solution to keep her staff fully employed. The popular chain launched frozen pizzas out of its two area restaurants – and the recipe for success has spawned a whole new venture for Collier and her team.
"With the continued success and growth of the frozen pizzas, we are building out a full headquarters," the Ladue News Platinum List winner says. This headquarters will have everything her team needs – offices, a kitchen, storage space and more – to expand the business and its offerings.
Built from the ashes of Vero, Collier's meal kit company, KPPO has repurposed the facility for a new frozen division of the company.
"In the beginning, it was a supplemental thing to help our restaurants survive while dining rooms were closed," she states of the former in-house operations. "It turned into a real business, so it needs a real space."
Fans of the restaurant's two locations in Rock Hill and in Town and Country catapulted the sales of frozen pizzas, and one fan in particular approached Collier with an irresistible opportunity.
"Greg Dierberg, [president and CEO of Dierbergs Markets,] reached out," Collier recalls. "He had tried some of the product and wanted to put it in his stores. He and his team were generous in helping us to navigate that daunting process. It's a new world. They simplified it for us."
In that new world, successful sales proved the product belongs in grocery store aisles. "We became the second largest-selling frozen pizza [brand] of all the brands carried at Dierbergs," Collier says.
Katie's Frozen Headquarters started with only vegetarian options, zero advertising and no manufacturing facility. Meat lovers can now rejoice as the Missouri Department of Agriculture gave Collier and her team the go-ahead to feature new meat flavored pizzas in Dierbergs.
KPPO already offers fresh items at Dierbergs Markets, including pastas and sauces. Now, Collier is cooking up ideas for new products to expand KPPO's frozen market.
"We did some pasta bakes when the pandemic first hit," she says. "We didn't have the space to continue doing that, [as] pizza sales were so great. At the new headquarters, we'll be able to do pasta bakes again, like our lemon strozzapretti and our fiori arrabiatta. We'd love to do toasted ravioli and some other really cool things that we make. We can with this new facility."
Even as the frozen headquarters nears completion, KPPO's restaurants have also renovated to meet the new needs of its customers. Curbside service is more efficient than ever, and two new outdoor structures have opened at each location. Collier says the outdoor spaces are "comfortable for all four seasons."
"They have heaters and fans and protect [patrons] from the rain, while still having open sides," she describes.
Although the challenges of the pandemic made for a year no one would wish to repeat, Collier is proud of all that KPPO accomplished and looks forward to a promising future.
"It was a hard year," she says. "It cost us a lot of money and time and energy and stress. The entire team stuck together and put in the effort to build this infrastructure. We're not only protected; we're going to thrive, no matter what. It's going to be a really incredible, exciting year."
Katie's Pizza & Pasta Osteria, 9568 Manchester Road, Rock Hill, 314-942-6555; 14171 Clayton Road, Town and Country, 636-220-3238, katiespizzaandpasta.com