Diego's in University City features elevated Mexican cantina-style street food with an emphasis on small plates, such as sheet pan nachos, barramundi (fish) tacos and costra (griddled cheese) tacos, all available for pickup via online ordering.
The eatery – which comes from Natasha Kwan and Rick Roloff, who also own the adjoining restaurant, Frida's – opened in mid-October in the space that formerly housed Momos Ouzaria Taverna.
"We both have a passion for Mexican cuisine," Kwan says. "My husband, Rick, grew up just north of Mexico in a border town around traditional Mexican food, not Tex-Mex. I lived in Chicago for 10 years prior to moving back to St. Louis, and there's a taqueria [Mexican taco restaurant] on every corner."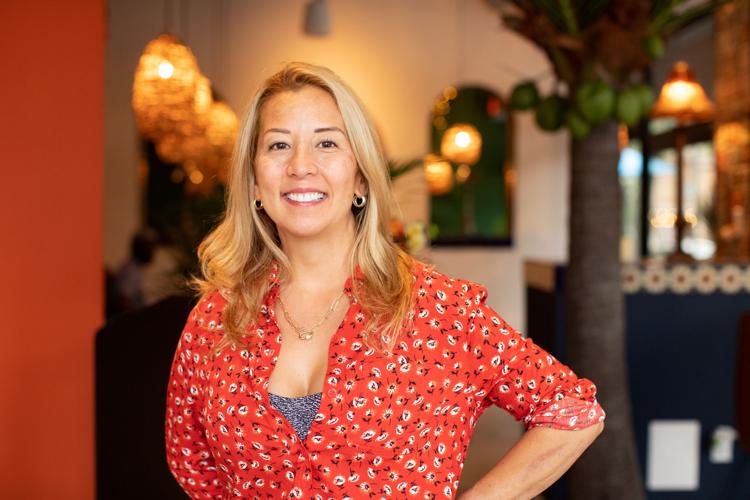 Diego's takes its name from prominent late-20th-century Mexican painter Diego Rivera, in counterpoint to its neighbor's namesake, Frida Kahlo, also a prominent 20th-century Mexican painter. Unlike Frida's, which dishes strictly vegetarian fare, Diego's serves seafood and poultry. Among its most popular items, for instance, a grilled fish taco features barramundi, onion, cilantro, tomato, lime and smoked crema, tangy Mexican cream. Diego's oddly named carnitas taco comes with seasoned chicken, onion, cilantro, cotija (Mexican cheese made from cow's milk) and lime. All tacos feature corn tortillas.
"You're going to find the freshness and detail to good ingredients in both of our restaurants," Kwan says. "One thing that's very clear with both concepts is that we're providing the top-quality food available.
"We are a scratch kitchen and do not use MSG or high-fructose corn syrup. All cocktails are 'skinny' as we do not have sugar on site. The menu is gluten-free, except for the burritos and marranitos cookie."
Costra tacos, another menu highlight, incorporate Chihuahua and Monterey Jack cheese as a shell. The street food-style tacos come with either chicken or roasted chiles, as well as onion, cilantro and avocado, and, for the latter, tomato and the spicy red Mexican sauce salsa roja.
Diego's bar, meanwhile, offers a list of beer, wine, margaritas and house cocktails like the Nueva Escuela, with Old Forrester 86 bourbon, clove, cascara (coffee cherry tea) and coconut sugar. 
Diego's, 630 North and South Road, University City, 314-553-9906, diegosstl.com