Korean fried chicken arrived in south St. Louis last summer with the opening in that municipality's Holly Hills neighborhood of Chicken Seven, which features crispy fried chicken and Korean "street-food style" snacks.
The casual eatery comes from husband-and-wife duo Sean Lee and Erica Park, who run day-to-day operations, in partnership with co-owner Victor Jang of west St. Louis County's Wudon Premium Korean BBQ and University City's BoB.Q. The couple came to St. Louis by way of San Antonio, Texas, where Lee worked as a sushi chef.
With Chicken Seven, in a roughly 1,600-square-foot stand-alone building, Lee and Park hope to introduce the area to Korean fried chicken, either without sauce or with one of six different sauces (whence the establishment's name). After visiting popular eateries in New York City while living there, the duo developed their own recipes for crispy battered boneless chicken, drumsticks and wings, as well as Rice Krispies-coated chicken breasts.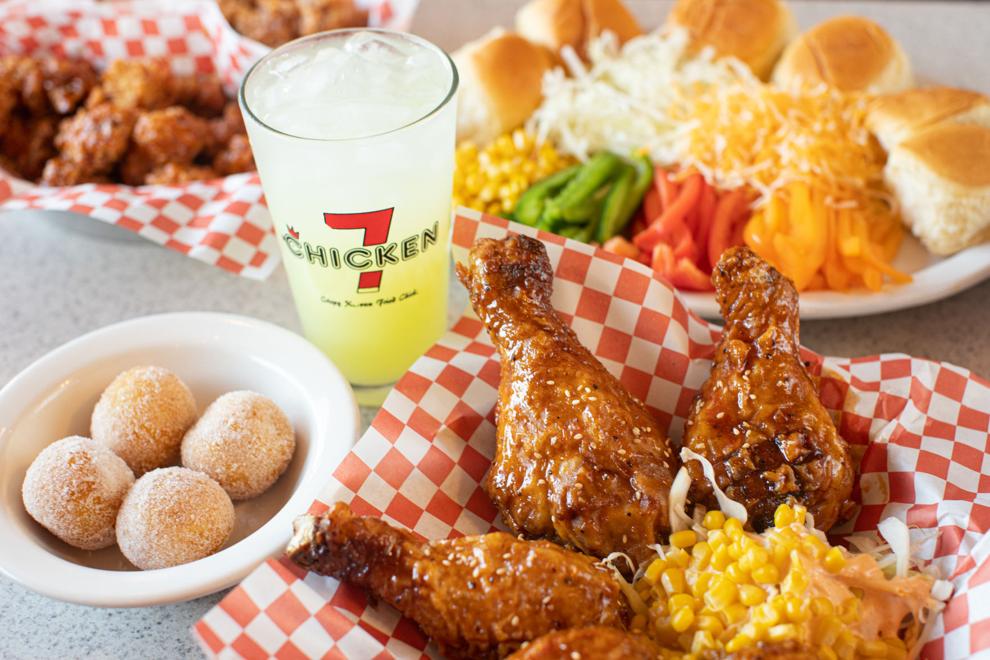 According to Park, the drumsticks are marinated in 10 spices and get their signature crunch from a thin batter made with a base of flour and cornstarch, as well as a frying time of 20 to 25 minutes. The chicken is then served "original" (that is, sauceless) or brushed with the customer's choice of sauce: soy garlic, spicy soy garlic, yum yum (a tangy steakhouse sauce often credited to the Japanese), fresh pepper garlic, honey garlic and Buffalo.
Munchies on the menu include such options as takoyaki (spheres of octopus), cheesy pot stickers, Korean corn dogs and "SDSK" (short for the variously transliterated sotteok sotteok – sausage/rice cake skewers). Hot dishes include chi-bap (boneless chicken with rice), ra-bap (spicy fried rice) and tteokbokki (stir-fried rice cakes in pepper sauce – also available in the variant ra-bokki, served with ramen).
Chicken Seven otherwise features catering packages like a large boneless party platter, complete with fried chicken, tortillas, fries and fixings such as coleslaw, sliced peppers and cheese. In the future, Le and Park hope to offer beer, the Korean quasi-vodka soju and cocktails concocted with it, and they have tentative plans to roll out a food truck. 
Chicken Seven, 6312 S. Grand Blvd., St. Louis, 314-354-6349, chicken-seven-traditional-restaurant.business.site