In Midtown, burrito-sized sushi rolls, poké bowls and salads are currently available for contact-free pickup via online ordering. Blk Mkt Eats, which debuted in 2017, features globally influenced flavors in a fast-casual format. The concept comes from co-founders and cousins Kati Fahrney and Ron Turigliatto.
"We really wanted to bring something that's fast, fresh and craveable to SLU [Saint Louis University] students and working people," Fahrney says. "Our slogan is 'taste beyond boundaries.' We're inspired by so many different food cultures and don't follow any set rules. We do whatever feels right and tastes good. That's how we were able to come up with this menu."
The menu currently features 10 different specialty options. One of the most popular picks is the OG Fire, available with ahi tuna or salmon, avocado, Persian cucumbers, masago, crispy shallots, tempura crunch, sesame seeds, fresh jalapeños and OG fire sauce.
"The ingredients are chosen for their burst of flavors and freshness, and visuals are important to us too," Turigliatto says. "We want our food to look beautiful."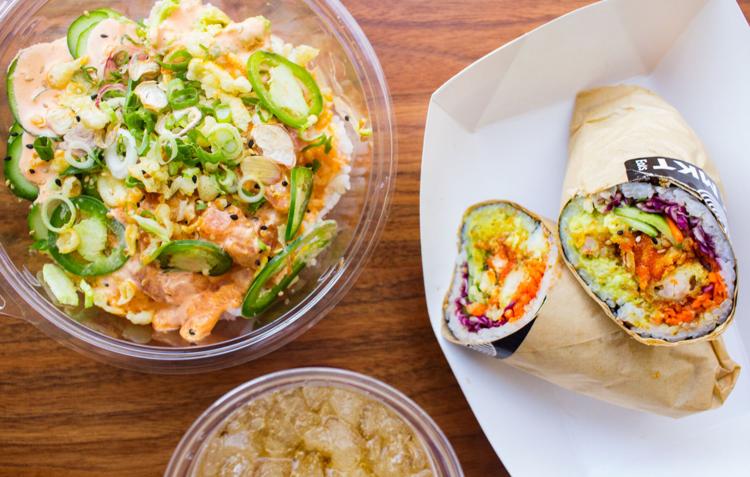 Highlights include the Tasty As Cluck, which features Southern fried chicken, kimchi slaw, arugula, housemade pickles, crispy shallots and OG Fire sauce. Holy Shiitake is a vegan option with braised shiitake mushrooms, sesame kale slaw, Persian cucumbers, avocado, pickled daikon, crispy shallots and unagi sauce.
Side options include Krilla Bites (three-piece shrimp tempura) and organic crispy salt-and-pepper Tofu Nugs, which can also be added to any sushi burrito or poké bowl. To drink, choose from a variety of Puck's sugar cane fountain sodas from New Jersey in flavors such as dark cherry, mandarin orange and vanilla cream.
Blk Mkt Eats, 9 S. Vandeventer Ave., St. Louis, 314.391.5100, blkmkteats.com
Be the first to know
Get local news delivered to your inbox!