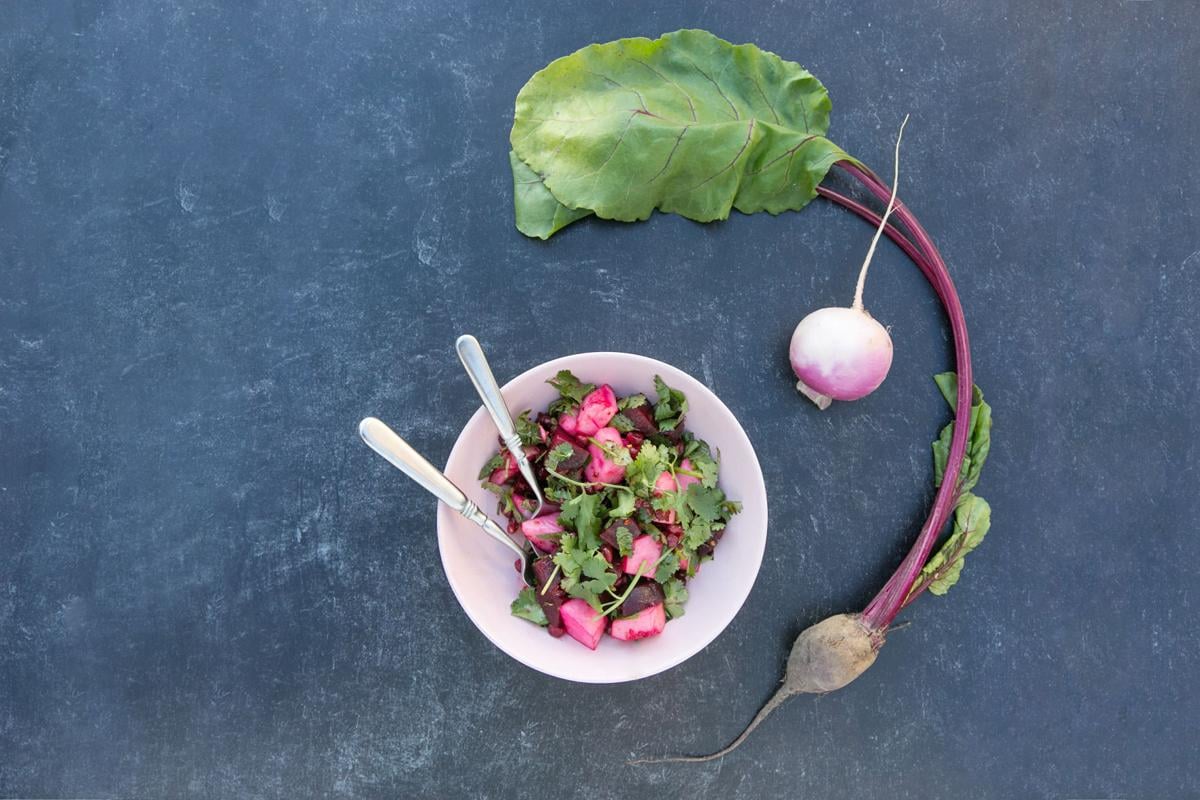 A homage to pai huang gua (smashed cucumbers), this dish works as a side, but it's also substantial enough to fly solo. Since winter is not peak season for cucumbers, I substitute turnips and beets in the recipe. The salad gets its flavor from Sichuan chile crisp, a spicy infused oil widely available at local Asian markets. Also, if you can find Hakurei turnips (Japanese salad turnips), I highly recommend them for their delicate flavor and crisp texture, resembling that of a mild radish – they're delicious raw. 
Serves | 4 to 6 |
1 lb beets
1 lb turnips, cleaned, large dice
1 cup pomegranate seeds
¼ cup chopped cilantro
1 Tbsp sesame seeds
1 Tbsp sugar
1½ tsp kosher salt
2 Tbsp black vinegar
1 tsp chile crisp
| Preparation | Fill a small pot with water; bring water to a boil. Add beets; cook until knife-tender for 15 to 20 minutes. Remove beets from water; peel and cut large dice. Place beets and turnips in a zip-close bag; gently smash with a rolling pin. Transfer smashed vegetables to a bowl along with remaining ingredients; toss to combine. Set bowl in refrigerator; chill until cold for approximately 15 minutes. Serve.
Amanda Elliott is the chef at Peachtree Catering (peachtreebanquet.com) in Columbia and authors the website Rustic Supper (rusticsupper.com), where she shares recipes centering on the idea of the communal table and embracing the heritage of food through travel. She also hosts a series of pop-up dinners in Columbia called Sunday Suppers.