Chick'nCone launched its first Missouri location in St. Louis' Central West End neighborhood on June 12. The eatery takes a popular American comfort food pairing and presents it in a novel way: fried chicken bites dressed in various sauces and served in a fresh-baked waffle cone.
Franchise owner and manager Matt Halambeck relates that Chick'nCone originated in the New York City borough of Manhattan in 2014. The storefront here marks the brand's 19th franchise location, with others dotting the nation from San Diego to Miami and international locations gracing Toronto and Dubai, United Arab Emirates.
"If you like chicken and waffles, this is a fun way to get that on the go," Halambeck says. "Waffle cones were created here in St. Louis during the World's Fair, so in a way, we are continuing that tradition with something a little different."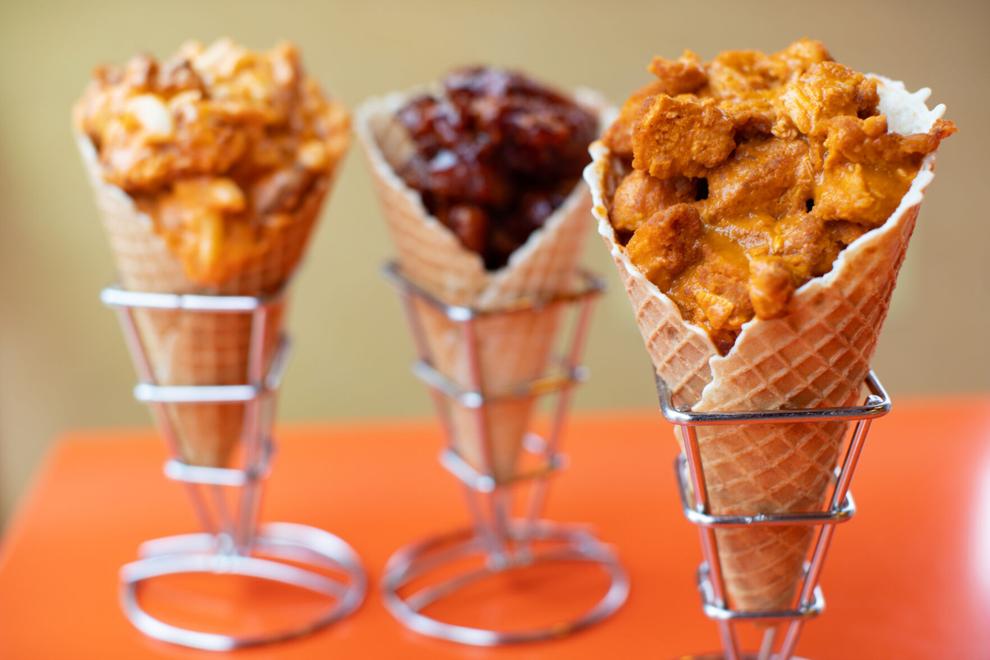 Halambeck has more than 30 years of experience in hospitality, including working with two regional franchise restaurant chains. Prior to the coronaviral pandemic, he managed offices for a printing company in downtown St. Louis for 12 years.
"With COVID, I lost my job, like many other people, and went back to my history with restaurants," Halambeck says. "I started searching around for something unique. Having been with franchises before, I think the failing is when they try to do it all. I'm much more a believer in restaurants that have a smaller menu and do it well."
Chick'nCone fills a previously vacant 2,500-square-foot space, outfitted with the fast-casual brand's orange-and-white color scheme. Its concise menu centers on its namesake handheld chicken and waffles, available with the diner's choice of sauce: Cinna-Maple, BBQ (tomato-based sweet barbecue sauce), Yella BBQ (sweet-and-tangy mustard-based barbecue sauce), Buffalo Blue, Peri Peri (spicy South African chili sauce) and the bestselling Kick'nRanch.
The cones come à la carte or as a combo meal with a drink and the diner's choice of a side: Caj'nFries, Caj'nCorn or Mac'nCheese. Mac'nCheese also can be added to the cone as a mixer for a saucy, savory way to enjoy the components together.
The brand's crispy chicken tenders comprise white meat with a flour-based breading. Chick'nTenders also come without the hand-rolled cone in three- or four-piece meals or in a Chick'nSandwich on a halved, toasted brioche bun.
For drinks, diners can choose from iced tea, Pepsi products and (in store only) Waffle Crunch shakes – hand-dipped milkshakes made with crunchy waffle cone pieces, available in vanilla, caramel and chocolate.
Chick'nCone, 15 N. Euclid Ave., St. Louis, 314-449-1075, chicknconemo.com