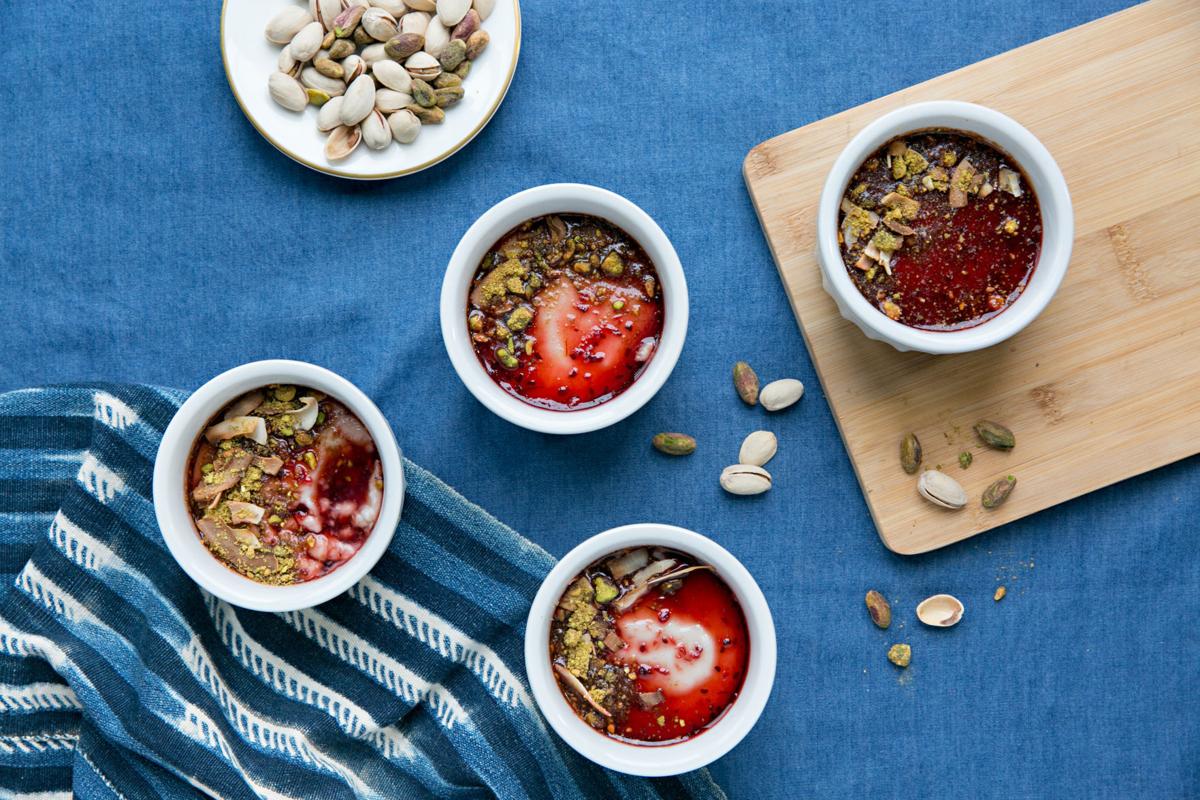 Inspiring this silky coconut custard are the flavors of malabi (also known as muhallebi and mahalabia), a sweet milk pudding popular in the Middle East. Both dairy- and gluten-free, it's incredibly easy to execute – 15 minutes, and you're finished – so why not indulge, even on a weekday?
Serves | 4 to 6 |
Blueberry-Saffron Syrup (yields 1 cup)
¼ cup sugar
¼ cup blueberry jam
¼ cup hot water
1 Tbsp freshly squeezed lemon juice
1 pinch saffron
Coconut Custard
1 13.5-oz can coconut cream
1 cup unsweetened coconut milk
½ cup sugar
⅓ cup cornstarch
¼ cup water
toasted coconut or chopped pistachios, for garnish (optional)
| Preparation – Blueberry-Saffron Syrup | In a small saucepan, add all ingredients; set over low heat, and whisk until sugar and jam have dissolved completely. Set aside to cool.
| Preparation – Coconut Custard | In a medium saucepan, combine coconut cream, coconut milk and sugar; set over medium-high heat, and stir until small bubbles start to form. In a small bowl, whisk together cornstarch and water to make a slurry. Slowly add slurry to pan; stir until mixture has thickened and coats back of a spoon. Remove from heat and divide into ramekins or small jars. Cover each with plastic wrap; transfer to refrigerator until cold for 3 to 4 hours.
| To Serve | Remove custard from refrigerator; top with syrup and garnish of your choice. Enjoy!
Amanda Elliott is the chef at Peachtree Catering (peachtreebanquet.com) in Columbia and authors the website Rustic Supper (rusticsupper.com), where she shares recipes centering on the idea of the communal table and embracing the heritage of food through travel. She also hosts a series of pop-up dinners in Columbia called Sunday Suppers.