St. Louis Union Station's 1894 Cafe, which debuted alongside the St. Louis Aquarium last December, features family-friendly, fast-casual fare with a focus on convenience – dishes inspired by the World's Fair, among them cheeseburgers, hot dogs and soft pretzels, with quick-service options available for carryout.
The kitchen's quick turnover times make the eatery's menu ideal for grabbing a bite during a visit to the aquarium or the adjacent mirror maze and ropes course (the latter featuring a zip line 50 feet over the aquarium lobby floor).
The second-story eatery, named for the year of Union Station's construction, marks the third restaurant from Maryland Heights' Lodging Hospitality Management to complete the $45 million aquarium project. (Preceding it were The St. Louis Union Station Soda Fountain and The Train Shed.)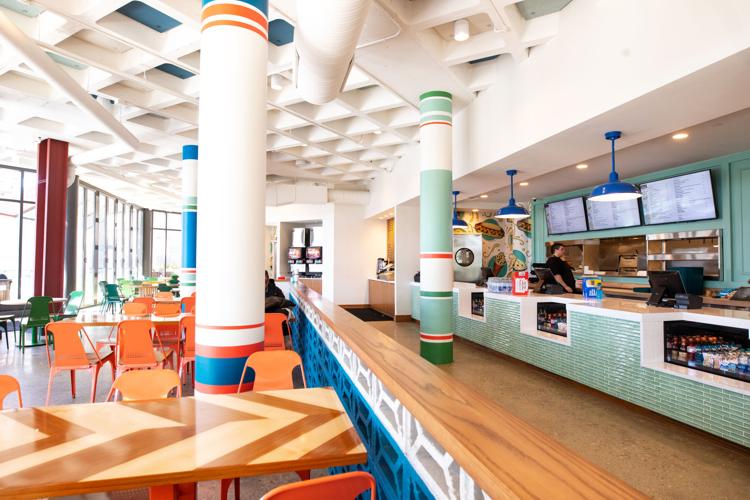 Bestsellers from 1894 Cafe's menu comprise a grilled chicken sandwich, as well as a cheeseburger with American cheese, both on split-top buns. Additional sandwich options include a veggie wrap with roasted vegetables, avocado and tomato on a whole-wheat tortilla, an all-beef hot dog and a fried fish sandwich with battered cod and cheese.
From snack options, patrons can choose red pepper hummus with pita bread, carrots and cucumbers; bite-sized corn dogs; and chocolate chip cookies. Among salads, the eatery features a classic Cobb with shredded iceberg lettuce, bacon, a hard-boiled egg, grilled chicken, tomato and avocado. Finally, a kids' menu offers options like a grilled cheese and chicken nuggets. 
1894 Cafe (inside Union Station), 1820 Market St., St. Louis, 314-621-5262, stlouisunionstation.com/1894-cafe
Be the first to know
Get local news delivered to your inbox!