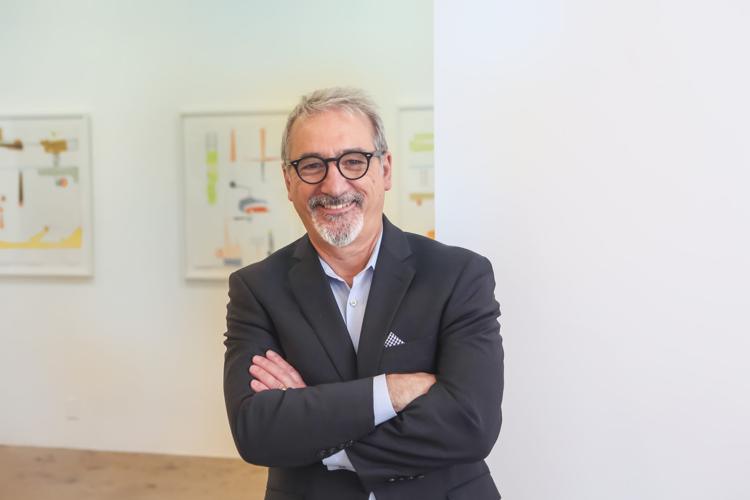 Although the characterization likely would prompt a laugh from him, Carmon Colangelo might well rank as the metro area's preeminent equilibrist, given that he daily walks a tightrope between a high-profile career in administration and a calling in art.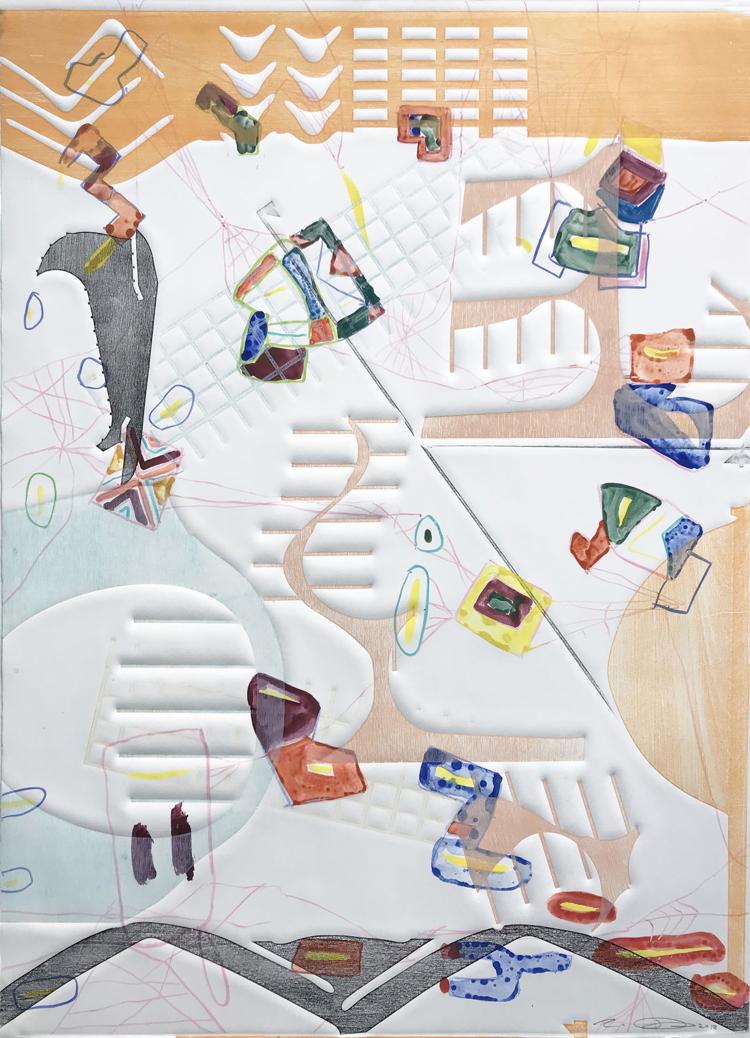 "Happy Planet," an exhibition running with three others through June 1 at Clayton's Bruno David Gallery, illustrates that calling, and Colangelo reflects on it from his administrative milieu at Washington University in St. Louis, where since 2006 he has served as the first dean of the Sam Fox School of Design & Visual Arts.
"Being an artist is central to my identity and who I've always been, so making art has always been there," he says. "It's something I have to make time to continue. Generally, I've always thought about it a bit like exercise. You need to do something all the time – you can't just do it part of the time. … Typically, I spend weekends in the studio if I'm not traveling."
The dean adds that in academe, creating art equates to research; to that extent, his calling and his career dovetail equitably.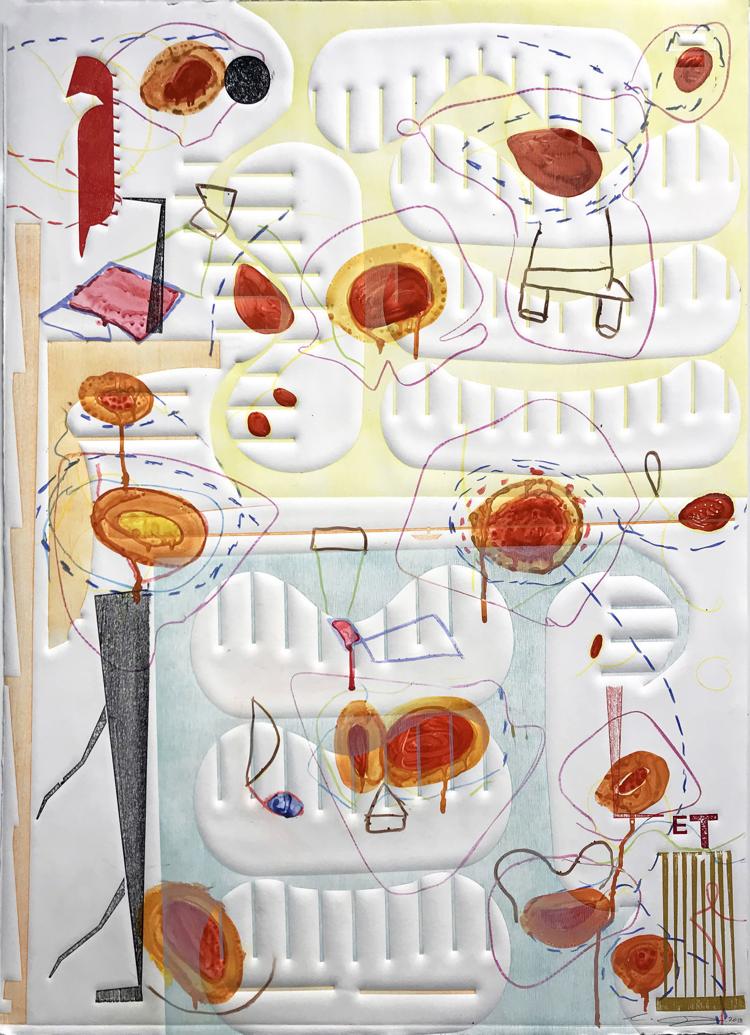 "Happy Planet" – Colangelo's 10th solo exhibition with the Bruno David Gallery, which is publishing an exhibition catalog of his work that includes a history and bibliography – comprises two discrete series of prints: Happy Plans (in which straight lines predominate) and Colorful World (in which curvier figures prevail).
Both Happy Plans and Colorful World involve monotypes, generally defined as unique prints from a plate (whether of metal, glass or some other substance) whereon a picture has been made with ink, paint or something else.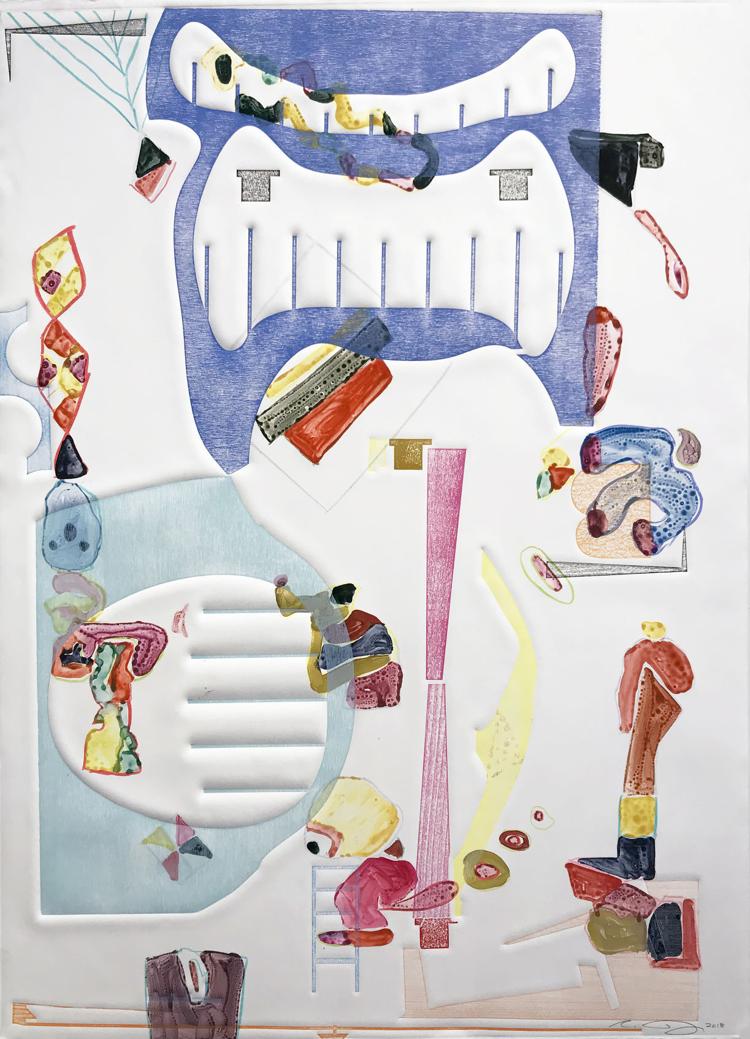 "The happy planet is also in the happy plan – I like to always plan happy days," the dean says generically about the series, before laughing (something he does quite a bit). "How do you structure a day without happiness? The Happy Plans look more like architecture sections, and they're made to be flat … where the Colorful World ideas are more organic forms and more layered and heavily embossed."
A press release from the gallery characterized the prints in "Happy Planet" as "a playful and somewhat saccharin response to the current state of political affairs," which Colangelo explains.
"Getting central to knowledge is seeking truth," he says. "I think this period where truth is being challenged as 'fake news' or 'alternative reality' and not having its base in research and knowledge is a troubling matter – how it's being politicized and how it's being played out for political advantage is really a sad state of affairs.
"The 'saccharin response' is to say I wish for a happier planet, one that would be more civil in discourse and one that seeks the truth."
Mentioning "lots of drawings, lots of studies, lots of ideas" preparatory to any of his creative endeavors, Colangelo provides background on the heuristics underlying "Happy Planet" and the actual creation of the exhibition's two series.
"I made them all in one big burst," he says of the works, all dated 2018. "The deceptive thing about that is that I'm constantly working up to the works. So while I printed all the work in January, I've been working on the ideas probably since late summer, from my last show on, thinking about how to construct them – so, the plates being prepared and cut, and the mapping of the ideas.
"Then there's a lot of experimentation that goes on, that sort of trial and error. But once you get the 'language,' once you're set up to do it, once you curate it down, then you're sort of in the zone."
Colangelo also distinguishes between the series from a procedural vantage.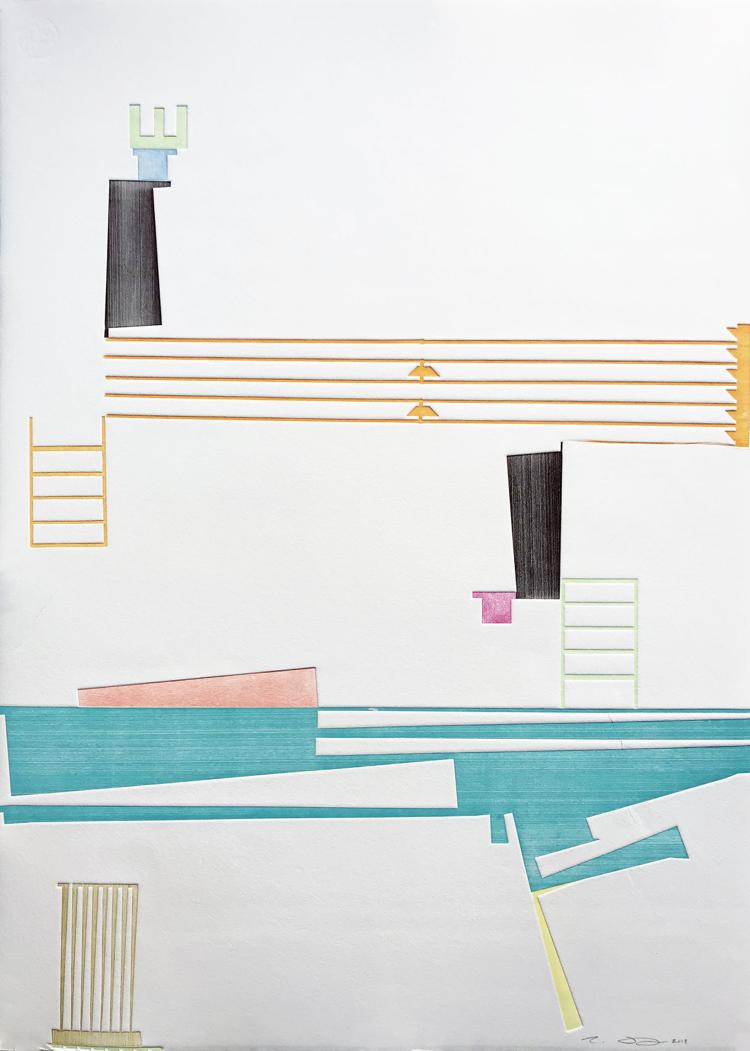 "I think that the way that I've been working, probably the ones that challenged me more were the Colorful World in terms of constructing them," he says. "They're layered in a different way, where they're all printed, but the monotype printing process that I used in the Colorful World prints requires me to make the watercolor monotype on a plexiglass plate that's then printed on paper, and then the second plates are printed on a relief press [a press using a plate or similar device to whose surface, but no recessed areas, ink is applied subsequent to being brought in contact with paper].
"So there's a lot more chance involved in the actual layering process of those works. The Colorful World prints are more complex, layered, and so therefore more multivalent in that way."
After "Happy Planet," Colangelo expresses the hope of continuing his longstanding professional relationship with the Bruno David Gallery, whose namesake he praises as "very generous," as well as other workshops and shows in Florida and other places. In the final analysis, all such activity ultimately will hit the dean's academic curriculum vitae – which actually might need a few years' worth of updates and which already totals 14 pages.
Bruno David Gallery, 7513 Forsyth Blvd., Clayton, 314-696-2377, brunodavidgallery.com