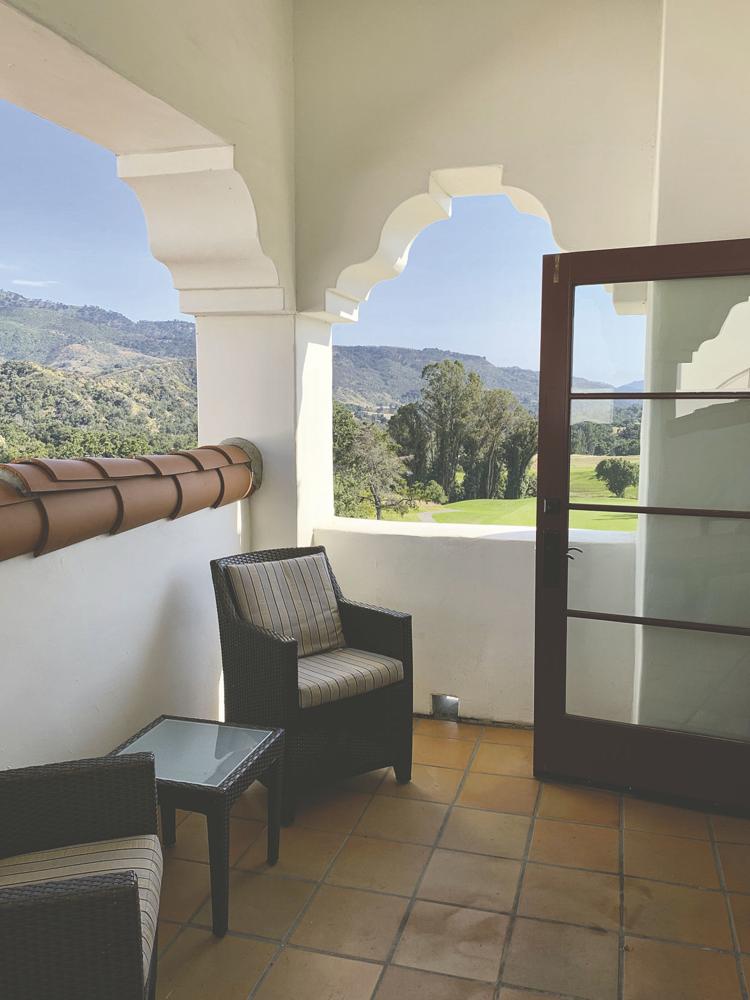 Stepping onto the cool tiles of my balcony, I gazed across red-tile roofs below me and past immaculate golf greens, finally resting my eyes on the mountains beyond, just touched with morning sun. Like the tiles, the air was cool, slightly moist, and it smelled of lavender. Inhale … Exhale …
When I first heard of the Ojai Valley Inn, I imagined a quaint B&B in a small town. As it turns out, I was delightfully wrong. The name marks the only modest thing about this luxury resort and spa surrounded by California's Topatopa Mountains. It's a world of its own, 80 miles north of Los Angeles, yet an easy walk to the bohemian enclave of Ojai – a Native American name meaning "moon."
As perhaps the most surprising and welcome discovery a traveler to the Ojai Valley Inn can make, the place can satisfy virtually every kind of visitor, from young singles to families to retirees: athletes, artists, spiritualists, foodies. During my four days there, I delighted in discoveries that nourished my soul, challenged my body and tickled my senses.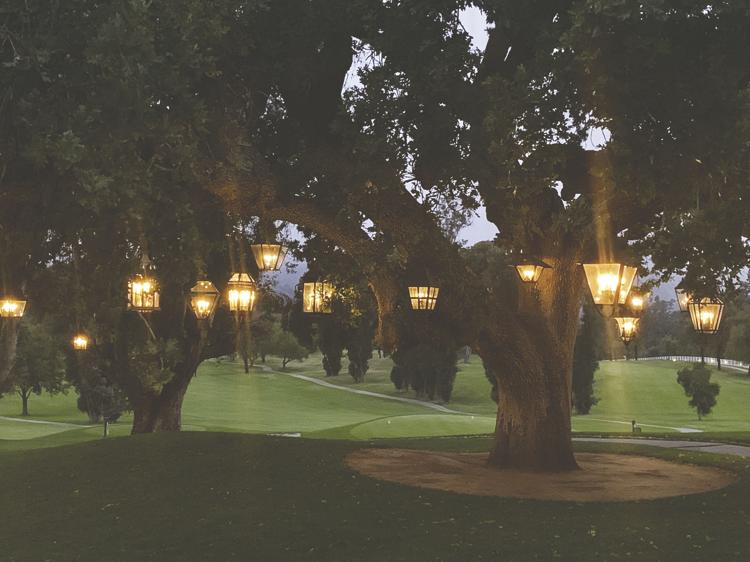 For the athlete, for instance, the Ojai Valley Inn began as a golf resort and continues to cater to serious golfers and beginners alike. The course surrounds many of the resort's buildings, allowing for views of the greens from almost every location. Built in 1923, before the advent of bulldozed and manufactured golf courses, the fairways and greens conform to the natural rolling landscape. Since its creation, celebrities from classic crooner Bing Crosby to contemporary film star Will Smith, along with golf greats like Arnold Palmer and Ben Crenshaw, have played and competed on the historic course, which became more challenging in 1988, when course designer Jay Morrish tweaked the 18 holes to their current par-70 status.
Golf culture is wonderful, yes – but I'm no golfer. Yet the Ojai Valley Inn afforded a wealth of other athletic activities that ensured I reached my daily fitness goals. Bicycles are free for use by guests who want to explore the area, perhaps even riding the Ojai Valley Bike Path to the Ventura beaches, an 18-mile round trip. If foot travel is more your style, there are plenty of walking paths and hiking trails to explore. Guests also can join knowledgeable resort guides for daily fitness walks to downtown Ojai or around the resort, learning area history and botany along the way.
Tennis is another popular resort activity, with four lighted courts available for games or lessons, located near Camp Oak, the resort's club for the 4- to 12-year-old set.
Serious gym devotees can work out at the resort's Spa Ojai, where a complete weight room with cardio machines adjoins a lap pool. Following a workout, soothing spa treatments can ease body and mind alike. I also enjoyed two of the many complimentary fitness classes led by friendly spa staff, who showed me new ways to stretch and left my muscles satisfyingly sore.
For the artist, meanwhile, the Topatopa Mountains – the resort's most prominent natural feature, running in an east-west line – should provide plenty of inspiration, especially if one is lucky enough to experience the "pink moment": If conditions are just right and you look to the east, the setting sun reflects off the mountains, swathing everything in a pink glow.
When the pink diminishes to a dusky blue and the moon appears, the Ojai Valley Inn appropriately twinkles with the light of Illume, an art installation by Paul Ferrante that features 28 handmade wrought-iron and glass lanterns hanging at various heights from the resort's iconic 200-year-old oak tree. The effect is magical.
During the day, the resort's Artist Cottage & Apothecary provides a fun, whimsical setting for a variety of arts and crafts. Open studio hours welcome guests to explore projects such as mandala spirit stone painting, paper marbling and candle-making. And it's easy to spend an afternoon in downtown Ojai, exploring the town's many galleries that feature local artists' work.
For the spiritualist, otherwise, just being surrounded by the Ojai area's natural beauty can be moving. Those same spiritual seekers flock to Ojai to experience the town's Chumash Native American history and seven geomagnetic vortexes that some credit with saving the town from wildfire destruction in 2017.
Mind-body activities similarly abound at the inn. Guests can create custom aromatherapy scents at the Artist Cottage, take free holistic nutrition classes, receive sound energy therapy and participate in complimentary group meditation and sessions involving qi gong, a holistic Chinese system of coordinated body-posture and movement, breathing and meditation. The many tranquil nooks and crannies with comfortable seating scattered around the resort are perfect for private meditative moments.
Finally, for the foodie, one of the loveliest sights at the Ojai Valley Inn may be the manicured kitchen garden, where herbs, vegetables and fruits abound, grown for use in the resort's five restaurants. From fine dining at Olivella to gourmet coffee at Libbey's, dishes are fresh, varied and creative and can satisfy a range of dietary needs.
Cocktail fans can enjoy classic combinations and craft creations in the resort's most historic venue, the Wallace Neff Heritage Bar. Named for the resort's founder, the bar occupies the resort's original clubhouse and surrounds guests with a posh, old-Hollywood vibe. Seven varieties of lavender grow on-site for use in everything from spa treatments to lotions to subtly flavored scones;
I highly recommend the refreshing house-made lavender lemonade – with or without alcohol.
In addition to the culinary delights at the resort, Ojai's many restaurants serve dishes prepared with seasonal, local produce and meats. One example is Osteria Monte Grappa, whose menu features house-made pasta and organic ingredients along with an entire section devoted to local duck-egg frittatas.
No matter what your tastes and interests, the Ojai Valley Inn should leave you planning your next visit!
Ojai Valley Inn, 905 Country Club Road, Ojai, California, 855-697-8780, ojaivalleyinn.com