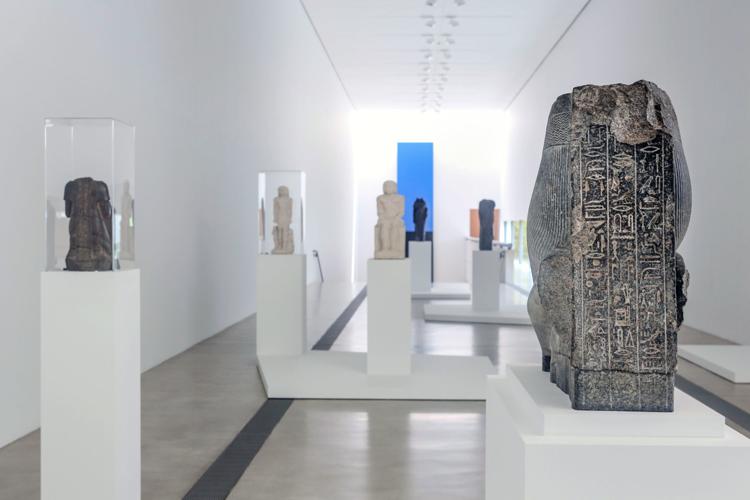 "Striking Power: Iconoclasm in Ancient Egypt," an ongoing exhibition at St. Louis' acclaimed Pulitzer Arts Foundation, details desecrations (among them nasal desecrations) to statues and similar works from the Land of the Nile.
That exhibition, which opened March 22, runs until Aug. 11 under Pulitzer associate curator Stephanie Weissberg and calls into question the degree to which the term icon and all of its derivatives have been degraded over time.
"Striking Power" comprises 40 artifacts on loan from New York's 196-year-old Brooklyn Museum. Accompanying the exhibition and sharing its title is a 72-page illustrated catalog, co-published by the Pulitzer and its New York counterpart; that catalog includes essays by Weissberg and Dr. Edward Bleiberg, senior curator of Egyptian, Classical and ancient Near Eastern art at the Brooklyn institution.
Works in the exhibition derive from three Egyptian eras, according to the Pulitzer's initial press release: the Pharaonic Period, 3000-30 B.C.; Late Antiquity, A.D. 200-642; and the Islamic period, dating from 642 to the present.
That release relates the outré inspiration for the exhibition. "The most common question I am asked about the Brooklyn Museum's collection of Egyptian art is 'Why are the noses broken?'" it quotes Bleiberg as recalling. "This exhibition grew out of my search for the answer to that question."
The answer, in brief? In antiquity, Egyptians believed the statuary involved not only paid tribute to deceased rulers but also personified them. In what anthropology calls sympathetic magic, destroying the noses of statues and similar works (an act of literal defacement) prevented those rulers from breathing in the afterlife, tomb robbers believed – and thus, from seeking vengeance for sarcophagal desecrations.
Similar but more theologically oriented depredation took place to prevent deceased rulers from nourishing themselves (and thus maintaining power) in the afterlife.
Later desecration from a more pragmatic era, notes the release, took place often simply to scavenge the granite and other precious components of ancient statuary – something of a precursor to contemporary thieves' pinching copper from unattended air conditioners – regardless of its archaeological and artistic significance.
Weissberg reflects on how it felt to co-curate an exhibition involving artifacts not "merely" centuries old but millennia old.
"'Striking Power' is an exciting opportunity to view ancient objects in a new light," she says. "It's the first exhibition to explore the intentional destruction of ancient Egyptian art. Developing this show has been a very rewarding interdisciplinary process, as we've looked at objects not only in the moment of their creation, but across thousands of years as different cultures, religious groups and political leaders came into contact with them.
"It's humbling to realize that although there are very significant differences between ancient Egyptian and modern understandings of visual culture, the power of images has sustained over millennia."
"Striking Power" opens with the literally disembodied sculptural head of a ruler named Hatshepsut – its nose and other significant features destroyed – and sprawls grandly through the Pulitzer's entrance, main, cube, lower main, lower south and lower east galleries in a curatorial tour de force.
The artifacts on display range in size from relics smaller than tennis balls and a granite statuette (of a priest named Hor) no bigger than a Barbie to the 82-inch-tall limestone lid of a sarcophagus (of a royal scribe/priest named Pa-di-Inpu).
Many sport nasal destruction (among other calculated destruction helpfully sketched in a complimentary saddle-stitched guide for visitors issued by the Pulitzer) in what brings to mind some sort of vast rhinoplastic exercise gone tragically awry.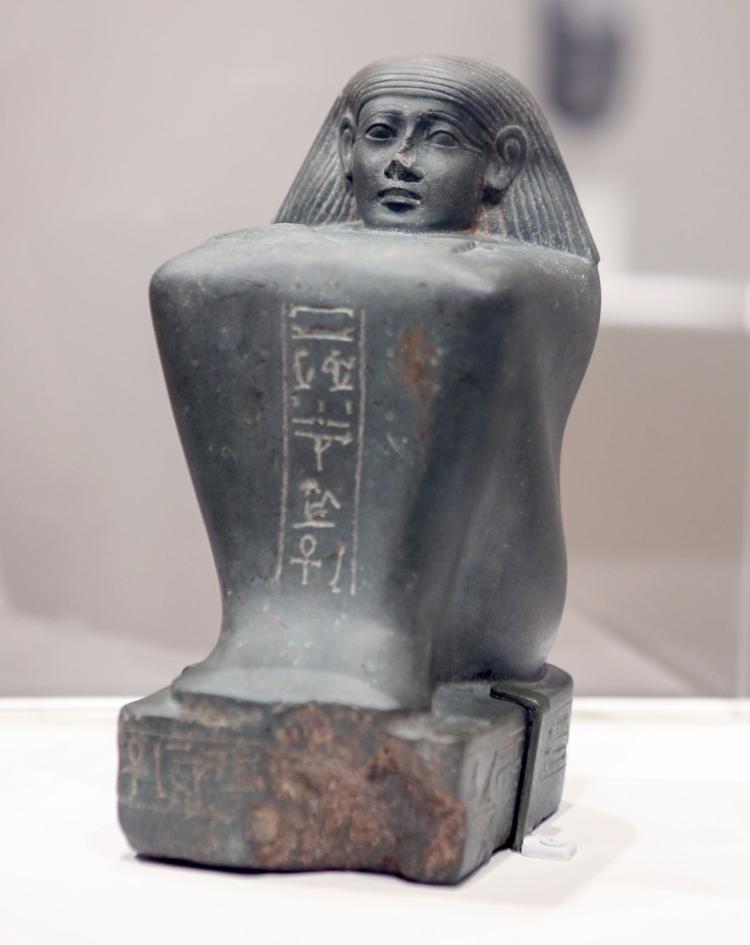 In fact, the average visitor to the Pulitzer might laugh aloud on reaching the exhibition's 35th item, the limestone bust of Ptolemy II, whose kingly schnoz has somehow remained intact across the millennia: Did someone miss a memo?
When asked which of the 40 artifacts in "Striking Power" most impressed her, Weissberg cites the Hatshepsut relic mentioned earlier.
"As one of the few female kings to rule Egypt, Hatshepsut was an incredibly successful leader who used visual representations, such as this statue, to telegraph her power," she says. "After her reign, her stepson mounted a widespread campaign against her legacy in order to ensure the succession of his own son.
"This particular statue was once a part of a sphinx and displays typical patterns of the destruction that was waged against Hatshepsut's image, including damage to symbols of her royalty – such as the protective cobra on her headdress – and her nose, where her spirit would have drawn the breath of life."
Weissberg also circumspectly distinguishes between the destructive acts illustrated in the exhibition and seemingly congruent acts perpetrated during the last half a century or so, either here or abroad.
"When considering connections between the past and present, it's important to acknowledge that contemporary image-culture functions in ways that are fundamentally different from that of ancient Egypt," she says. "Ancient Egyptians believed images could host the spirits of deities or the deceased. Their destruction was, therefore, often aimed at preventing a spirit from exerting influence over the living.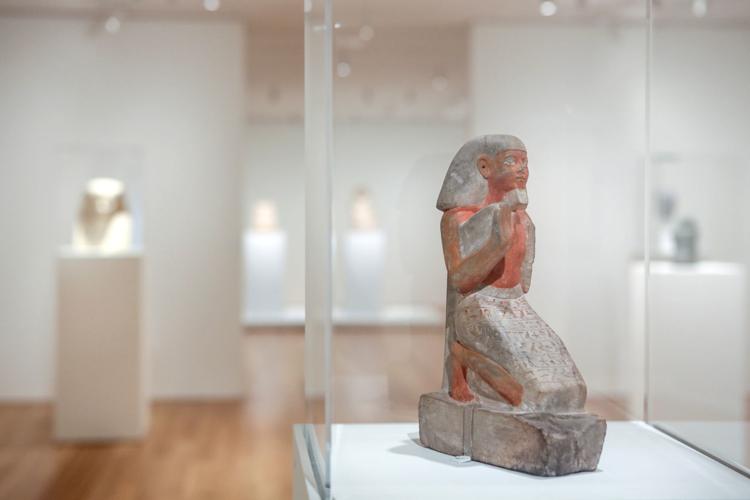 "While the type of threat images pose may be understood very differently today, their destruction can still be attributed to the enormous influence they exert. For this reason, the study of the ancient past lends nuanced understanding to our current moment, in which the destruction of art and monuments occupies critical space in civic discourse."
Otherwise, Weissberg reflects on a benefit of her and Bleiberg's investigation into destructive patterns among Egyptian relics. "In the process, many more questions have arisen, which provide exciting opportunities for future research," she says. "It's been rewarding to see audiences engage the material with curiosity and enthusiasm as we investigate these objects under a new lens."
Finally, it bears noting that an exhibition that fundamentally began with broken noses ends on a similarly outré note. Its 40th and last display, positioned alone at the base of the stairwell in the lower east gallery, contains nothing more than a pair of granodiorite feet, all that remains of the statue of a priest named Sehetepibre-ankh.
Pulitzer Arts Foundation, 3716 Washington Blvd., St. Louis, 314-754-1850, pulitzerarts.org