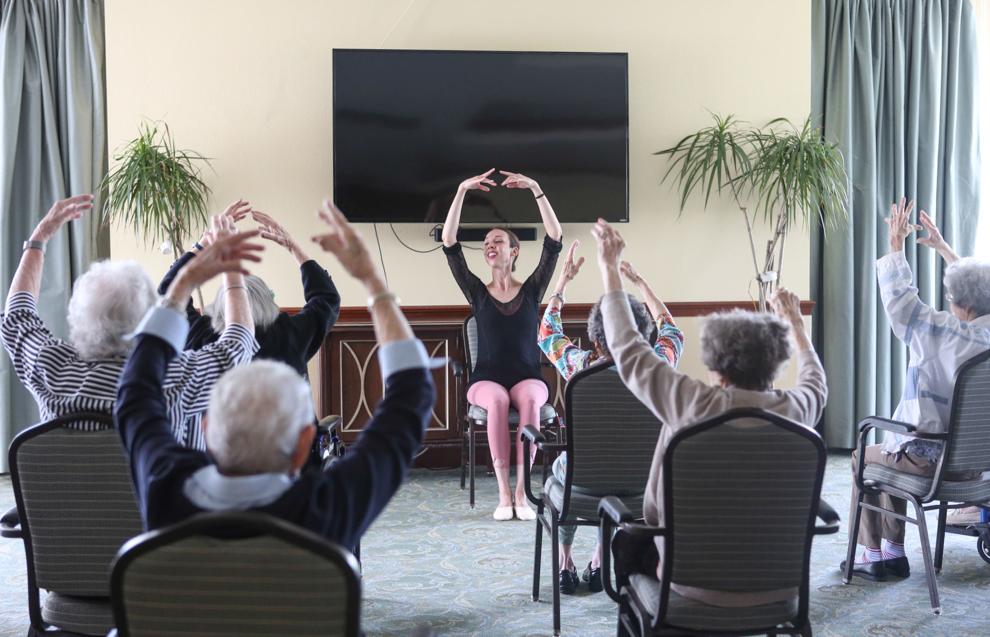 Men and women aged 50 to more than 100 years old are experiencing the joy of dance – all from the comfort of a chair.
Vitality Ballet, started in 2012 by Vanessa Woods while she was still a well-known professional dancer for the Saint Louis Ballet, offers artistic exercise classes uniquely designed for seniors. Instructors lead participants through dance classes featuring combinations of modified steps, stretches, sequences and combinations timed to music – all of which can be completed while seated, allowing those in wheelchairs, those with unstable balance or anyone differently abled to participate from the safety of a chair.
"We're exercising, but really it is an art form that affects your soul," Woods says. "Everyone is moving in unison, while working on posture, poise, balance, strength, mobility and flexibility. It feels really lovely on the body, and even for those who are not as mobile anymore, it inspires movement in a way that is very fun."
Woods, a New Jersey native who began dancing as a child and trained in the art for 25 years, was a professional dancer for 12 years all over the country, from Washington, D.C., and New York, to eight years with the Saint Louis Ballet.
While performing with the local professional ballet company, Woods also worked side jobs to supplement her income, including teaching young people the art of ballet at the Saint Louis Ballet School. And as she began to think about her post-performance career, she was struck with the idea to share dance with older generations.
"I was talking with my mom, who is an occupational therapist who works with a lot of geriatric patients, about how I could tap into my passion for ballet and make it accessible to a different population," Woods says. "I have always been drawn to the elderly population … and [although] many people think seniors maybe would be patrons of the ballet, but not be able to do it, the idea to make it accessible to them intrigued me."
Woods says it has been exciting to branch off from being a ballerina to being a business owner, spreading her love for dance through the launch of Vitality Ballet. Since its inception, the company has expanded to 18 teachers, including current and former professional dancers, dance and theater students, and certified yoga instructors, leading about 210 monthly classes, including senior ballet, dancing through the decades, chair line dance, stretch yoga, water ballet and balance barre, with as many as 30 seniors attending each session at more than 75 area senior living communities, such as Aberdeen Heights, McKnight Place, Parc Provence, Provision Living at West County, Chesterfield Villas, The Sheridan of Laumeier Park, Mari de Villa, Brentmoor Retirement Community, Friendship Village, Allegro Senior Living and The Gatesworth. "The goal is to expand outside St. Louis, touching as many lives as possible and increasing engagement and accessibility to dance," Woods says.
As the aging populations grows, Woods says more seniors are looking for a wider range of activities to enjoy in their golden years – and dance is a fresh, new way to continue their mental and physical lifelong learning. "The seniors are so fun to work with, so appreciative and so full of life, energy and humor," Woods says. "Even the men love dancing and say they didn't know they could get such a good workout … from putting together the dance moves with music."
Woods says studies – including research from her alma mater, Washington University in St. Louis – have shown that dance can have powerful benefits for both the body and brain, such as strengthening neuronal connections and improving strength and balance. Movement to music also can inspire memory recall for participants, including those with dementia and Alzheimer's disease, Woods says. "Some recall, 'I met my husband while dancing,' or, 'We used to go out every weekend ballroom dancing,'" she says. "Others remember taking dance or tap class as a child – it taps into a youthful time."
Woods says it's heartwarming to see seniors having fun while doing something beneficial for their bodies and minds. "They always say they are inspired by [the teachers], but we say how inspired we are by [them]," she says. "[They're] the ones who are continuing to dance. No matter how old they are, no matter what their physical limitations are, they can still continue to dance and move their body in an artistic and meaningful way."
Elaine Begis, a 96-year-old who resides in Garden Villas senior living community in Town and Country, has been attending Vitality Ballet's classes, from senior ballet and dancing through the decades to seated yoga, since they began. "The ballet class is the one I most enjoy," Begis says. "It makes you forget how old you are. You enjoy these beautiful movements you can make while you're still seated, and the icing on the cake is that whoever is conducting the session performs afterward – and it's just beautiful."
Begis believes the classes benefit her physically and mentally, as well as remind her of cherished memories. "I was raised in New York and fortunate enough to go to several ballets, so it brings back those memories to me," she says.
No matter what Vitality Ballet is offering, Begis encourages other seniors to get involved. "If they're offered, I'm there," she says. "They say, 'If you don't use it, you lose it,' so I try not to lose it."
Vitality Ballet, 609-314-0292, vitalityballet.com