Although longtime aficionados of the bounties available from The Wine and Cheese Place might have quailed at its change in ownership, they needn't have felt nervous, says new head honcho Vijay Shroff.
Shroff has already expanded the utility of the Clayton location. (The Wine and Cheese Place also serves patrons at facilities in Ballwin, Creve Coeur and Rock Hill, which have been undergoing similar alterations, according to the September press release announcing the change in ownership.) The expansion in question involved the creation of a haven for tastings and other activities at that location.
"I wanted to create an event space where our customers could experience our wines, spirits, beer and food items on an intimate and conversational level with our expert staff," Shroff – the majority owner of TAVco Holdings I, LLC, technically the purchaser of the retail operation – says of the expansion. "I also wanted to give customers and local businesses a fun venue to hold private events which feature tastings of our products."
In the fun department, area residents "of a certain age" may well delight at the name of the area of expansion: The (IN)Famous Bar, according to the press release, pays tribute to storied former retailer Famous-Barr, the ex-owner and occupant of the distinctively curved building now housing The Wine and Cheese Place and other ventures.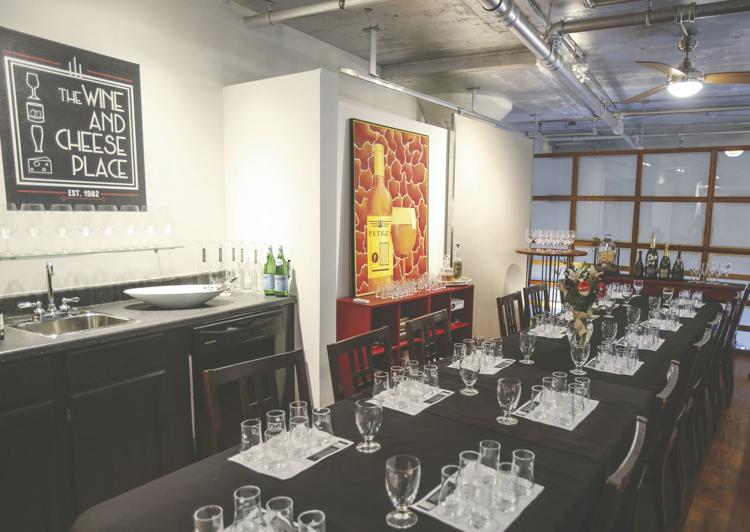 The fully functional expansion, which took roughly a month to realize, involved relighting and otherwise renovating an erstwhile storage area. "The space, located within our 7435 Forsyth Blvd. location, is an upstairs mezzanine, seats 20 comfortably, has a wet bar and has audiovisual equipment for meetings," Shroff says.
He also characterizes the initial reaction to the expansion from The Wine and Cheese Place's clientele as "very positive." "We've booked several events and classes since opening the space, all of which are listed on our website," Shroff says. "Almost every public event has sold out. We've had whiskey tastings, wine tastings and even a wine-paired magic show!
"Private events have included birthday parties, hosting the St. Louis Bourbon Society and an Octoberfest-themed tasting for a local company. In February, we're hosting bespoke tailors Raja Fashions for a 'tailoring and tasting' event, where our customers – both men and women – will be privately fitted for custom suits, shirts, blazers and so forth, all while enjoying a wine and whiskey tasting.
"I very much want The Wine and Cheese Place to be known as much for the experiences we offer as we are for our products."
Those products, it almost goes without saying, range from fine wines (such as an utterly seductive limited-edition, single-harvest port dating from 1969 and clocking in at $269.99) through craft beers from local faves like 2nd Shift Brewing, 4 Hands Brewing Co. and Perennial Artisan Ales to the latest liquor rages (bitters, anyone?).
In that regard – reflecting the fact that The Wine and Cheese Place has been serving area tipplers across the spectrum for almost four decades, according to the press release – Shroff dwells at some length on the change in ownership, mulling, in an "if it ain't broke, don't fix it" fashion, both the most pleasant surprise for him and the biggest initial challenge.
"The most pleasant surprise is how receptive our customers have been to some of the changes we've instituted," he says. "Having been around since 1982, many of our customers were accustomed to the look and feel of the stores. I'm happy that the response to the in-store changes has been overwhelmingly positive. Also, I'm surprised by how much St. Louis loves our house-roasted nuts – I never thought I'd ever buy nuts by the truckload!
"The biggest challenge has been trying to figure out where, after nearly 40 successful years, The Wine and Cheese Place goes under my ownership. We believe that St. Louis wants fun, friendly and informative experiences when shopping for wine, in addition to good values. Our tastings and events are meant to provide such experiences to our customers in new and sometimes surprising ways."
The Wine and Cheese Place, 7435 Forsyth Blvd., Clayton,
314-727-8788, wineandcheeseplace.com