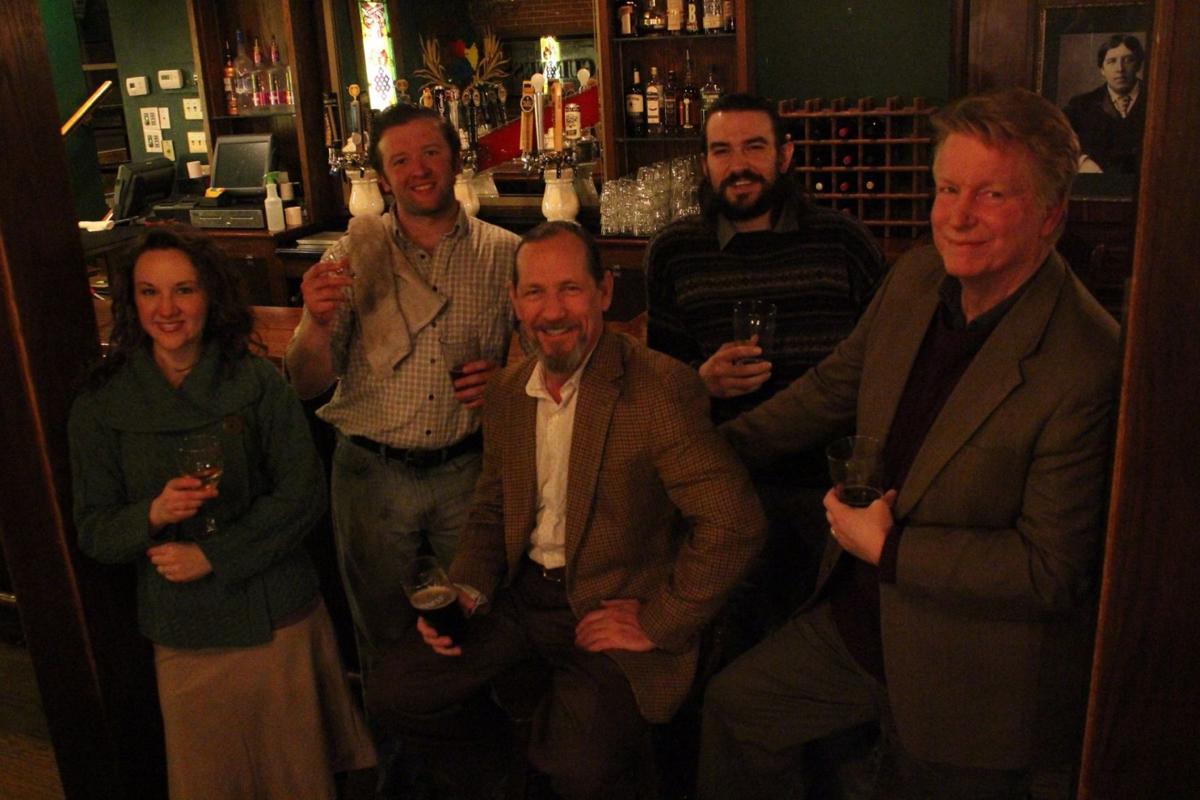 Story: On a cold and windy early spring night, regulars Jack and Jim drop by The Weir, the local pub in a rural, northwestern Irish village owned and operated by their friend Brendan. All of them have lived their entire lives in the village, which sits near a waterway modulated by a weir, a small dam that alters the flow of the river.
They're soon joined by Finbar, an old pal who resides in a nearby town where he runs a successful business, and a stranger named Valerie, a young woman who has just moved into a local house. The three bachelors have fun at the married Finbar's expense, suggesting that he has a romantic interest in the young woman, and they banter good-naturedly to pass the time.
Eventually, with the wind howling outside and a chill in the air, they get around to swapping stories of fairies and ghosts that have affected either them or someone they know directly. While Brendan listens, the others take turns telling tales of terror and trepidation. What surprises all of them, though, is a memory that Valerie then relates about her own life.
The beer (and wine for Valerie) loosens their lips, the fire warms their souls and the 'old cod' of blarney and bluster takes over. But are these just cautionary tales or the recounting of actual supernatural occurrences?
Highlights: A new company called Cocktails and Curtain Calls makes an impressive debut with a grand regaling of Irish playwright Conor McPherson's chilling drama, The Weir. Setting the production in an actual tavern enhances the atmosphere immensely and, combined with director Kari Ely's careful direction of a top-rate cast, makes The Weir a fanciful tale and a tonic for a deep winter's night.
Other Info: McPherson's two-act drama won the Olivier Award for Best New Play of 1997-98. It's easy to understand why. He has a keen ear for naturalistic dialogue that fills the show's two hours and 15 minutes with rewarding characterizations filled with the playwright's descriptive words and the savvy interpretation of the cast, who breathe life into these lonesome souls.
The production is presented under the auspices of the Actors' Equity Association Members' Project Code, by which actors can produce their own shows and share in the revenue generated by ticket sales.
McPherson, whose drama Shining City opens later this week at Upstream Theater, has a knack for dialogue that rings true in everyday situations as well as for the more fanciful, such as for his play St. Nicholas, performed last year by The Midnight Company along with another of his works, The Good Thief.
The handsome upstairs room at McGurk's, with its row of photos and paintings of Irish literary giants encircling the performance space, makes for an ideal setting for a play set in a pub, and an Irish one at that. Not quite sure how Nick Henderson, artistic director of Cocktails and Curtain Calls, differentiated prop bottles from the real booze on opening night, but it all looked quite convincing.
Another advantage of staging a show at McGurk's (or Dressel's for later performances) is the ability of the audience to imbibe freely during the evening with pints of their favorite libations. There's even a handout for a drinking game provided by the genial company.
Dialect coach Pam Reckamp elicits splendid efforts from the ensemble cast comprised of Henderson, John Bratkowski, Jason Contini, Steve Isom and Jennifer Theby-Quinn. Their accents vary from as subtle as Bailey's on the rocks to as sturdy as a shillelagh, but all are delightful.
Ely's directorial debut is enchanting, although the production meanders for a while before it finds its pace. She makes judicious use of the room to allow her performers to move from one end to the other without intruding on the viewing space. It's especially noteworthy when the three male patrons are cloistered closely in rapt attention at one end of the bar as Valerie reveals her own harrowing tale at the other.
Each of the performers (except Henderson as Brendan, who faithfully serves their drinks) revels in the opportunity to weave the other-worldly tales of their characters who recount their own brushes with the unknown.
Isom depicts the cocky bluster of Finbar precisely, from his flirtatious ways with Valerie to his constant needling of his cronies. Henderson brings delightful life to the tavern's proprietor Brendan, a man who admits he doesn't care for loneliness.
Contini expertly conveys the quiet ways of the shy Jim, a man in his 30s still living with his mum and content to just hoist a glass or two in the camaraderie of his drinking mates. As Jack, Bratkowski serves as the anchor of sorts for the other characters, the wiser older chap who reveals in the work's final tale his own melancholy history.
As Valerie, Theby-Quinn supplies the estrogen needed to tone down the men's penchant for bravado and conversations beyond the pale. It's when she tells about her own plight, though, that she takes the work to its most dramatic and affecting moment with painful poignancy.
Costumer Meredith LaBounty dresses all of them in sturdy attire for a remote village on the Irish coast. There's also some unexpected background music from a combo performing downstairs that could lower its volume without disappointing any upstairs patrons.
Cocktails and Company, co-founded by Henderson and executive director Don Krull, came up with a clever idea for its premiere production of The Weir. More importantly, it has a director and cast who know how to make that presentation sing with an Irish lilt.
Play: The Weir
Group: Cocktails and Curtain Calls
Venue: John D. McGurk's Irish Pub, 2000 Russell Blvd.; Dressel's Public House, 419 North Euclid
Dates: January 26, 27, February 2, 3, 9, 10, 15, 17 at McGurk's; Jan. 28, Feb. 4, 8, 11, 18 at Dressel's
Tickets: $15-$25; contact 618-514-9976 or cocktailsandcurtains.com
Rating: A 4.5 on a scale of 1-to-5.
Photo courtesy of Aaron Markham