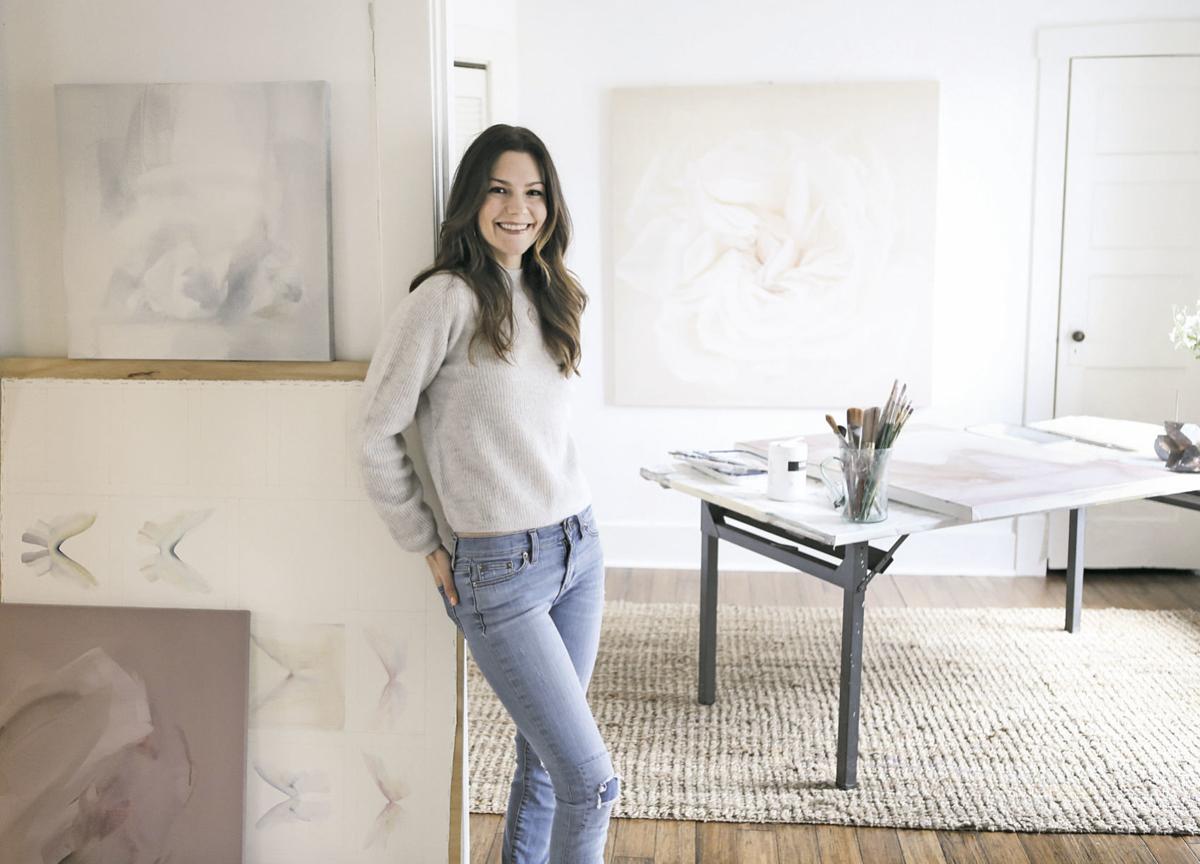 Inside a charming 1920s American Craftsman bungalow somewhere in Rock Hill is a light-filled studio where Jennifer Olwig brings watercolors and acrylics alike to life.
"It's such an honor to be able to bring beauty into the world that heals," Olwig says.
After graduating from Town and Country's Visitation Academy, Olwig studied product development at the University of Cincinnati's School of Design, which allowed her the opportunity to travel and intern across the country.
"During that time, I was discovering my own imbalances that being in the fashion industry brought to light," Olwig says. "I began this healing journey with myself of cultivating self-love."
Olwig says this realization led her to complete a holistic nutrition certification post-graduation and follow her intuition to move to Los Angeles.
"I wanted to learn more about the physical body, but also the emotional and spiritual bodies, as well," she says. "As I was gaining an understanding of how these aspects of myself create my experience, I was also teaching fitness classes and beginning to coach women around their own relationship to self-love."
Chronic wrist inflammation that was affecting her ability to teach brought her back to St. Louis for surgery.
"When I came out of surgery, I had the sudden realization that I needed to start painting again," Olwig says. "It hit me like a wall. As soon as I was able to I started painting again to remember who I am – to heal myself and to reconnect myself to my heart."
Much like metamorphosis, this chain of events resulted in Olwig creating her wondrous watercolor works.
"I had started a line of fine art notecards, and it had all my butterfly illustrations on them that I created while healing," Olwig says. "I sold them at little boutiques and shops all over the place. K. Hall [Studio] picked them up. The Butterfly House picked them up. A stationery shop in Beverly Hills picked them up."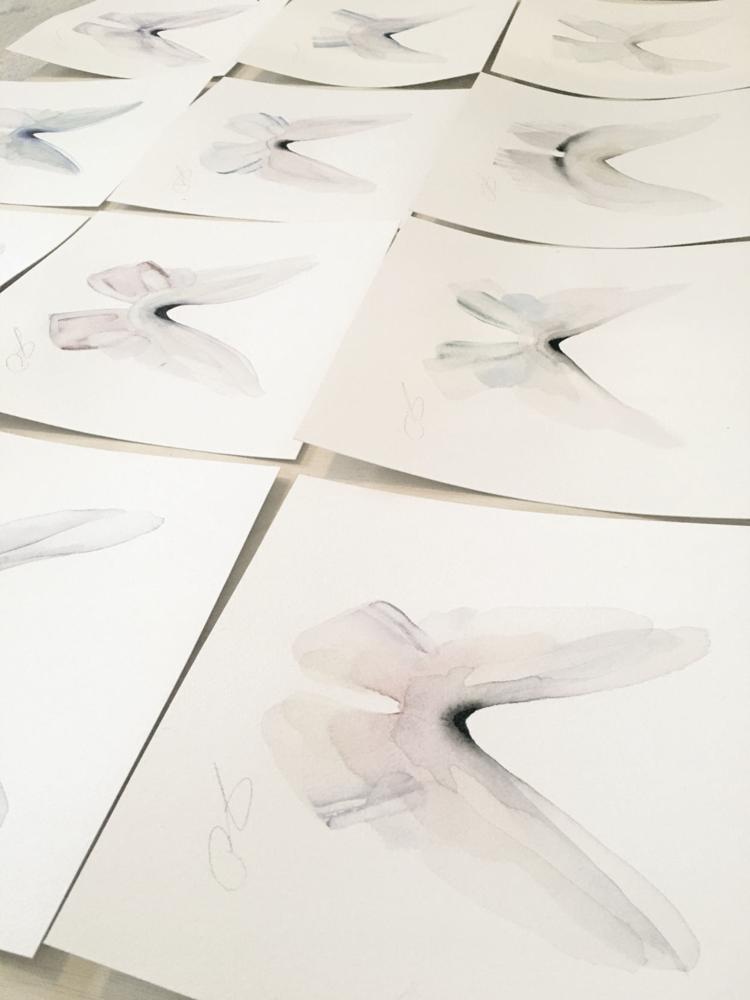 Olwig continues that this venture was a fun way of bringing together her product development background with her innate artistry. She was then inspired to create larger paintings, including a series of pastel horses, followed by a Seaside collection reflecting the beauty of the Gulf Coast, as well a collection she is still painting today known as the Watercolor Wings Collection that includes 8-inch-square works that are made with watercolor paints with crystal pigments.
However, only after yet another surgery, when her appendix burst, did her larger works truly begin to take flight, Olwig relates.
"When I was under anesthesia, I had a very spiritual experience in which I was a part of this infinite field of color and light, and I can't even begin to describe the love I felt," she describes. "When I came out of the surgery and got home, I knew I had to paint what I experienced."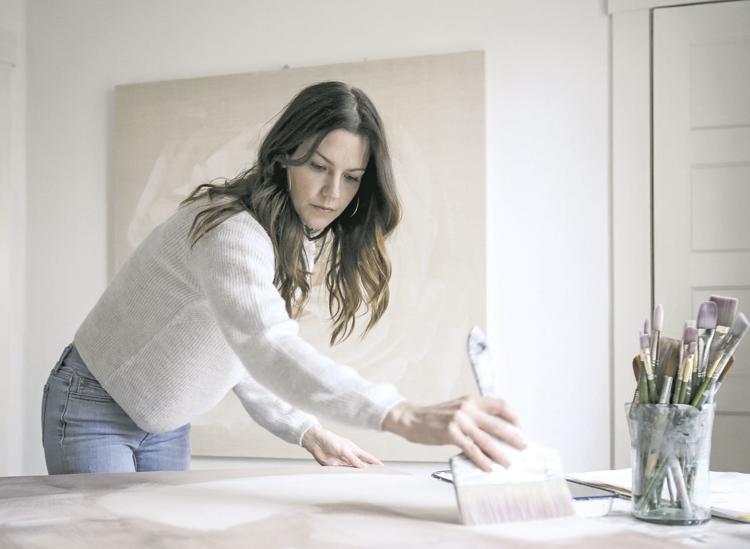 The experience in question is depicted in what Olwig calls the Emerge Series of ethereal abstracts – delicate bursts of beauty on cotton canvas of varying size.
Olwig's third and most recent collection, Body of Roses, is on natural Belgian linen; however, it was inspired by a commissioned piece.
"I had a woman reach out to me who had seen my rose notecards online, and she was telling me this story about how she had been praying for a daughter," Olwig says. "She had three sons and wasn't able to get pregnant, and Mother Mary came to her with a rose and said that she would be pregnant again. She ended up having her daughter, and now, many years later, she wanted me to paint the rose that Mother Mary was holding."
The commission in question was acrylic on a 4-foot-square piece of Belgian linen.
"It was the most magical experience," Olwig says. "It was so overwhelming. The rose was all-consuming. I felt like I was falling into the rose like Alice in Wonderland a bit."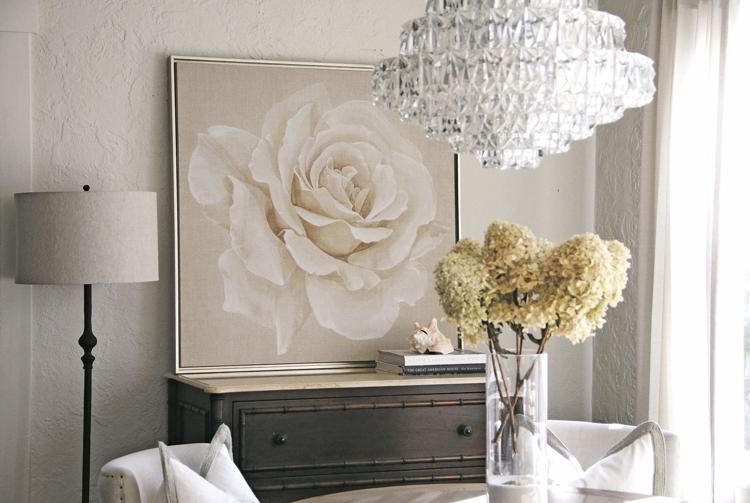 That commission inspired the collection Olwig showcased in New York and that she still creates today.
"The symbolism for the rose seems to go back to almost to the beginning of time," she says. "You can even find threads of the rose throughout almost every religion. For me, it's a symbol of this regenerating beauty and love that grounds us. With each petal opening, each petal dying, it's just ever-giving of the beauty of life and the miracle of love. The rose paintings are reflections of the heart. I adore my role in bringing them into form."
Although a majority of the work showcased on her site has sold out, Olwig mentions planning a small release of Watercolor Wings pieces in March, and she is working on creating more collections to be available on her website in the coming months. In addition to collections, the majority of Olwig's work is commissioned. Be on the lookout for an unconventional showing somewhere in St. Louis in 2021.
"There will definitely be more work this year," she adds. "I'm doing some really magical white butterflies on linen, and then I will be creating more Emerge abstracts. There is a whole new collection coming through to me, as well, in my meditations and in my dreams. I'm really excited about what will unfold." 
Jennifer Olwig, jenniferolwig.com
Be the first to know
Get local news delivered to your inbox!