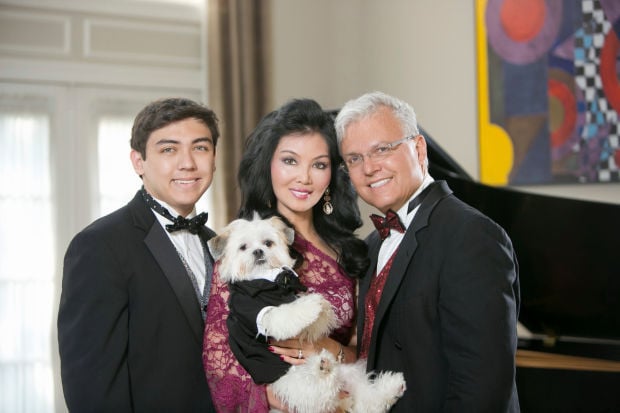 Although it's been 20 years since David Halen was named concertmaster of the St. Louis Symphony Orchestra (SLSO), he still savors that moment. "The announcement of my new position was made the night Isaac Stern was featured soloist for our orchestra. I was humbled that the late renowned violinist was there," he says. "I held the greatest respect for him and was inspired by his sound.
Halen moved to St. Louis from Houston in 1991 to accept a permanent position with the symphony. "I love St. Louis and believe that the acoustics of Powell Hall and sound of the orchestra are second to none." He has soloed with the orchestra in much of the major concerti in the violin repertoire and also has soloed with the Houston, San Francisco and West German Radio symphonies.
"I love to work together with conductors to realize their musical visions, as well as with my colleagues, and help translate musical ideas into the finest musical execution. As concertmaster, I try to help set the tone for the flow of rehearsals and the attitude of the orchestra." But, Halen adds the most important thing he does as concertmaster is play the violin. "That says more than any words could ever communicate."
Halen, who began playing the violin at age 6, now plays a 1753 Giovanni Battista Guadagnini violin crafted in Milan, Italy. "It is a great work of art, much like a Renoir painting," he explains. "The sound of the orchestra is affected by the quality of the violin sound, in general. People hear the concertmaster's sound, and it affects the entire orchestra."
In addition to his position with the SLSO, Halen is professor of violin at the University of Michigan, where he teaches two days each week. Twice a month, he is the visiting artist at the McDuffie Center for Strings at Mercer University in Georgia. During the summer, Halen teaches and performs as concertmaster at the Aspen Music Festival and School. He also coordinates a weeklong festival each June as co-founder and artistic director of the Innsbrook Institute, which he describes as "an exciting enclave for aspiring artists." Each August, he serves as artistic director of the Missouri River Festival of the Arts in Boonville, Missouri.
The concertmaster credits his wife, Korean-born soprano Miran Halen, with much of his success and balance. "Miran gives me sage advice on an ongoing basis. Her ears are so developed and her observations are either aligned with mine--or superior."
For her part, Miran Halen has won praise as a versatile singer of opera, symphony, chamber and recital music. She was singing with the Houston Grand Opera, performing in more than 30 productions, when she met her husband.
An advocate of musical education, Miran performs regularly at benefit concerts that included the 30th anniversary of the St. Louis Children's Choirs. "I love supporting and encouraging young singers, and also love to support other worthwhile causes together with my friends. It feels great to make our community better in many ways," she says. Her volunteerism includes the Volunteer Association of the SLSO and the Chamber Music Society of St. Louis.
A strikingly beautiful woman, Miran is known for the magnificent period costumes and gowns she wears at events. She says she selects each based on the occasion. "I wear deeper colors and thicker fabric when I sing Russian, and lighter fabrics and colors when singing French," she explains. "A beautiful gown is a work of art and the designers are the artists. To me, fashion is an art form." But Miran adds no one should just fall on fashion. "You should know yourself and what is best for you."
Classical music always has filled the Halen homes. David's father, the late Walter J. Halen, was his violin professor at Central Missouri State University. His mother, Thalia, played violin with the Kansas City Symphony for 30 years.
Many times during the year, the Halens open their home for benefits supporting classical music. The receptions usually are highlighted by a performance combining voice and violin by the host couple. And, more recently, they have included their son, Christopher, on his cello.
Christopher, a senior at Whitfield School, plays mostly classical music. "I love playing music with my friends, whether it's pop, rock or classical," he says. One of two students who played in the cello section of the orchestra at Webster University's Community School, he also has played with the Aspen Philharmonic Orchestra.
In 2013, Christopher and his friend, Grant Riew, won first place in the St. Louis Teen Talent Competition under their moniker, Two Mellow Cello Fellows. The Halens call Christopher "the highlight of our lives," with David adding that he and his wife believe that "parental involvement is the key for raising well-adjusted children. Kids love and need more structure."
Comfortable on the Powell Hall stage in tails, David Halen also feels right at home in jeans and a sweater riding a 1949 Ford tractor on the family's hardwood tree farm in Ohio. He says some of his finest moments are when he is surrounded by his family: Miran, Christopher, Miran's mother Sun Cha, and family dog Bopi.
The Halens live in a two-story traditional home in West County, on land where they planted 125 Christmas trees 14 years ago, David says. "We love our forested yard. Although we have lots of trees, we also wish we could plant beautiful flowers. But that's impossible because there are so many deer in our area who eat everything in sight."
In March, David and Miran Halen are headlining the Chamber Music Society of St. Louis' 2015 gala concert, Salut D'Amour. The March 10 concert will celebrate David's 20th year as concertmaster, as well as recognize the many contributions he and Miran have made to the community.
Be the first to know
Get local news delivered to your inbox!