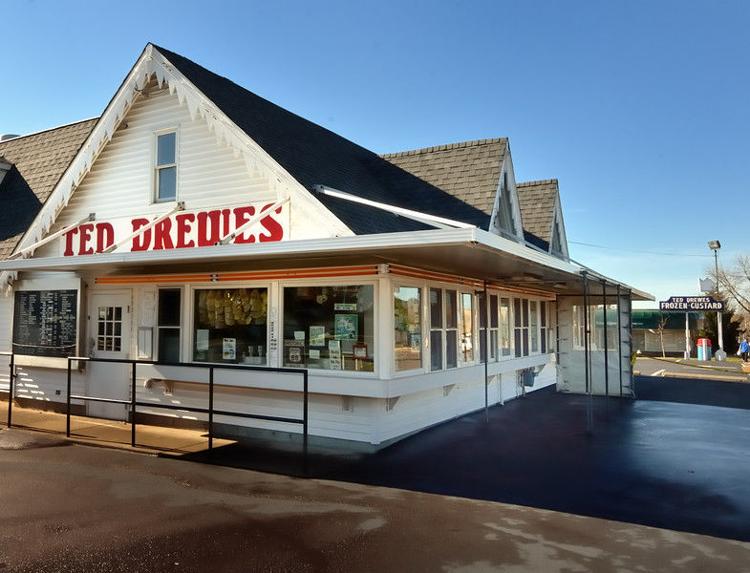 It's been awarded "World's Best Ice Cream," served countless times in its signature upside-down style and relished by everyone from local working stiffs to celebrities from out of town. Now it's celebrating 90 years in business.
St. Louis' iconic Ted Drewes Frozen Custard is honoring the mega-milestone all year long with souvenir memorabilia and a new flavor (dubbed the St. Louis Classic) sure to become an instant hit. "We're very lucky and blessed to be around this long – it's a wonderful milestone to reach," says Travis Dillon, who currently owns the operation with his wife, Christy, Ted Drewes Jr.'s daughter.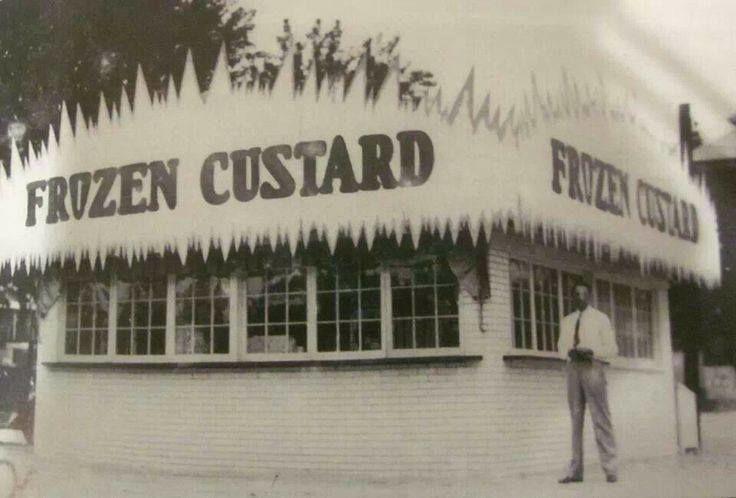 In April, Ted Drewes' Chippewa location held a 90th anniversary celebration featuring live music, classic cars and a variety of family-friendly activities. "Wonderful friends, fans and customers came up to congratulate us," Dillon says, adding that although the 90-year souvenir cup has sold out, fans can still get their hands on special 90th anniversary memorabilia, including green Ted Drewes T-shirts, as well as coffee mugs and pint glasses.
Fans also can savor the shop's newest of more than 50 flavors: the St. Louis Classic. The concrete or sundae features a large piece of St. Louis' famous gooey butter cake, topped with Ted Drewes' signature vanilla custard, tart cherries and a Dad's Original Scotch Oatmeal cookie. "We call it the 'Classic' because all of these are St. Louis classics," Dillon says.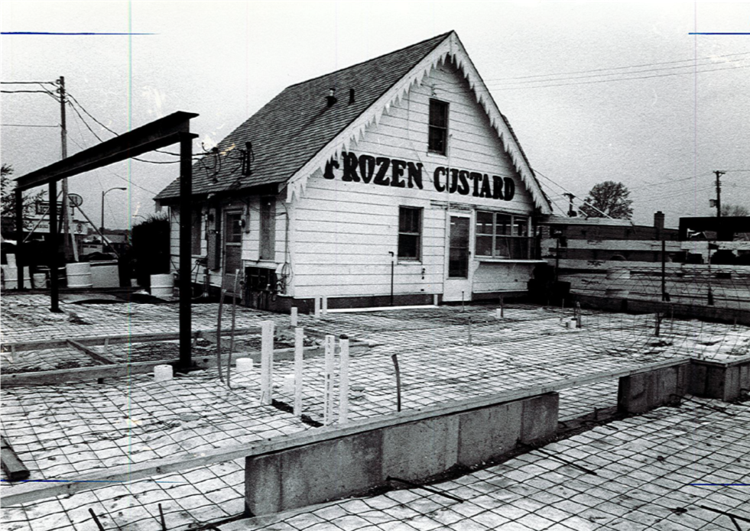 The famous family business began with the late Ted Drewes Sr., an award-winning local tennis player, who opened his first eponymous custard stand in Florida in 1929. The following two years, he launched two frozen custard stores in the metro area – on Natural Bridge Road and on South Grand. By 1941, the Drewes family opened a second South Side stand – the current Chippewa location on historic Route 66.
Remaining today are Ted Drewes' two South Side locations, at 6726 Chippewa St. – open 11 months a year, from the week of Valentine's Day through the first week of January – and 4224 S. Grand Blvd. – open during summer, from mid-May through Labor Day.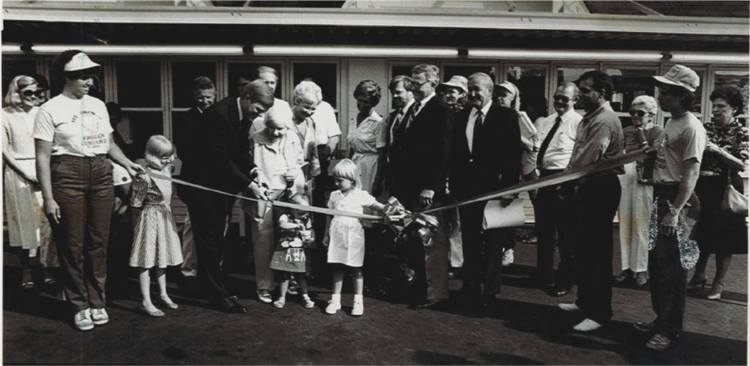 Throughout the years, the ice creamery – especially Ted Drewes' signature "so thick it's served upside down" concrete – has become synonymous with the metro area, as everyone from children to adults stop by following St. Louis Cardinals games or Gateway Arch visits.
"We're known for being able to turn our concretes upside down," Dillon says, noting the legendary move started in 1959 after then-teenage customer Steve Gamber kept requesting the thickest malt the shop could make. Following days of serving Gamber thicker and thicker malts, "Ted Jr. finally left the milk out, just dished the hard custard and served it like that," Dillon says. "Ted turned it upside down and said, 'There, how's that – thick enough?'"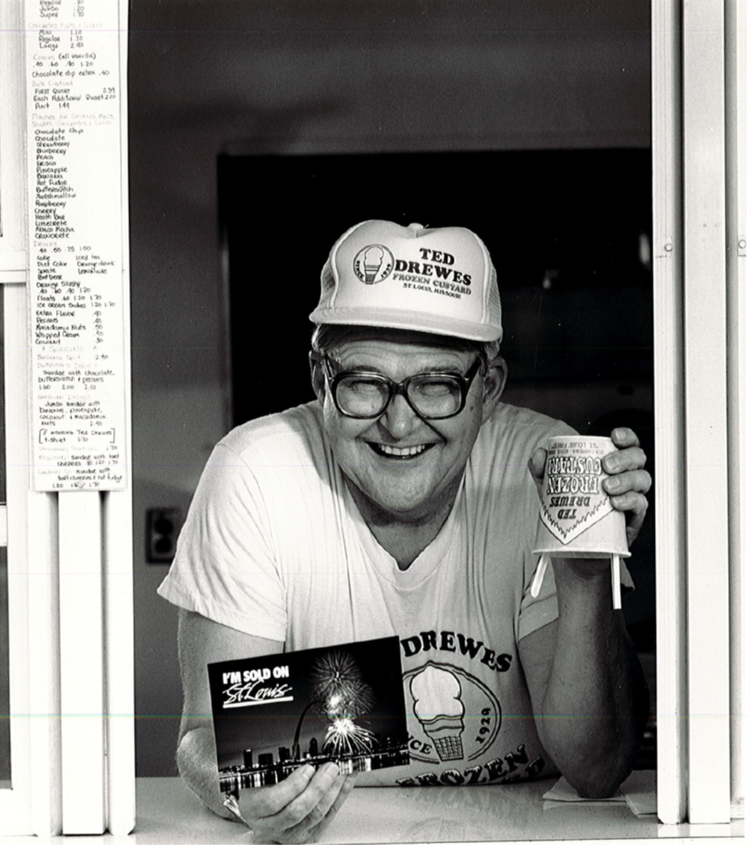 Today, Ted Drewes Jr. – born a year before the ice creamery came into existence – and his wife, Dottie, try to stop by at least once a week to pick up a Terra Mizzou – his secret blend of chocolate and pistachio nuts, Dillon says. "The Terra Mizzou concrete is their favorite right now," he continues. "They're doing well and taking care of each other."
One of the best parts of working at Ted Drewes is interacting with customers, from average Joes to celebrities, Dillon says. "Some people want to try a different flavor each time they come in, and some want to come get their favorite," he comments, adding the stores have welcomed VIPs ranging from St. Louis Cardinals players to actors Jon Hamm and John Goodman, broadcasters Bob Costas and Katie Couric, and music star Katy Perry. Moreover, in 1985, when the popular Chippewa location expanded from five to a whopping 12 windows to better serve its growing customer base, former Missouri Rep. Dick Gephardt visited.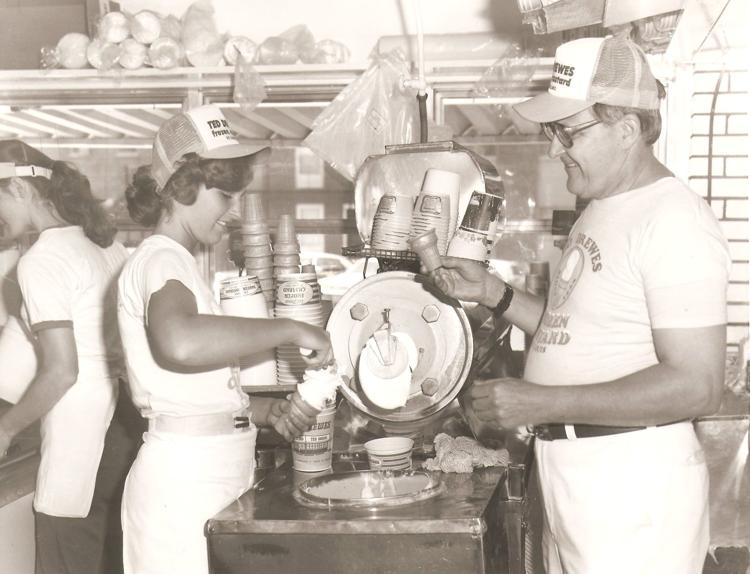 Ted Drewes is very thankful for its loyal customers who have helped it reach its landmark 90th year, Dillon says. Since 1990, Ted Drewes Jr. and Dillon have treated their "hall of fame members" – customers who have been visiting the stands for 30 or more years – to an annual lunch in gratitude of their patronage. "It started with about five customers, and has grown to about 25 members today, and we add one or two each year," Dillon says.
Dillon also credits the company's longevity to its staff, which includes his two sons, Bryan and Joshua – making it a fourth-generation family business. "The people who work for us are one big reason why we're doing so well," Dillon says. "Our employees are so sharp, and they want to work so hard. Without our management, employees and customers, we wouldn't still be here." At one time, all of Ted Drewes Sr.'s six grandchildren and their wives worked at Ted Drewes. "Maybe his [eight] great-grandkids will work here, too," Dillon adds.
Though franchising always has been off the table, Dillon says the ice creamery remains open to expansion. "We get asked for franchising over and over again, and we don't want to because we want to keep the quality of the product and the customer service as good as we can get them," he says, noting his sons are set to continue the family tradition and take over the business someday.
"That's the whole plan for our future – the fourth generation," Dillon says. "And we're going to do our best to work on the next 10 years – for 100."
Ted Drewes Frozen Custard, 6726 Chippewa St., St. Louis, 314-481-2652; 4224 S. Grand, St. Louis, 314-352-7376, teddrewes.com