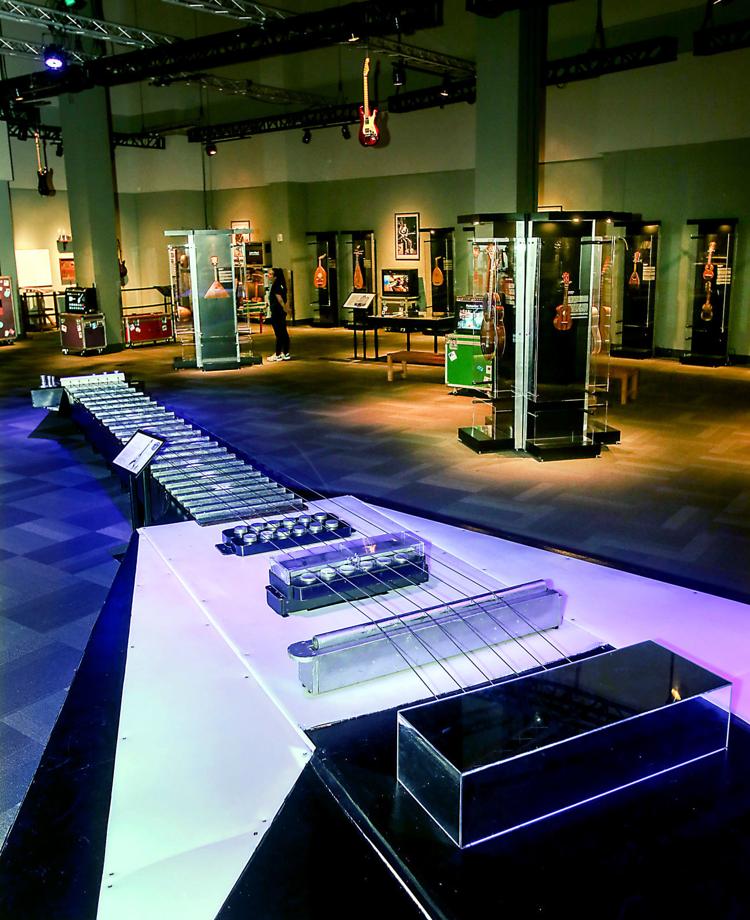 Despite the rise of alternatives during the past four decades or so, one instrument in popular music continues to reign supreme at an Arthurian level, as established by "GUITAR: The Instrument That Rocked the World."
That ticketed special exhibition showcasing today's sonic Excalibur opened at the Saint Louis Science Center on Jan. 19. It runs till April 14, exploring the colorful vistas of acoustics and electrics, picking and strumming, riffs and chords, reverb and feedback, plectrums and capotastos, humbuckers and whammy bars.
Among other attractions, the 7,000-square-foot immersive exhibition includes more than 70 guitars of all sorts, 15 interactives demonstrating the science of sound and music, 100 variegated historical artifacts and 10 video displays, as well as posters, banners and related graphic materials.
"GUITAR" comes on loan from The National GUITAR Museum. That organization, whimsically, will have no physical location until the conclusion of the exhibition's city-to-city tour, which started in June 2011 and extends through next January – at a minimum.
Jackie Mollet, the SLSC's managing director of visitor services, explains what inspired it to borrow this exhibition.
"'GUITAR: The Instrument That Rocked the World' has been well received across the country," she says. "With St. Louis' vibrant music scene, we wanted to bring this to our community to celebrate the history, science and engineering behind the world's most popular instrument.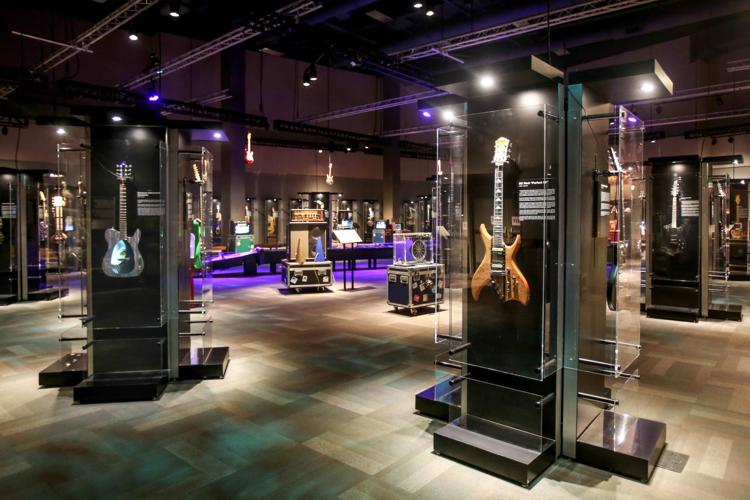 "Most people don't consider all of the science that's involved with instruments and music, from the way the instrument is designed and played to the soundwaves that carry the music. This exhibition helps to explore that in a fun and engaging way. In addition, we regularly test topics with our audiences, and this topic has always tested very well."
During the exhibition's first month here, Mollet reflects on the public reaction to it and its informal attendance demographics.
"We've heard from many guests that this exhibition is their first time visiting the Saint Louis Science Center or the first time they've visited in a long time," she says. "We've also noticed higher instances of adults coming without children, in comparison to our other special exhibitions. …
"There's been a great amount of excitement and enthusiasm around this exhibition. …The guitar is something that most people have some connection to – they play it, they have close friends or families who play, they enjoy listening to music featuring the guitar. …"
Arguably the exhibition's centerpiece ranks as downright monumental: the world's largest playable guitar, an instrument that puts to shame all other guitars in the industry-standard dreadnought category created in 1916 by manufacturer C.F. Martin & Co.
That instrument among instruments measures a whopping 43½ feet in length – more than a yard longer than the longest Class A recreational vehicle, at a mere 40 feet. (Certifying its status, almost perforce, is London's Guinness World Records.)
"It weighs more than 1 ton and travels in five pieces," Mollet relates regarding the logistics of installing that behemoth. "Our internal production team handled unpacking, piecing together and making any cosmetic touch-ups, like freshening the paint."
The exhibition otherwise spotlights in diverse ways the cultural impact of the guitar, its ancestors and its adjuncts over five millennia and the science related to its shape and sound. For example, a 6-foot-tall amplifier stack illustrates, in specific, modern music's turn-it-up-to-11 sonic capabilities (to steal a shtick from the 1984 rock mockumentary This Is Spinal Tap) and, in general, the physics of amplification.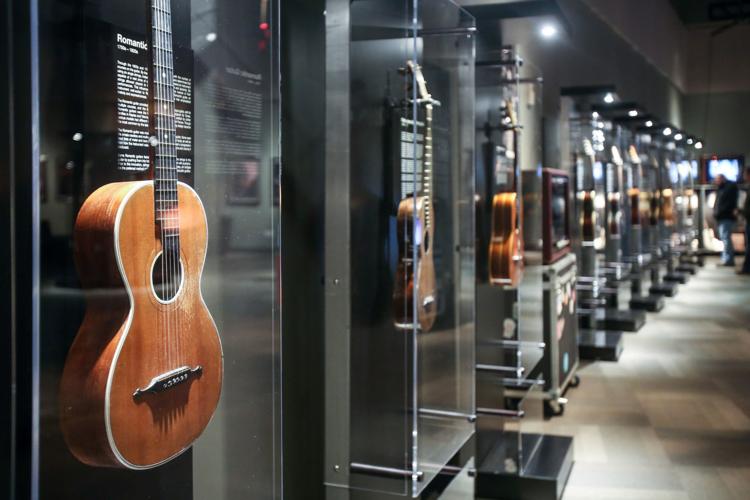 "GUITAR" also features a replica of a standard workshop of a luthier, a maker of stringed musical instruments; an acoustic guitar tidily disassembled and labeled among its three segments; a console at which visitors can design their own virtual guitars; and, at the cutting edge of the luthier's craft, a guitar created with a 3D printer.
Beyond the central guitarosaur, Mollet cites two other features of the exhibition as its most popular. "First, we have a guitar from Chuck Berry's collection on display," she says. "It's a Gibson ES-345TD. As I referenced earlier, St. Louis has a rich music scene, and Chuck Berry is very much a part of that.
"In addition, there's a guitar called a 'frying pan' guitar, which is the first iteration of the electric guitar. People have been very curious about its history and uniqueness."
H.P. Newquist, executive director of the museum behind the touring exhibition, addresses – with a proviso – which of the regular-size instruments constitutes the rarest from a historical perspective.
"The history of the guitar shows that there really is no 'regular-size' guitar," he says. "From small parlor-size instruments to large harp guitars, there are almost as many sizes of guitars as you can imagine. That said, the Fabricatore, made in 1806, is the most historically important standard guitar we have because it was one of the very first guitars ever built specifically as a six-string."
As something of a sonic lagniappe, incidentally, during the exhibition's run, St. Louis' Shock City School of Music is teaching free guitar classes for players of all capabilities on a first-come, first-served basis, with times and availability subject to change – so get ready to rock out, all you jukebox heroes!
Saint Louis Science Center, 5050 Oakland Ave., St. Louis, 314-289-4400, slsc.org