As testified by these 15 listings, visual art continues to flourish at manifold locations both large and small – galleries, museums and other venues less easily classifiable – throughout the metro area.
BRUNO DAVID GALLERY
One of the metro area's most dependably interesting visual art venues showcases two groups of exhibitions between now and December's end. First, from Sept. 14 to Oct. 26, the gallery spotlights "Sad Panther," video work by Damon Davis; "Here all is distance, there it was breath," 40 small plaster drawings by Jill Downen; "Adventure," paintings by Daniel Raedeke; and "Integration: Sacred Space," sculptures by Thomas Sleet. (Accompanying the Downen, Raedeke and Sleet are new catalogues raisonnés from the gallery.) After that come these four exhibitions from Nov. 2 to Dec. 21: "New Works" from Kelley Johnson, "Sea to Shining Sea" from Yvonne Osei, "Recent Photographs" from Robert Pettus and "Triology" from Chip Reay.
Bruno David Gallery, 7513 Forsyth Blvd., Clayton, 314-696-2377, brunodavidgallery.com
ART SAINT LOUIS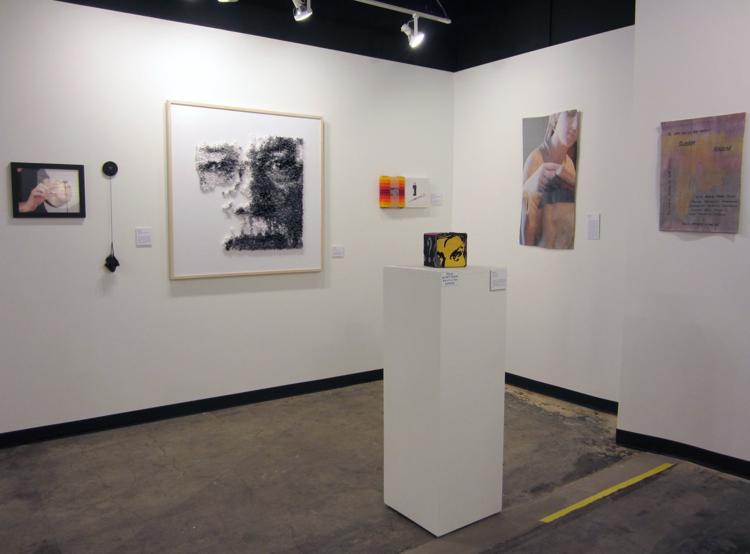 This august organization, whose website is already listing events through the end of 2020, welcomes two exhibitions this autumn: from Sept. 28 to Oct. 24, "Fiber Focus 2019," which features artwork in all media that centers on fiber both as a medium and as technique, and potentially includes artists 21 and older living in Arkansas, Illinois, Iowa, Kansas, Kentucky, Missouri, Nebraska or Tennessee; and from Nov. 9 to Dec. 23, "Art St. Louis XXXV, The Exhibition," the 35th annual all-media, all-technique, all-style, all-subject/theme juried event open to regional artists 21 and older living within a 200-mile radius of St. Louis.
Art Saint Louis, 1223 Pine St., St. Louis, 314-241-4810, artstlouis.org
CONTEMPORARY ART MUSEUM ST. LOUIS
On Sept. 6, CAM launches three exhibitions that run till Dec. 29: "Voyeristico" from Jonathas de Andrade, an outdoor video presentation comprising a sequence of close-up snapshots of people's wallets; "Chorus" from Bethany Collins, "conceptually driven work which struggles insistently with the duality of language – its potential and its inevitable failure to make sense," according to the museum; and "Rogue States" from Stephanie Syjuco, a multimedia exploration of the complicated ways whereby people understand politically charged concepts like citizenship, immigration, nationhood and identity.
Contemporary Art Museum St. Louis, 3750 Washington Blvd., St. Louis, 314-535-4660, camstl.org
CRAFT ALLIANCE CENTER OF ART + DESIGN
Before retreating to shop-till-you-drop mode for the holidays, the center exhibits various works by Fidencio Fifield-Perez from Aug. 30 to Oct. 27; as a Mexican transplanted to North Carolina, Fifield-Perez is mulling the federal Deferred Action for Childhood Arrivals program to explore "his personal experiences with immigration and the concept of home," according to the center. This exhibition includes paintings, a paper quilt and trace monotypes of houseplants.
Craft Alliance Center of Art + Design, 6640 Delmar Blvd., St. Louis, 314-725-1177, craftalliance.org
DUANE REED GALLERY
Coming to this gallery later in the year are three groups of exhibitions from these artists: Rebecca Hutchinson, Ethan Meyer and Sun Smith-Foret from Sept. 5 to Oct. 12; Alessandro Gallo, Steven Young Lee, Lindsay Pichaske from Oct. 18 to Nov. 30; and Perry Haas and Jill Hackney from Dec. 13 to this coming Jan. 25.
Duane Reed Gallery, 4729 McPherson Ave., St. Louis, 314-361-4100, duanereedgallery.com
LAUMEIER SCULPTURE PARK
At this Sunset Hills landmark from Aug. 24 to Dec. 22, Sam Falls leverages his fascination with the natural world to "create two on-site large-scale paintings documenting the park's forest floor by using his distinctive painting techniques with dried pigments, dewdrops, rain and mist," according to Laumeier. "Working with Laumeier's master gardener to grow a customized garden, Falls will use the resulting flora on two monumental sculptures using I-beams and brightly glazed clay tiles. The two hard-edged towers will only represent a sliver of the overwhelming space and abundance of nature."
Laumeier Sculpture Park, 12580 Rott Road, St. Louis, 314-615-5278, laumeiersculpturepark.org
THE LUMINARY
Two exhibitions occupy this showplace from Sept. 13 to Oct. 26. "Soft Scrub" – from artists including Vaughn Davis Jr., Keyon Gaskin, Cameron Granger, Mitchell Squire and Quay Quinn Wolf – uses a common household cleanser to investigate the complexities of black households, especially from the black male perspective. Also, "Vernacular Anthropocenes" comprises an areawide "series of public projects engaging the ecologies of the region" and includes programs at Cahokia, on the Mississippi riverfront and on billboards; it features works from photographer Jennifer Colten, artist and food systems planner Lynn Peemoeller, poet Treasure Shields Redmond and architect Jesse Vogler, among others.
The Luminary, 2701 Cherokee St., St. Louis, 314-773-1533, theluminaryarts.com
MESSING GALLERY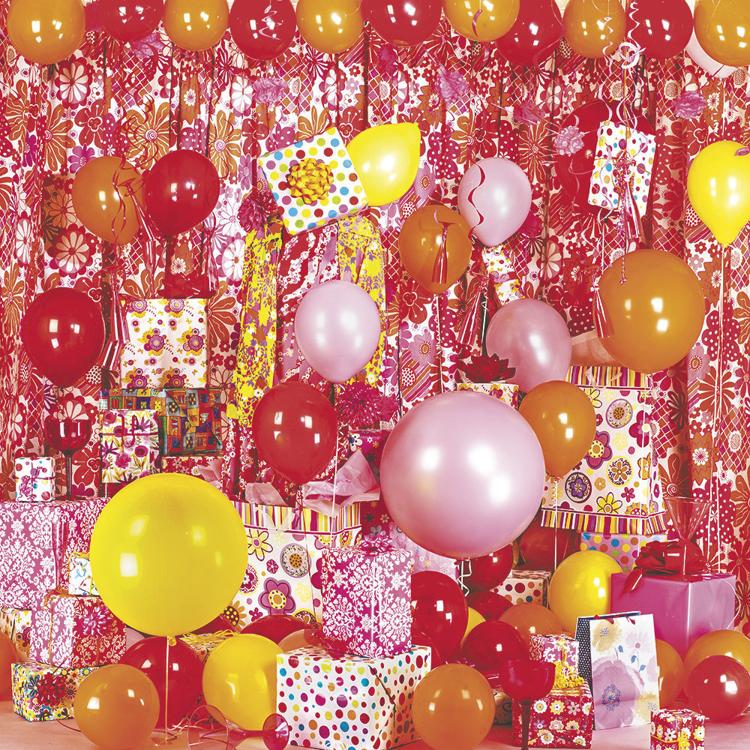 This small but distinguished space in Bryant Arts Center invites area art devotees to two exhibitions: the first from Kansas City, Missouri, photographer Patty Carroll from Sept. 6 to Oct. 4; and the second from MICDS alumna Lindsay Obermeyer from Oct. 18 to Nov. 29 as part of Fiber Focus: Innovations in Textiles, an areawide event devoted to fiber art at multiple venues.
Messing Gallery, MICDS, 101 N. Warson Road, St. Louis, 314-995-7450, ext. 7243, micds.org
MILDRED LANE KEMPER ART MUSEUM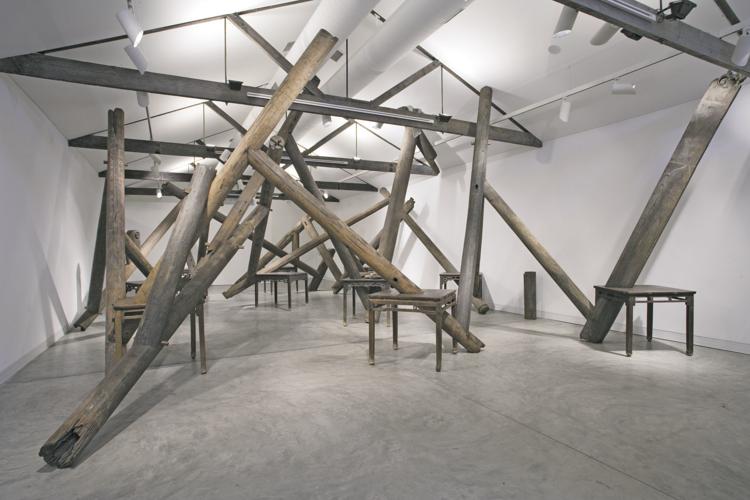 After extensive (and glorious) renovations, the museum reopens in high style with tandem exhibitions commencing Sept. 28 and running till this coming Jan. 5. The first, "Bare Life," focuses on internationally renowned Chinese dissident artist and activist Ai Weiwei and features more than 35 pieces of artwork in two sections and in a wide variety of media – and promises to rank as an artistic coup for the Kemper. The second, "Truths and Reckonings: The Art of Transformative Racial Justice," the museum describes as "an exploratory intervention into public memory, where artworks and objects on display grapple with difficult truths – relating to colonialism, enslavement, lynching and their legacies – bearing witness to their harms and facilitating the processing of traumas we embody and reproduce."
Mildred Lane Kemper Art Museum, One Brookings Drive, St. Louis, 314-935-4523, kemperartmuseum.wustl.edu
PHILIP SLEIN GALLERY
Keeping it short and sweet, this tenured venue, on Sept. 13, opens an exhibition bearing the title "Stars" and featuring artists Alison Hall, Warren Isensee, Douglas Melini, Carl Ostendarp and Barbara Takenaga.
Philip Slein Gallery, 4735 McPherson Ave., St. Louis, 314-361-2617, philipsleingallery.com
PULITZER ARTS FOUNDATION
"Susan Philipsz: Seven Tears" opens at the Pulitzer on Sept. 6 and runs till this coming Feb. 2. In addition to poetic meditations on loss, hope and longing animating the museum's galleries and surrounding architecture, the exhibition's Glaswegian namesake is crafting "a newly commissioned installation created for the Pulitzer's Tadao Ando-designed building, titled Too Much I Once Lamented" in the central water court, which "features Philipsz's own voice singing a 17th-century lament that alternates between mourning and rejoice," according to the museum.
Pulitzer Arts Foundation, 3716 Washington Blvd., St. Louis, 314-754-1850, pulitzerarts.org
THE SHELDON CONCERT HALL & ART GALLERIES
Art devotees should mark Oct. 4 on their calendars for a mandatory visit to this much-cherished institution. That day, The Sheldon's galleries open fully five exhibitions running till various dates toward the end of this year and into 2020: "Bea Nettles: A Harvest of Memory," a retrospective of the work of this internationally recognized multimedia artist; "It's Not You, It's Me: A Declaration of Independence," a showcase of innovative works in fashion, photography and performance art by area artists investigating the narrative possibilities of fashion idioms and fiber art as they intersect with identity and power issues; "St. Louis, A Musical Gateway: Africa," a second celebration of the area's multiculturalism featuring rare and lovely instruments from The Sheldon's Hartenberger World Music Collection from Africa; "Invent a Musical Instrument – Selections From The Sheldon's SOLID Program," a selection of inventive musical instruments crafted from recycled materials by area schoolchildren during The Sheldon's Science of Learning Instrument Design program last year and this; and "Kristen Peterson – Visual Delights: Photographs and Altered Books," an overview of this local photographer's works, which include elaborately embellished journals and photos of interiors, portraits and landscapes.
The Sheldon Concert Hall & Art Galleries, 3648 Washington Blvd., St. Louis, 314-533-9900, thesheldon.org
ST. LOUIS ARTISTS' GUILD
Forthcoming offerings from this touchstone to area visual art commence Aug. 9 with the all-media exhibition "Endangered," which runs till Sept. 7 and probes how humanity's seemingly out-of-control impact has fostered a feeling of planetwide imperilment. Next, from Oct. 3 to 6, the guild is taking part in the national Surface Design Association's biennial conference, themed "Beyond the Surface," a showcase for more than 30 exhibitions in the metro area, celebrating contemporary textile-inspired art and design and welcoming local, regional and national organizations and artists. (The members-only exhibition "On the Surface, on the Ramp!" runs concurrent with that event and involves surface design methods including dyeing, stenciling, stamping, printing, embroidery and other embellishment techniques.) Last but scarcely least, from Nov. 15 to Dec. 28 comes the juried all-media exhibition "An Idea of Order," which explores how math has influenced aesthetics, material use and, ultimately, meaning.
St. Louis Artists' Guild, 12 N. Jackson Ave., Clayton, 314-727-6266, stlouisartistsguild.org
WILLIAM SHEARBURN GALLERY
Katherine Rodway Vega, the gallery's director, notes the forthcoming exhibition of work by local artist Cayce Zavaglia. With an as-yet-undetermined title, it runs from Oct. 18 to Nov. 27.
William Shearburn Gallery, 665 S. Skinker Blvd., St. Louis, 314-367-8020, shearburngallery.com
Be the first to know
Get local news delivered to your inbox!