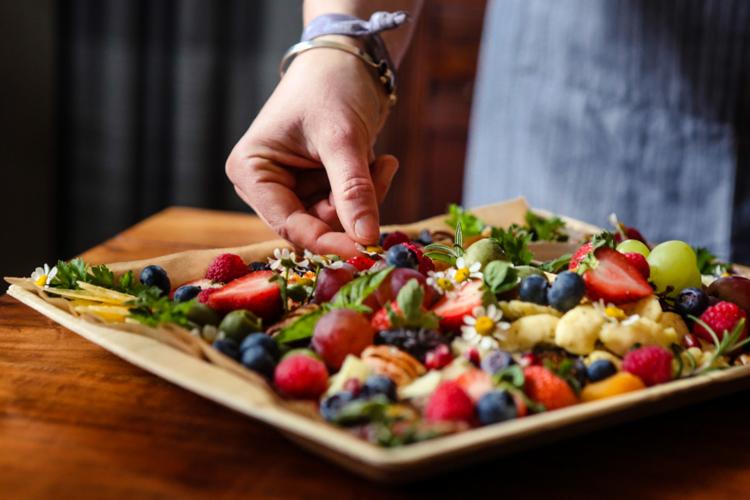 Call it cheesy. Call it nutty. Call it sweet or savory – or both. Whatever taste sensations you wish, Lorraine Gourmet Grazing Boards are a flavorsome combination of all of the above and then some.
"I feel like there has been a growing trend toward grazing boards and really beautiful cheese displays that you are seeing a lot on social media," says Liz Ryan, founder and owner of Lorraine. "I wanted to provide that option to St. Louis and start my own business."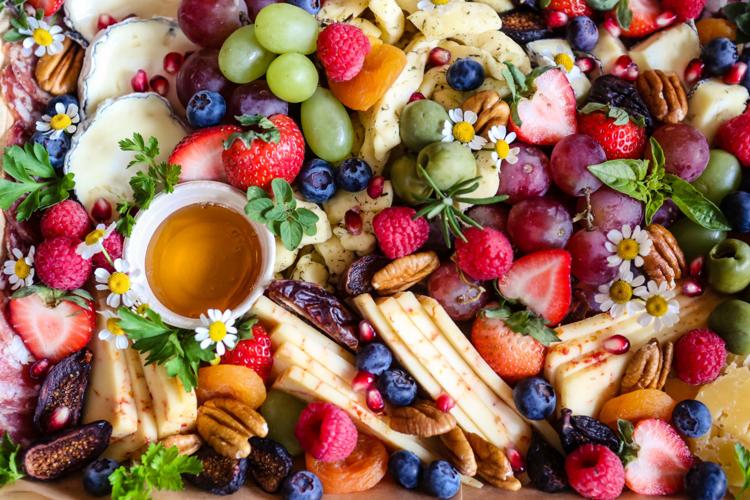 This growing trend – on top of the fact that Ryan had been fielding an escalating number of requests for smaller pick-up and drop-off orders at The Social Affair, a boutique caterer in St. Louis' Shaw neighborhood where she serves as director of operations – led Ryan to believe she was onto something. "Business has been so booming at The Social Affair with big weddings and galas that I wanted to provide a product for the folks that just need a quick, pretty option for the cocktail party that just popped up on their schedule at the end of the week," she says.
Lorraine Gourmet Grazing Boards' options include a cheese and cured meats grazing board, a crudité and dip grazing board, and a fresh fruit grazing board. The cheese and cured meats grazing board is an elegant display of artisanal cheeses, cured meats, Missouri pecans and honey, fruit, jam, olives and assorted crackers; the crudité and dip grazing board features colorful, crisp fresh veggies – think peppers, cucumbers, carrots, radishes – accompanied by a velvety hummus topped with extra virgin olive oil, cracked pepper and chili flakes; and the fresh fruit board is packed with a kaleidoscope of colorful and juicy fruit.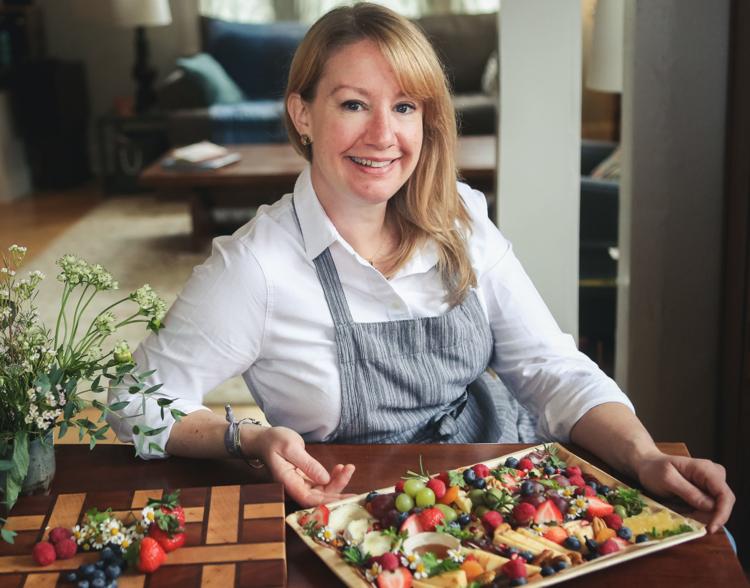 "I start with products I've heard about, tasted, seen that I know are amazing," Ryan says. "I've been in the food industry for a while, so you hear about all the local purveyors such as Fox River [Dairy], for example, where I get a lot of my cheeses from. They carry some really great creameries from the region.
"There is also Eat Here [Saint Louis]," Ryan adds. "They source local fruits and vegetables, meats, dairy, greens from Missouri and Illinois. … We do our best to source from and support businesses that practice sustainability, keep happy animals, use time-honored techniques and, of course, make the most delicious products."
Grazing board sizes range from personal (petite perfection) to large, which claims to feed 20 to 24 individuals as an appetizer-sized portion. There are also bundles available: The Little Get Together, which includes a small board with one of each of the three grazing boards, three bud vases with flowers and greenery, and two votive candles; The Trio, which includes one of each of the three medium-sized boards and an additional bud vase and candle; and The Soiree, a large board of each offering, six bud vases with flowers and greenery, and five votive candles.
"My ultimate goal is to offer sort of a cocktail party in a box," Ryan says. "I don't have a liquor license, but that is also a goal so that people can say, 'Add on a bottle of Champagne, add on a red wine or floral gin. And bring a bunch of flowers.' All these little things that make a party complete, delivered to your door. So that is sort of the ultimate goal, to make this a stylish, but also convenient, product."
However, if a client has grander gatherings in mind, Ryan's ready.
"I would really love to promote a fun, kind of over-the-top
cheese experience that would be more geared toward weddings, galas, corporate events, where it is more of an interactive experience," Ryan says. "An overflowing, bountiful cheese display that has different cheeses from around the world – maybe fondue over here and grilled cheese over here and just a really fun cheese extravaganza. I know in the wedding scene, grazing tables are very popular. Just a beautiful spread with lots of colors, flowers. This would take that trend and turn it into spectacle."
Ryan requests at least 48 hours of notice when placing orders, (although the earlier, the better, as she books quickly), which allows this one-woman wonder enough time to procure all the ingredients from local purveyors – cheeses, charcuterie, edible flowers, etc. – and personally greet you with your goodies. That's right, hand-delivered to your door by Ryan herself.
"I have been thinking about it a long time," Ryan says. "The plan is to start small and [then] help [the business] grow. I opened about a month ago and have been getting lots of orders already. I am really excited. … It's just an awesome creative outlet, and I really enjoy doing it."
At the moment, Ryan's brain is brimming with new grazing board ideas for the future, including seasonal selections, salad soirees and more. "I am always thinking about it," Ryan says with a laugh.
Lorraine Gourmet Grazing Boards, lorrainestl.com