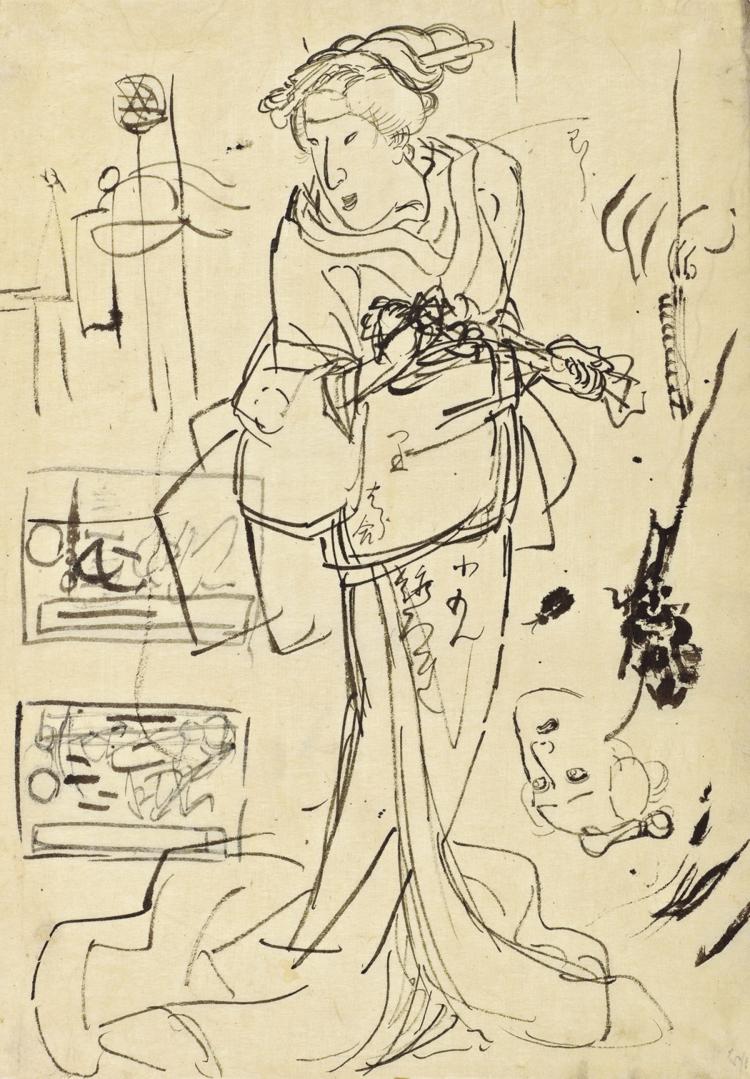 As suggested by two related exhibitions opening today at the Pulitzer Arts Foundation, art invites and often compels us to view the world in a new light, whether in Ladue – or in the Land of the Rising Sun.
"Living Proof: Drawing in 19th-Century Japan" and "Rough Cut: Independent Japanese Animation," the exhibitions in question, both run till March 3, with the former organized by Pulitzer associate curator Tamara H. Schenkenberg and independent curator Kit Brooks and the latter by Pulitzer assistant curator Stephanie Weissberg.
Schenkenberg's exhibition centers on 70-plus preliminary pen/brush works created for use or potential use in woodblock printmaking during Japan's Edo and Meiji periods (respectively, 1603 to 1868 and 1868 to 1912). Weissberg's focuses on a trio of brief pieces of animation – two 35-millimeter films transferred to video, as well as a third digital offering – created in 1929, 1961 and 2008.
Both exhibitions illuminate the ways in which creators in their respective media produced or produce art in Japan, with Schenkenberg and Weissberg helpfully distinguishing between them and similar artwork in the Western tradition.
"These works are not 'studies' in the conventional sense, wherein the artist records observations from life," says Schenkenberg of "Living Proof" (whose title puns on the technical art definition of proof, meaning, loosely, a preliminary woodcut or other print to ensure quality before a full run). "Rather, many of the works in the show mark interstitial points in the trajectory of the longer woodblock printing process. While some artists in Japan did draw from nature, in order to refine and advance their skills most artists trained by copying the works of a master artist in the studio or from a copybook, often for many years.
"It's also important to note that there's no simple term for drawing in Japanese; instead, a number of words describe the variant products of draftsmanship, based on both the work's intended function and the circumstances of its production."
Similarly, Weissberg differentiates between the three works in "Rough Cut" – by title, The Golden Flower by Noburō Ōfuji, Stamp Fantasy by Yoji Kuri and Daumenreise #6 Kyoto by Maya Yonosho – and the products of mainstream anime, Japanese animation ranging from the Americanized 1960s' Speed Racer to 1997's Princess Mononoke.
"These films are divergent from what many might commonly associate with anime," says Weissberg of her exhibition. "The exact definition of anime is contested among film scholars, but some would argue that the films included in 'Rough Cut' represent a separate lineage due to a number of factors, including the release date, format and distribution method.
"Despite their differences, the films share many of the same early roots as more commercially oriented animation in Japan, including the influence of manga, or Japanese comic books and graphic novels. The films on view in 'Rough Cut' offer a broadened perspective on Japanese animation, providing insight into how early independent Japanese animation and attention to the material histories of paper paved the way for later experimental films."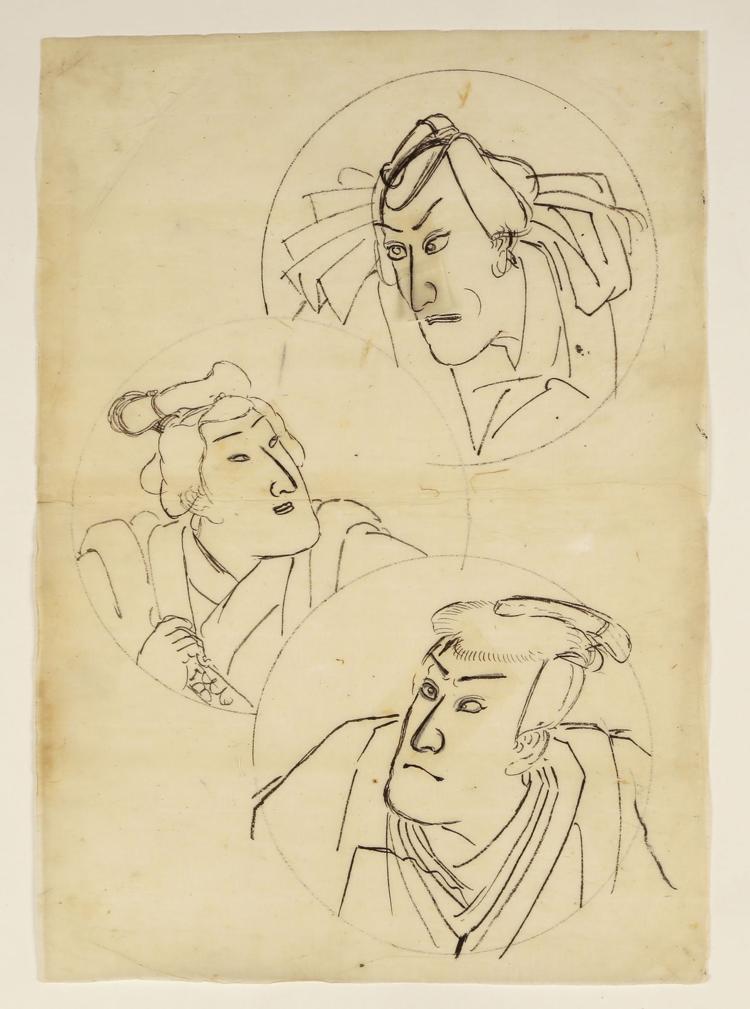 The two Pulitzer curators likewise provide enlightening commentary on the procedural backgrounds of their exhibitions, early and late, with Schenkenberg explaining the scarcity of prelims like those showcased in "Living Proof." The Pulitzer's brief on them states that such prelims frequently hit the circular file and that "surviving examples have seldom been collected, studied or exhibited"; that brief also positions "Living Proof" as "the first U.S. exhibition in three decades to explore work of this kind."
Schenkenberg adds: "Many of the works were destroyed as a necessary part of the printing process – a carver pasted the drawing onto a woodblock, dampened the paper to roll the top layer of fibers away and reveal the lines, and then carved into the woodblock through the paper. Other works may have been discarded as unimportant because they were viewed largely as archival rather than artistic material.
"The drawings that do survive to the present day were largely retained or salvaged by individuals that recognized their value as educational or artistic documents, including students, dealers and family members. It seems likely that some works were saved because students bound them into albums. Many of the drawings by Tsukioka Yoshitoshi, for instance, appear to have come from the same album. … Additionally, some drawings survived because the print series for which they were created were never realized."
Reflecting the comparative youth of the medium on display in "Rough Cut," Weissberg likewise sketches the milieu in which Stamp Fantasy and Daumenreise #6 Kyoto, at least, arose.
"Post-World War II, many of the production practices in Japan have mirrored those in the United States," she says. "Japanese animators began using celluloid in the postwar period at the same time the industry saw a rise in major animation studios that produced relatively high-budget, feature-length films. These films employed dozens of designers and artists who helped achieve the overall project, and this practice continues today with digital films."
Ironically, the subject matter common among the works in "Living Proof" sounds eerily similar to what might appear in much commercial anime today – or, for that matter, at the average U.S. cineplex. Beyond the natural environment and everyday happenings, Schenkenberg mentions "scenes from brothels and the Kabuki theater, in addition to supernatural beings, [and] historical and literary figures."
She also enlarges on the procedural background to Japanese printmaking of the two historic periods involved, further suggesting the rarity of the "Living Proof" works.
"The effort and time taken to create them varied by the artist or studio," Schenkenberg says. "Some artists in the Edo period produced as many as 40,000 designs, while others produced 10,000 or fewer. It also depended on if multiple people were involved in creating a single drawing – sometimes the master artist would produce a design and pass it to a senior pupil, who would fill in any details left blank."
Finally, she also partly explains the curious, if fortuitous, way in which some of the exhibition's art survived – itself suggestive of an intriguing cultural divergence between the U.S. and its Pacific ally.
"Some of these works were mounted in albums, which gives art historians insight into how they were viewed," Schenkenberg says. "Rather than public spaces such as museums, art in Japan was typically viewed in private spaces. The preservation of works in an album format supports this type of localized and occasion-specific viewing, as albums allow for more intimate interaction with the drawings."
Now, thanks to the Pulitzer, those works have, in an ironic way, traveled 180 degrees – from album viewing in Japan to museum viewing here.
Pulitzer Arts Foundation, 3716 Washington Blvd., St. Louis, 314-754-1850, pulitzerarts.org