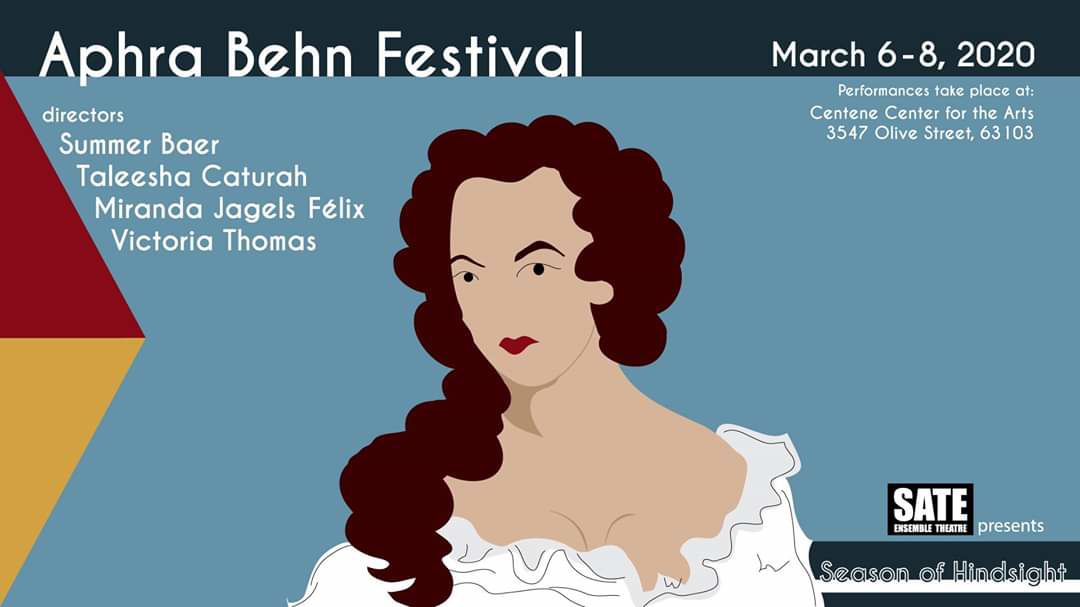 Story: SATE's fourth annual Aphra Behn Festival consisted of four short scenes, all taken from Behn's most popular play for more than three centuries, The Rover or The Banish'd Cavaliers. The story in two parts deals with the amorous adventures of a group of English men and Spanish women in Naples at Carnival time.
Four different directors guided ensemble players through an edited version of the plot's myriad machinations, with the same roles being played by men or women depending upon the specific vignette.
Highlights: A packed house on Sunday evening voiced its approval for the clever ways in which the quartet of directors and their casts interpreted several scenes from Behn's most famous work.
Other Info: For its fourth annual Aphra Behn Festival, SATE took a different approach. Rather than offer several new, short works by local female playwrights, this edition focused on the most legendary effort by the namesake herself.
Behn, who lived from 1640 to 1689, is widely considered to be the first woman who made her living by writing. Born in London, she was a poet, playwright, translator and writer of fiction during England's Restoration era. A possible spy at one point as well, she was quoted as stating that she had led a life "dedicated to pleasure and poetry."
The pursuit of physical pleasure, told in flowery couplets, is at the heart of The Rover, her best-known work. In SATE's fourth annual Aphra Behn Festival, five scenes from four acts played out in edited fashion on the stage.
An especially clever touch was the finale, directed by Summer Baer, which featured Nicole Angeli as Willmore, John Wolbers as Angelica and Rachel Tibbetts as Hellena. Those three performers constituted the cast of SATE's 2015 presentation of Or, a play by Liz Duffy Adams about one frantic night in the life of Behn, just freed from debtors' prison, with King Charles II, actress Nell Gwynne and double-agent William Scott.
Maggie Wininger's free-spirited performance as Willmore in the third piece, directed by Miranda Jagels Felix, was the highlight of the show, but far from the only noteworthy performance.
The opening skit, brightly directed by Victoria Thomas, set the stage with winning portrayals by Courtney Bailey Parker as the sought-after Florinda, Hannah Ryan as convent-bound Hellena, Vicky Chen as their cousin Valeria and Joel Moses as Don Pedro, their controlling brother who insists that Florinda marry the elderly Don Vincentio for financial reasons.
The second vignette, directed by Taleesha Caturah, had Laurell Stevenson in the role of Florinda, Alicen Moser as Hellena and Nia Moses as Valeria. They were joined on stage by Anthony Wininger as Frederick, Joe Hanrahan as Blunt and Oliver Bacus as Belvile, Englishmen out on the town.
Belvile is bummed because Don Pedro has forbidden him to marry his true love Florinda. The trio is then joined by their pal Willmore, portrayed by Chuck Winning, who flirts with sundry lasses during the evening. Frederick then reveals to his friends his affinity for Angellica (portrayed by Lilian Claire Dodenhoff), a courtesan and former mistress of a Spanish general.
In the third scene, directed by Miranda Jagels Felix, Hannah Grimm assumed the role of Hellena, Lex Ronan portrayed Florinda and Halli Pattison played Valeria. Maggie Wininger was Willmore, Kelly Howe played Belvile, Claire Gunn was Blunt, Alyssa Ward essayed the role of Frederick and Michael Pierce in drag amusingly portrayed the cunning Angelica.
Each of the vignettes moved at a quick and cheery pace, capturing the spirit and wit of Behn's original work under the guidance of each of the directors. The varied sound design, which ranged from 1920s jazz to Greek folk music depending upon the particular scene, was delightfully cobbled together by the directors and SATE co-producer Ellie Schwetye.
Liz Henning's fanciful costume design moved freely between eras in her selection of wardrobes for the sundry skits and Baylee Spear provided lighting for the utilitarian set. Rachel Tibbetts added a number of props which enhanced the stories being told.
The creative staff and cast involved in SATE's innovative production of The Rover performed with considerable zest and a smart realization of Behn's unique talents. All of that made SATE's fourth annual Aphra Behn Festival appealing in its ambition, derring-do and accomplishment.
Play: Fourth Annual Aphra Behn Festival
Company: SATE Ensemble Theatre
Venue: Centene Center for the Arts, 4th Floor Ballroom, 3547 Olive Street
Dates: Run concluded
Be the first to know
Get local news delivered to your inbox!