Over the course of a five-week series, LN is profiling the 10 artists recently announced as the RAC 2015 Artist Fellowships, who each received $20,000 to further his or her work. These are the third and fourth profiles. Check out the others here.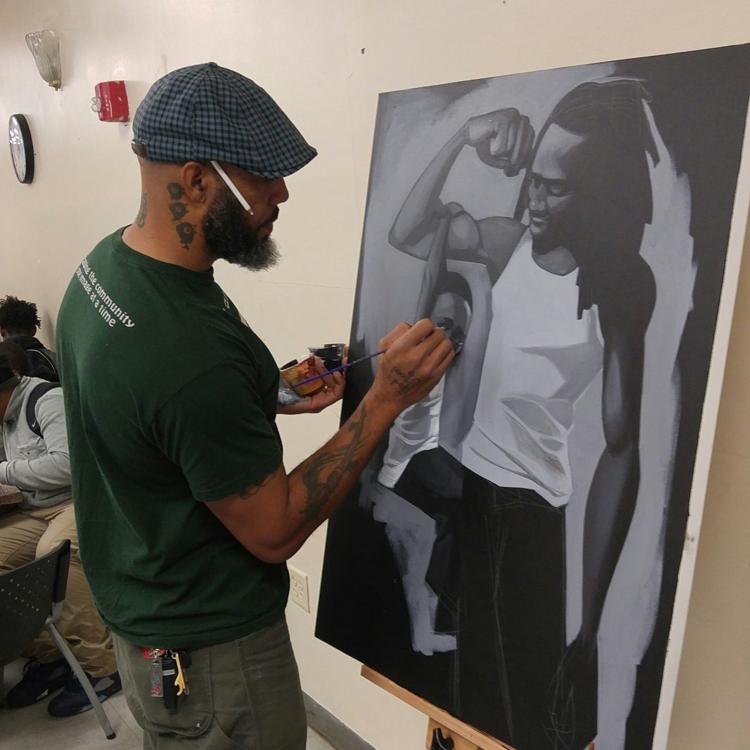 Cbabi Bayoc
Proudly characterizing himself on his website as "a husband, (a) father and then a painter," Cbabi Bayoc (né Clifford Miskell) there explains the acronymic nature of both his given name and his surname.
"Cbabi stands for Creative Black Artist Battling Ignorance," the website states, "and Bayoc…stands for Blessed African Youth of Creativity."
During the past few years, much if not all of Bayoc's artistry has focused on an ambitious painting project titled "365 Days With Dad." Also, almost necessarily, certain of Bayoc's works exhibit sociopolitical overtones.
On Twitter in mid-November, for instance, he transmitted the image of a slumbering African-American newborn, cradled in a dark-skinned adult hand. With it, in a loose reference to imprisonment statistics for adult African-American males, Bayoc tweeted, "Would these babies be so loved if we knew they were the 1 of the 3 destined for prison?"
For his "365 Days" project, Bayoc has sought to spotlight positive imagery of African-American fatherhood in a minimum of a painting a day, starting with "Happy Birthday" on Jan. 1, 2012. That painting shows a man kissing one cheek of a sleeping, swaddled infant.
"Time for a revolution, y'all," notes a caption to the image on Bayoc's website. "Time for fatherhood."
Like most of the works showcased on his website, "Happy Birthday," in its superimposition of geometric if not quite Cubist forms on human anatomy and an often-restrained but powerful palette, recall the art of everyone from Italian giant Amedeo Modigliani – his sculpture, admittedly, more so than his painting – to the early visuals of Caldecott Medalists Leo and Diane Dillon.
Given the breadth of the project, the paintings for "365 Days" – which were inspired partly by Bayoc himself, partly by social-media contacts and photographic reference – took more than 365 days to produce, rolling implacably into 2014.
Moreover, Bayoc's website suggests that "365 Days" never may conclude. Following the 365th painting – "Just the Beginning," depicting a man's hands holding a sleeping neonate – appears a 366th painting, titled "Long Time Coming," for which the woman who commissioned the glowing, puissant image of a father hugging his grown daughter patiently waited a year for its completion.
Aside from his "365 Days" project, certain other works display a delightful wit. Take "E Is for Elephant," for example: Bordering on nonrepresentational art, it enlists a number of distortions of the fifth letter of the alphabet to playfully depict a pachyderm – bulk, trunk, tusk, sleepy-looking eye.
"I truly feel like I'm doing divine work that is changing lives," Bayoc mused in a late-April post to his website. "I'm excited about what God has in store for these hands (God's Tools) to produce and share with the world."
His RAC fellowship, in all likelihood, will allow Bayoc to continue sharing that divine work.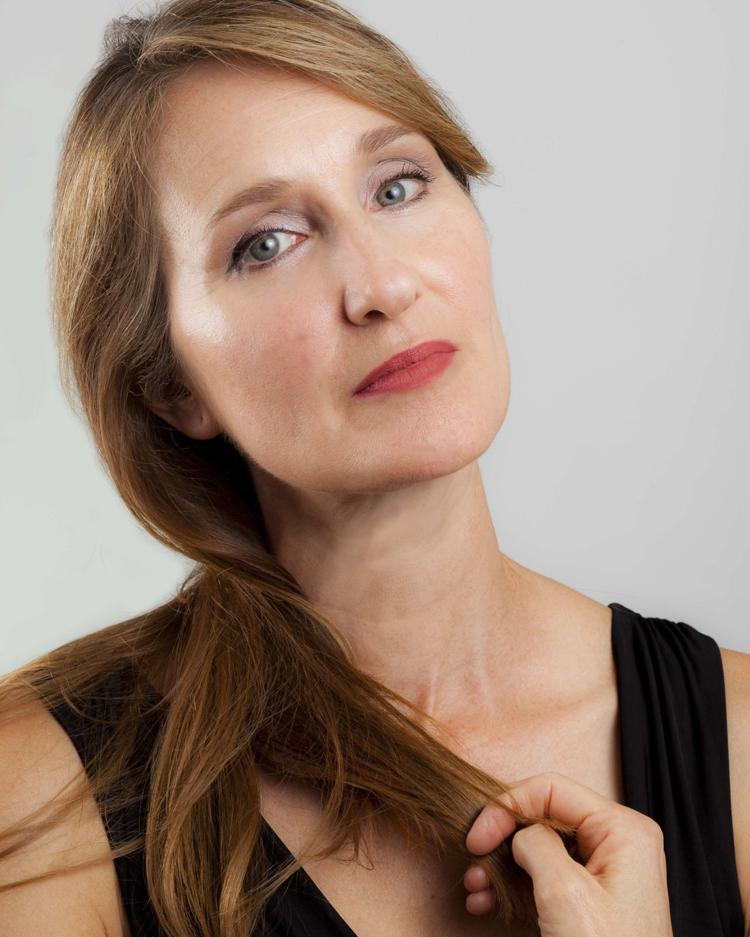 Dawn Karlovsky
"I have always been the kind of person who needed to move."
That declaration, so unassuming in its simplicity, assumes a level of inordinate complexity when one reflects on the woman who made it: Dawn Karlovsky, founder and artistic director of Karlovsky & Company Dance.
"As a child, I spent hours every day rolling on and off of furniture, climbing trees and doing cartwheels – basically always exploring my space."
Karlovsky's worried mother enrolled her in dance classes to channel her shy daughter's physical vivacity, an experience, then and now alike, Karlovsky found to be empowering.
"Movement was my main vehicle for expression and for abstract thinking," she reflects. "It is through movement, through this nonverbal form of communication, that I make sense of the world, of our society, of our history, of family and of our human behavior."
Subsequent to that youthful experience, while studying dance and performing in Chicago in her early 20s, Karlovsky enjoyed a vocational epiphany. "I immediately fell in love with performing, loved being a part of the dance environment and knew that this was what I had to do in life," she says.
Calling dance "a universal language," Karlovsky notes that her work engages two things increasingly rare in this app-driven, virtual world: life experience and human interaction.
"I am interested in making dances that illuminate the relationships and experiences that reveal our humanity and that, as I experience it, are an honest expression of the self," she says.
Through dance, Karlovsky adds, "stories can be told, ideas can be articulated, feelings can be expressed and communities can continue to be enriched and enlivened.
"I dance and create dance to connect with others and to hopefully provide an experience that inspires, heals, awakens or brings joy to other individuals."
That wish for connectivity explains Karlovsky's ongoing integration of other art forms and nondance artists into her own work.
"Working with other artists is an educational experience!" she exclaims, adding that doing so allows her to better understand the dynamism of personal expression and the differences in artists' creative processes.
"Collaboration requires communication, an exchange of ideas that can encourage creative thinking and problem solving toward the choices we make together to create new work," she says. "Many of my solo works are performed with original music composition and live accompaniment. In this way, our performance together is very much alive, interactive and reactive, requiring a strong presence and awareness of each other and of the space we inhabit in this performance of live art."
With the funds from her fellowship, for which she expresses gratitude to the RAC "for investing their time and research to understanding the needs of artists and for providing the support for artists to do what they do best – create art," Karlovsky already has formulated both near-term and long-term plans.
In the near term, she intends to attend movement workshops in New York this summer and other choreographic events.
"For a longer-term plan, I am interested in researching dance on a larger scale through international study, collaboration and performance," she says. "Such experiences will nourish my imagination and develop my movement language that relates to a more global realm of dance." And, of course, cultivate her love and need to move.
To learn about the other eight RAC 2015 Artist Fellowships, visit racstl.org/2015-artist-fellowships-announced.