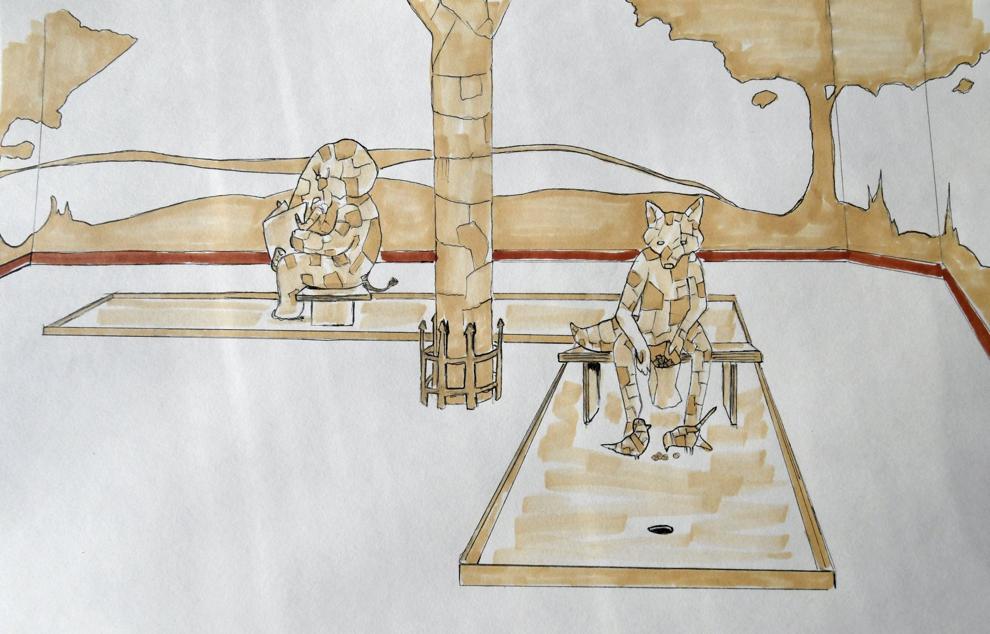 As Ladue's Bellerive Country Club readies to host the PGA's centennial championship in August, even The Sheldon Concert Hall & Art Galleries is seemingly sharing the areawide excitement with a gloriously gonzo exhibition debuting next Friday.
"Golf the Galleries – Artist-Designed Mini Golf," a delicious conceit running from June 1 to Aug. 12, involves all five galleries of that landmark in St. Louis' Covenant Blu-Grand Center neighborhood. In the free exhibition, individual artists or organizations envision the fanciful and sometimes fiendish holes of a front nine worthy of 20th-century Spanish nonesuch Salvador Dalí.
Following a public for-viewing-only reception from 5 to 7 p.m. on the exhibition's opening date, the overarching whimsy of "Golf the Galleries" manifests in its playability on a first-come, first-served basis, starting June 3. (Tee times vary, as do ticketed green fees, payable in person during regular gallery hours.)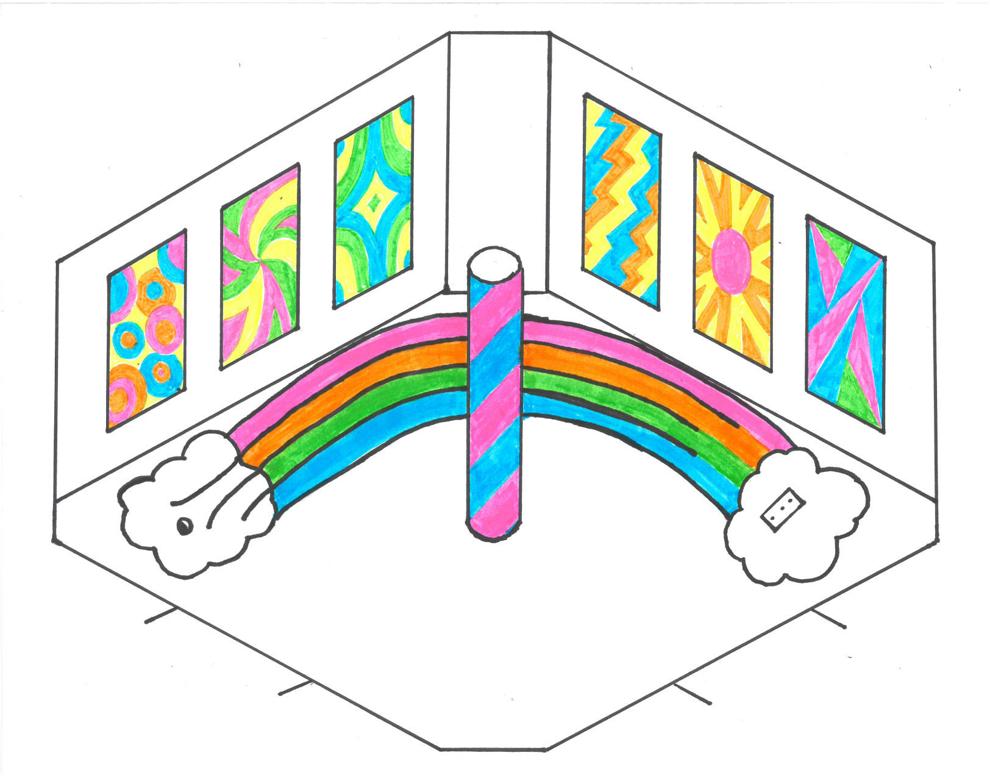 Olivia Lahs-Gonzales, the galleries' director, explains the exhibition's tandem inspiration from her own awareness "of other such ventures at the Walker Art Center in Minneapolis, the Indianapolis Museum of Art and one at FIGMENT NYC [on Governors Island in New York Harbor], as well as a board member suggestion that came out of a recent strategic planning session."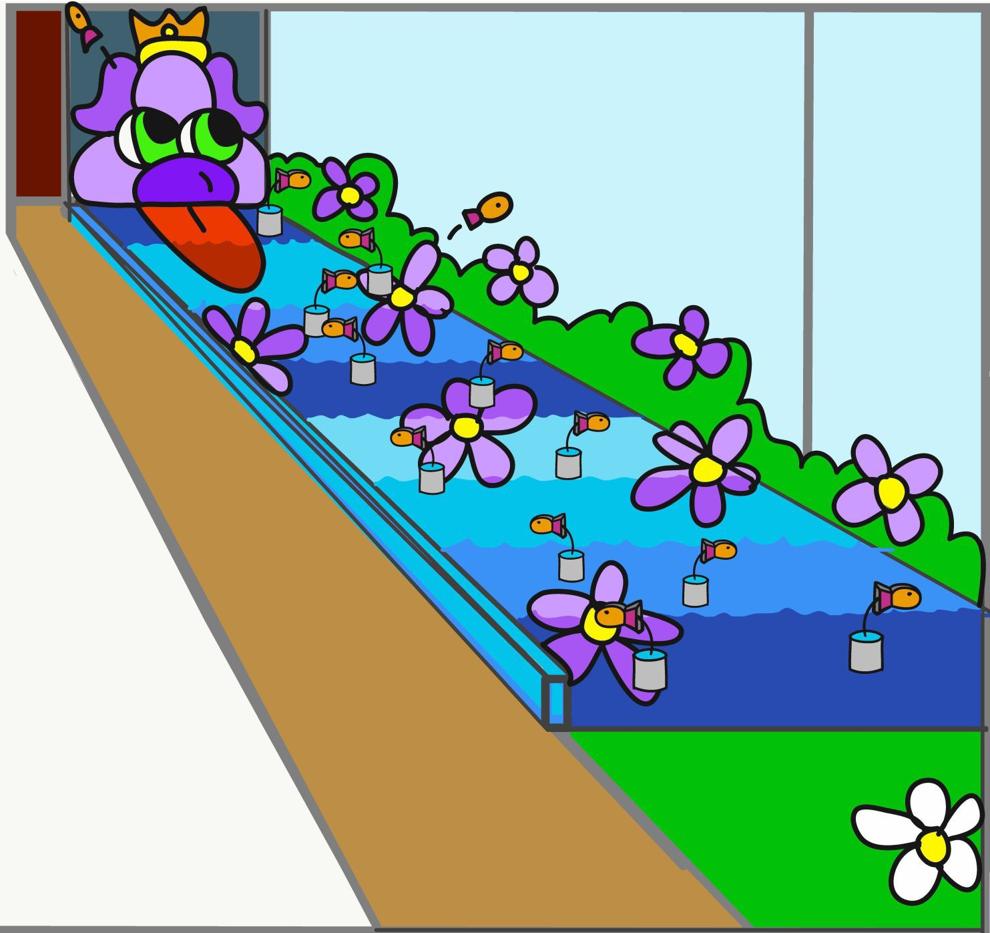 Including research and planning, realizing "Golf the Galleries" has taken "well over a year," she continues, actively beginning with an open call for proposals from September to January.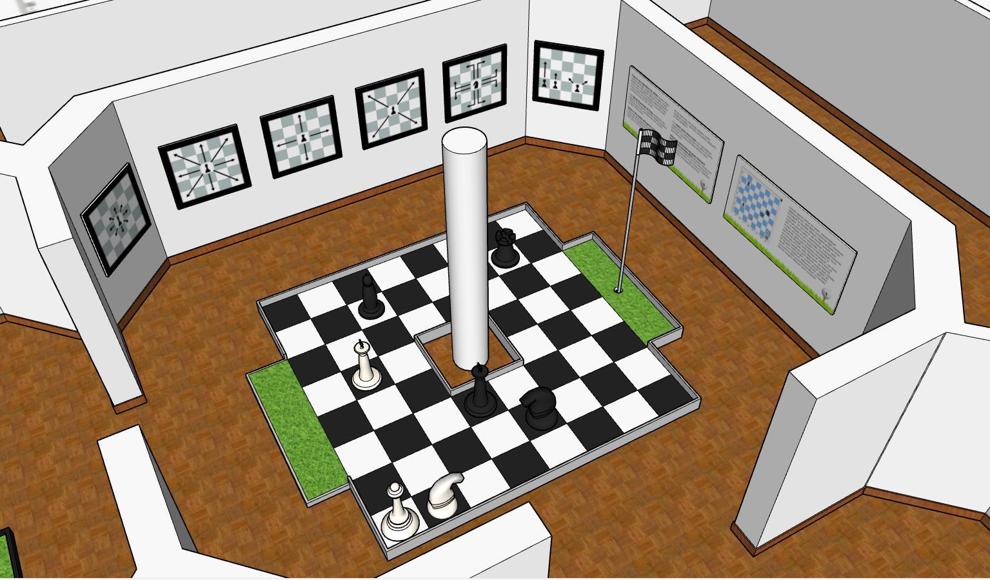 "In addition, we reached out to architecture and design firms, museums, schools, university art and architecture programs and other art and architecture organizations to help us spread the word," Lahs-Gonzales says. "Each winning design received a $1,000 materials stipend and a $500 honorarium this year.
"There will also be a public contest over the summer to determine a winning hole. The winning hole, chosen by members of the public who play the course or visit the galleries, will receive $1,000."
"Golf the Galleries" includes everything from a bit of topological trickery reminiscent of the works of M.C. Escher, the 20th-century Dutch master of perceptual depravity, through a lie that under other circumstances could have graced Ringworld, Larry Niven's much-lauded 1970 science fiction novel, to a salute to two classic children's books visualized by Sir John Tenniel, the great 19th-century English illustrator, graphic humorist and political cartoonist.
The titles and creators of the exhibition's individual holes follow: Hole 1, Warped Tour by Andy VanMater of CannonDesign; Hole 2, Distortion by Arcturis; Hole 3, Mate in Four by the World Chess Hall of Fame; Hole 4, Alice by Natalie Pinson; Hole 5, Over the Moonbow by Gray for Scale (Ashley Kaempf and Chris Goodin); Hole 6, Serengeti Park by Justin King; Hole 7, The Gateway Green – A Hole-in-One for STL by Switch; Hole 8, There's a Hole in the Anthropocene by B.J. Vogt; and Hole 9, Swimming With the Fishes by Charles Houska.
Also, running concurrent with "Golf the Galleries" are two smaller second-floor exhibitions: "Mini Golf: Photographs," photos of mini and "adventure" golf sites in the U.K. by British photographer Simon Martin, and "Mini-Mini Golf Holes," shoebox-sized miniatures by fifth-grade math students from The Wilson School in Clayton.
When asked to cite which of the nine holes in "Golf the Galleries" most intrigues her as an art aficionado, Lahs-Gonzales pauses thoughtfully. "Each has unique features that will be enjoyed by all," she says. "There are several 'immersive' experiences, including Natalie Pinson's Alice hole, based on [Lewis Carroll's] Alice's Adventures in Wonderland, and Justin King's Serengeti Park hole, with a group of really cool large, cardboard animals. Gray for Scale's black-light hole, called Over the Moonbow, is sure to please and make players glow; B.J. Vogt's There's a Hole in the Anthropocene is probably the only one with an art/social message, as it speaks about our influence on the environment with a volcano that spews packing peanuts; and Charlie Houska's Swimming With the Fishes is superfun and colorful, as his work always is!"
Otherwise, Lahs-Gonzales contemplates a similar question from the perspective of a golfing enthusiast mulling the holes' challenges. "They are all challenging in their own way, but the architecture and design firms Arcturis, CannonDesign and Switch all have holes that employ interesting architectural and design strategies," she says.
"Arcturis uses mirrors to fool the player, CannonDesign's is a beautiful honeycomb structure that can go easy or difficult, depending on what side your ball goes on, and Switch lets you be a giant downtown, playing through the Arch. And of course, the chess museum's hole is all about strategy as well as education, as it pits the elements of the 'mate in four' chess problem – getting checkmate in four moves – against the golfer, who has to navigate around the pieces of the problem to get to the holes."
In short, for everyone from duffers to pros, from its first tee to its last putt, "Golf the Galleries" at The Sheldon may well constitute an artistic ace.
The Sheldon Concert Hall & Art Galleries, 3648 Washington Blvd., St. Louis, 314-533-9900, thesheldon.org