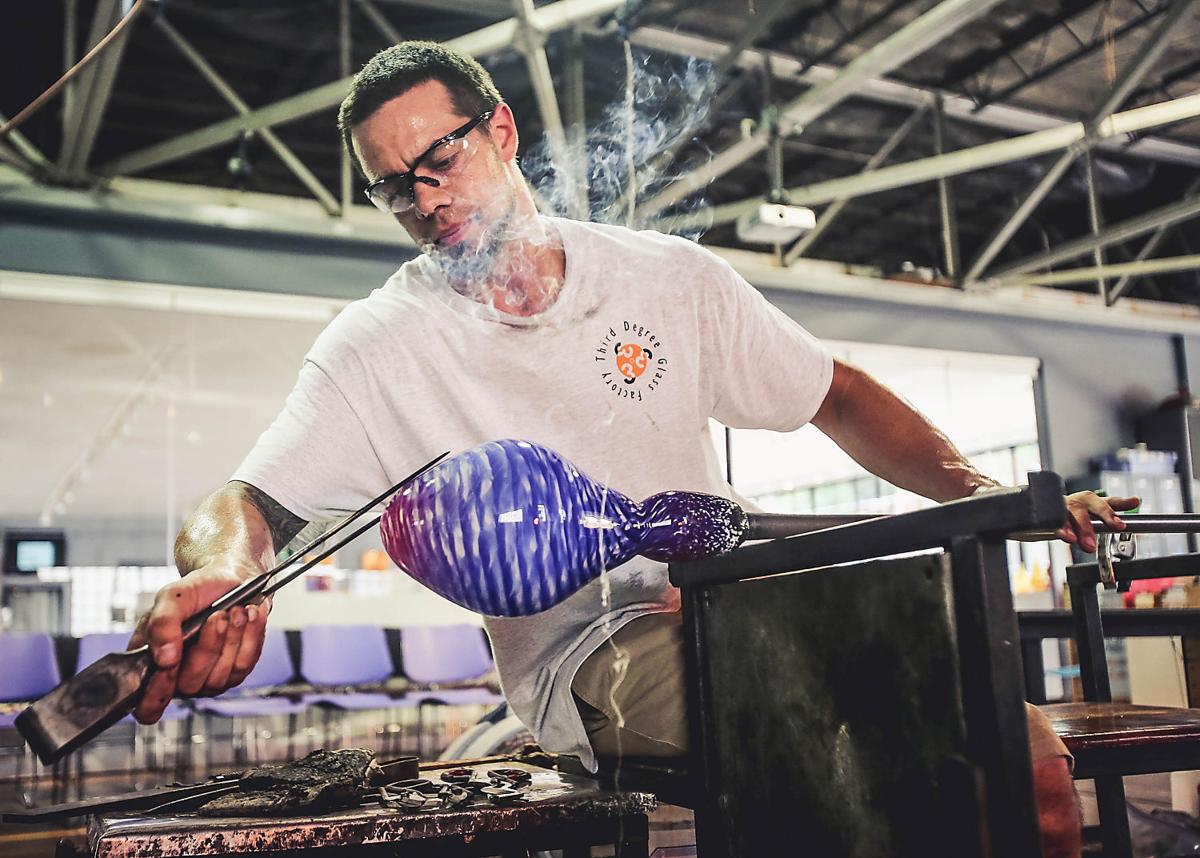 Sparks fly as Dan Alexander twirls a rod with caramel-colored glass on its end, the molten material elongating into the shape of an amphora vase before onlookers' eyes.
The glassblowing demonstration led by the new Hotshop director is just one of the many ways guests can experience the captivating art of glassmaking at Third Degree Glass Factory. "Our motive is to amaze," Alexander says. "We're educating and entertaining the public with the history and creation of glass art – whether they are creating it, buying it or experiencing an event here."
Celebrating its 13th anniversary this month, Third Degree, with its exposed brick walls, polished cement floors and multi-colored glass art hanging from the ceiling, continues to heat up, offering three distinct experiences – classes, events and exhibits – and three unique studios – featuring glassblowing, flameworking and kilnworking. 
The public access artisan glass education and entertainment center was co-founded by St. Louis natives Doug Auer and Jim McKelvey. Auer, a former adjunct instructor who taught glassblowing classes at Washington University, and McKelvey, co-founder of Square, a credit card processor for mobile devices, met when McKelvey gave a glassblowing demonstration during one of Auer's classes.
Despite already having successful careers, the duo had a burning desire to make glasswork their full-time jobs. Their dream became a reality when McKelvey handed Auer the keys to a warehouse at 5200 Delmar Blvd. and a checkbook to fund its transformation into a glass factory. Auer, who has an industrial design degree from Southern Illinois University-Carbondale, along with three of his Washington University students, completed the renovation, including building the kilns and furnaces needed to spark the venture.
The plan was to teach classes in order to fund the glass projects Auer and McKelvey wanted to create. The idea quickly caught fire, and Third Degree now draws 30,000 visitors annually. Auer handles Third Degree's day-to-day operations, and McKelvey periodically works on glass projects, including the spectacularly colorful and intriguing glass faucets that grace the countertops of Third Degree's restrooms.
Today, about 25 local artists teach classes and create their own glass artwork – from vases to vessels and jewelry to sculptures – to display and sell in Third Degree's gallery. Third Degree serves as a platform for the artists, as they rent studio space to create glass pieces in hopes of igniting professional careers in the art. Seventy-five percent of the sales go to the artists, Auer notes. 
Beginners to pros are welcomed into Third Degree to play with fire and transform glowing glass into works of art – from thematic experiential classes to multi-week sessions and private, one-on-one instruction. No experience is necessary, as teachers provide the proper instructions and tools, Auer says. "We don't think everyone is going to become a glass master. Our goal is for people to have an amazing experience."
This fall, visitors can make gleaming glass pumpkins. Other specialty classes include creating glass beads, tiles and paperweights. Companies also are invited to take a team-building class, where, for example, each employee can make a glass tile to be joined into a larger collaborative glass quilt. And this holiday season, attendees can create a glass ornament. Third Degree also will continue its annual tradition of offering its artists' signature series of ornaments. A limited selection of one-of-a-kind ornaments will be selected by a jury, and for the first time, be available for preorder prior to the holidays.
Alexander, who joined Third Degree in August, shares the history of glassmaking with attendees as he teaches them the art of glassblowing. The Cleveland native, who has his bachelor's degree in fine arts with a concentration in glass arts from Kent State University, has studied under some of the world's most respected glass artists, including Davide Salvadore in Murano, Italy, a notable locale in the history of glassmaking. Before coming to Third Degree, Alexander trained at the world's largest glass museum, the Corning Museum of Glass, in Corning, New York. Through the museum, he has led educational and entertaining glassblowing demonstrations for audiences on cruise ships that sailed throughout the world.
Today's glass art is made with many of the same tools and techniques used when the medium began 4,000 years ago in Mesopotamia, with the exception of using gas or electric furnaces rather than wood-burning furnaces, Alexander says.
During a 20-minute glassblowing demonstration, Alexander created a caramel-colored glass vase in the traditional Greek style of amphora, using tools made of steel, graphite and cherry wood, a 2,000-degree furnace, and a slightly cooler kiln. Alexander started by heating a rod in the kiln and dipping it into the furnace, constantly rotating the rod as he lowered it in and pulled it out of the molten glass. Next, he rolled the ball of molten glass into the desired color crystals, noting that different chemicals create different hues. Various tools, including large tweezer-like jacks, a cup-shaped block, and graphite paddles and rods, were used to shape the glass. As he went along, Alexander periodically blew into the rod's mouthpiece to inflate the vase to the desired size. Upon completion, the glass art went into a 950-degree oven that gradually decreases in temperature for 12 to 15 hours, allowing glass to slowly cool to prevent cracking or shattering. 
Visitors can experience glassblowing demos firsthand, along with hands-on activities, fire-spinning, live music and food truck fare, at Third Degree's Third Fridays, a free monthly open house from 6 to 10 p.m. Fiery festivities will also highlight Third Degree's Lucky 13 anniversary-themed Third Friday on Oct. 16. For more events at Third Degree, the East Gallery serves as an event space that can accommodate about 200 guests for celebrations, including wedding ceremonies and receptions. Rental space fees support the for-profit arts organization, which hosted more than 135 events last year – and aims to top that number in 2015.
Looking toward the future, Auer says the next step for Third Degree is to relocate Delmar Lee's, a Chinese restaurant, from its current location at the front of the warehouse to Third Degree's space across the street. The freed up 1,500-square-foot space will be used to expand the East Gallery, increasing its accommodation level to 300 guests for special events.
Thirteen years after its inception, it's safe to say that Third Degree Glass Factory remains red-hot – and is only getting hotter.
314-367-4527, stlglass.com
Be the first to know
Get local news delivered to your inbox!