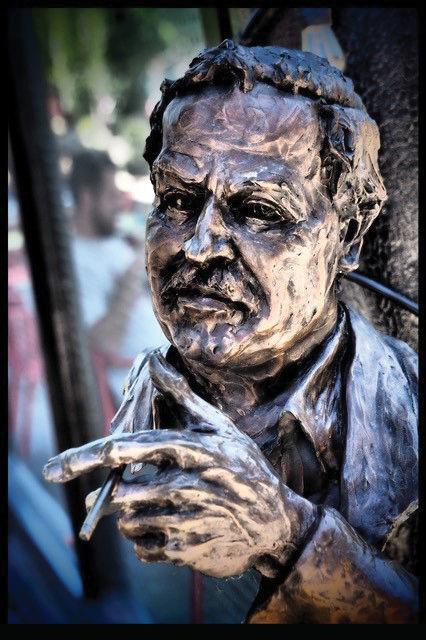 The 11-day Tennessee Williams Festival St. Louis celebrates its fourth year starting Thu., May 9, with all but one of its components taking place in or starting from one space or another at The Grandel, the multiuse arts facility in St. Louis' Grand Center Arts District.
The festival – which salutes the native St. Louisan now buried in that city's Calvary Cemetery – was named the 2019 Arts Startup of the Year in January by the Arts and Education Council of Greater St. Louis. Three theatrical productions are spotlighted during the festival, two of them written by Williams and the third inspired by him:
• The Night of the Iguana, a three-act drama focused on faith and desire in Mexico that premiered on Broadway in 1961, stars Jim Butz, Lavonne Byers, Nisi Sturgis, Elizabeth Townsend and Harry Weber, under the direction of Tim Ocel.
• A Lovely Sunday for Creve Coeur – which premiered, after a fashion, in 1979 and reportedly inspired The Golden Girls, the 1985-92 NBC sitcom – stars Julie Layton, Ellie Schwetye, Kelley Weber and Maggie Wininger, under the direction of Kari Ely.
• Dear Mr. Williams, a one-man show inspired by Williams' life, premieres at the festival and stars its writer, nationally acclaimed actor Bryan Batt, under the direction of Michael Wilson. (Unlike all of the festival's other components, this performance takes place in the Curtain Call Lounge at The Fabulous Fox Theatre.)
The festival also includes a trio of one-hour morning discussion panels that involve both scholars and performers; a tribute to Williams in poetry, prose and song by festival artists; a guided bus tour of Williams landmarks in the area; and a pair of nonticketed but reservations-recommended jazz brunches on the festival's two Sundays.
In addition to serving as an adjunct professor of casting and acting at Webster University in Webster Groves, Carrie Houk founded the festival and serves as its artistic director. She briefly explains what led her and the other festival organizers to choose The Night of the Iguana as the marquee performance for 2019.
"When I first met the director, Tim Ocel, in 2017 to see if he would be interested in working with us, we quickly discovered that The Night of the Iguana is our mutually favorite Tennessee Williams play," she says. "We decided to go with A Streetcar Named Desire as our first outing [in 2018], a more familiar Williams play to continue to build a strong audience base.
"For our fourth festival, we thought the timing perfect for Iguana. The play could not be more timely, with our world in 2019 being on a similar precipice as it was in the 1940 of our play."
Batt, who portrayed Salvatore "Sal" Romano on the first three seasons of the much-lauded TV drama Mad Men, similarly explains what inspired his involvement in the festival with Dear Mr. Williams.
"As a native New Orleanian and an actor, I have pretty much always been aware of the indelible influence of Tennessee Williams on the American as well as the world stage," Batt says.
"Over the years, my love of his work grew and grew, but it wasn't until, by chance, I was given the opportunity to create a piece celebrating his work and its connection to New Orleans that I truly discovered how much of an impact he had on my life and on so many others. Whether we know it or not, at one point or another, we have all depended on the kindness of strangers."
Houk also reflects briefly on what facet of past festivals has most impressed her personally. "I think the fact that we have been embraced so strongly and received so much critical acclaim – seven St. Louis Theater Circle Awards for Streetcar, including best production of a play, and the Arts and Education Council best arts start-up – in such a short period of time has been a very pleasant surprise," she says.
"I love watching the audience watch our shows: utterly engaged, listening, the excitement at intermission to get back to see what happens next! When we brought the National Drama Company of Ghana to perform Ten Blocks on the Camino Real [in 2017], we performed outside in different neighborhoods in St. Louis. It was marvelous to see people, some of whom had never been exposed to theater, be completely enthralled with the work."
Houk similarly assesses how the festival has developed in its first four years. "The biggest challenge has been to impress upon the community the importance of creating this festival in the city where Tennessee Williams spent more time – 19 years – than any other city he lived in, his very formative years," she says. "His time in St. Louis influenced so much of his writing.
"I also want to ensure that younger generations know his work and appreciate the beauty of his language and the utter humanity in his writing. Reaching out to the whole of the St. Louis community is of utmost importance. This festival should become a permanent part of our cultural fiber, and I believe we are growing into that."
Finally, the festival's artistic director muses briefly on what its fifth year may hold. "Our hope is to continue to expand the May festival, but [also] to expand across the year," Houk says. "For our main stage at The Grandel, I'm looking at two very popular titles, but we hope to explore Williams' lesser-known work, as well. I'd also like to bring back the St. Louis rooming house plays [four short works that Williams set in rented rooms here – Hello From Bertha, In Our Profession, The Last of My Solid Gold Watches and The Pink Bedroom] in the Stockton House with four new works." The Tennessee Williams Festival St. Louis, in short, self-evidently strives and will continue to strive to provide area residents with stagecraft at its apex.
Tennessee Williams Festival St. Louis, 3224 Locust St., 2J, St. Louis, 314-517-5253, twstl.org