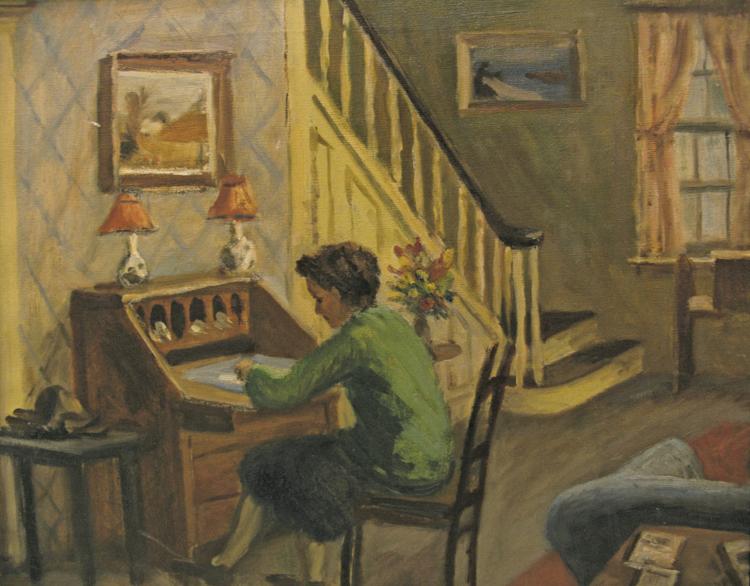 The sheer longevity of a former Ladue resident's painterly career – showcased in a free exhibition opening today, Dec. 6, at The Sheldon Concert Hall & Art Galleries – may pose two main problems, neither of them precisely problematic, for visual art aficionados.
"Wallace Herndon Smith: Portraits and Figurative Paintings," which will run till Jan. 25 in The Sheldon's Bellwether Gallery of St. Louis Artists, comprises 36 works, according to Paula Lincoln, the exhibition coordinator and registrar. Those works, Lincoln says, constitute oils in the main, with "a couple of watercolors," and range in size from 16 by 10 inches to 36 by 27 inches, dating from the 1930s through the 1970s.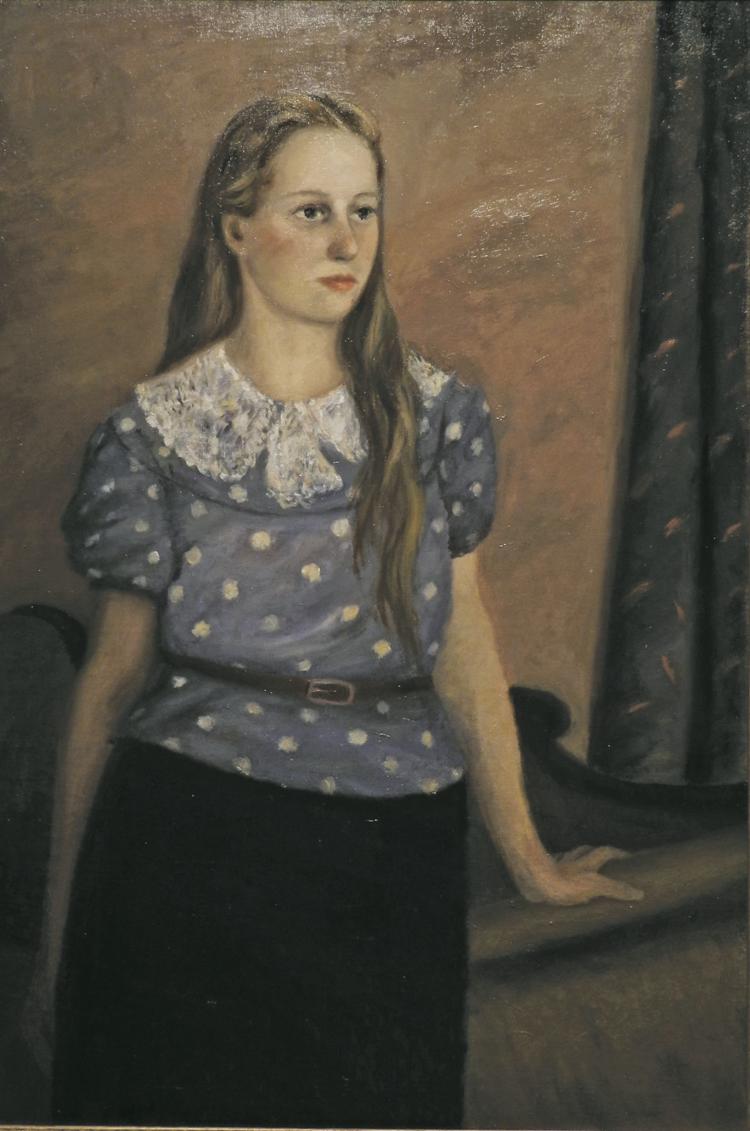 The paintings likewise range in appeal from the exquisite serenity of Seated Girl in Yellow Blouse, White Flowers, an oil on Masonite from 1971, to the homey atavism (in an era of smartphones and digital tablets) of Kelse at Her Desk, an oil on canvas from fully three decades earlier.
"We actually exhibit the work of Wallace Herndon Smith every year … ," Lincoln continues. "Last year's exhibit focused mainly on Smith's European landscapes, whereas this year we highlight his portraits and figurative work."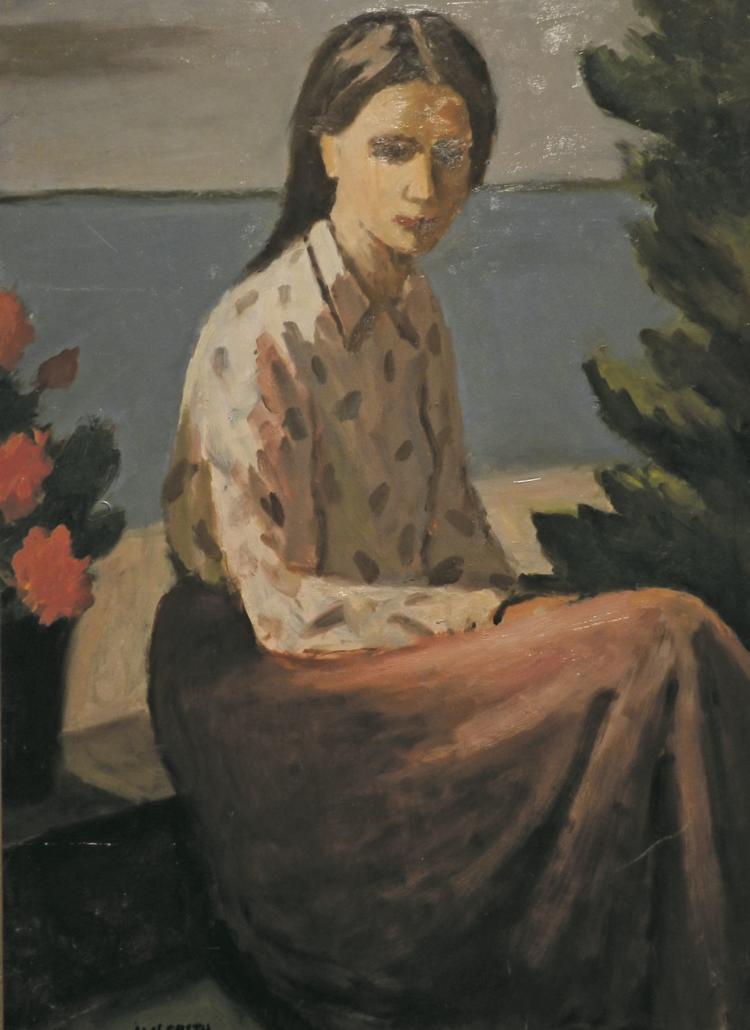 That said, the first of the two aforesaid "problems" involves Smith's sheer output. When he died at his home here in February 1990 at the age of 88, the St. Louis-born artist had been creating works with such prolificacy that he earned an obituary in The New York Times.
On his death, Smith's collection went to The Bellwether Foundation, from which the current exhibition derives and which he co-founded. According to its website, the Clayton-based charitable nonprofit seeks "to improve the quality of life for all people in St. Louis by supporting innovative programs that make a positive impact for present and future generations."
The second "problem" involves Smith's artistic context. In its obituary, the Times noted that Smith "spent 10 years in New York City before moving back to St. Louis" – perhaps a clue why journalism's Old Gray Lady deigned to recognize his passing – and, according to the discrete website devoted to him, "studied with Thomas Hart Benton, the preeminent regionalist teacher, at the Art Students League" there.
Here, of course, certain art aficionados may wince, either in spite of or because of the reference to über-Missouri painter Benton. To such aficionados, the categorization regionalist – shorthand for the Regionalist "movement," itself apparently shorthand for any artistic group that couldn't afford a "school" per se – may sound more than a little condescending, not to mention reductive, like the now largely discredited epithets-as-descriptions primitive and primitivist. (Grant Wood, also characterized as a Regionalist, may indeed have penned Revolt Against the City, but one can't help suspecting that, in retrospect, he might regret having brushed American Gothic, inasmuch as time's passage and narrowed perceptions have all but reduced his entire oeuvre to that single painting, a visual oil-on-beaverboard albatross.)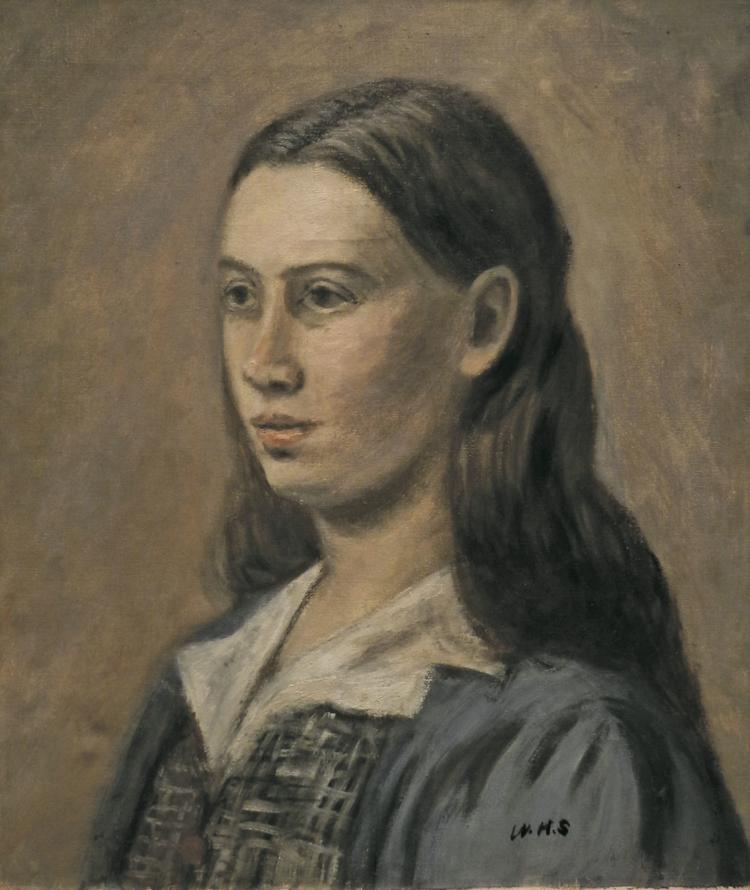 For a more valid comparison, one should perhaps turn to the French genius Henri Matisse, arguably Pablo Picasso's sole rival as the 20th century's preeminent visual artist. (Even the Spaniard himself grudgingly admitted such, late in life: "All things considered, there is only Matisse.")
The Sheldon's initial brief on the current exhibition mentioned "an affinity" for the Frenchman's work, and whether one leans toward Fauvism or Impressionism, that seems apt. In particular, Smith's later paintings likely have earned such a comparison, Lincoln says, "due to the application of paint – specifically, color blocks – where the forms are flattened and include less detail than his earlier work. Some of this stylistic shift can be attributed to Smith's failing eyesight in his later years, interestingly enough, much like Matisse, who had to alter his style – in his case, switching from painting to paper cutouts – to adapt to his health issues, as well."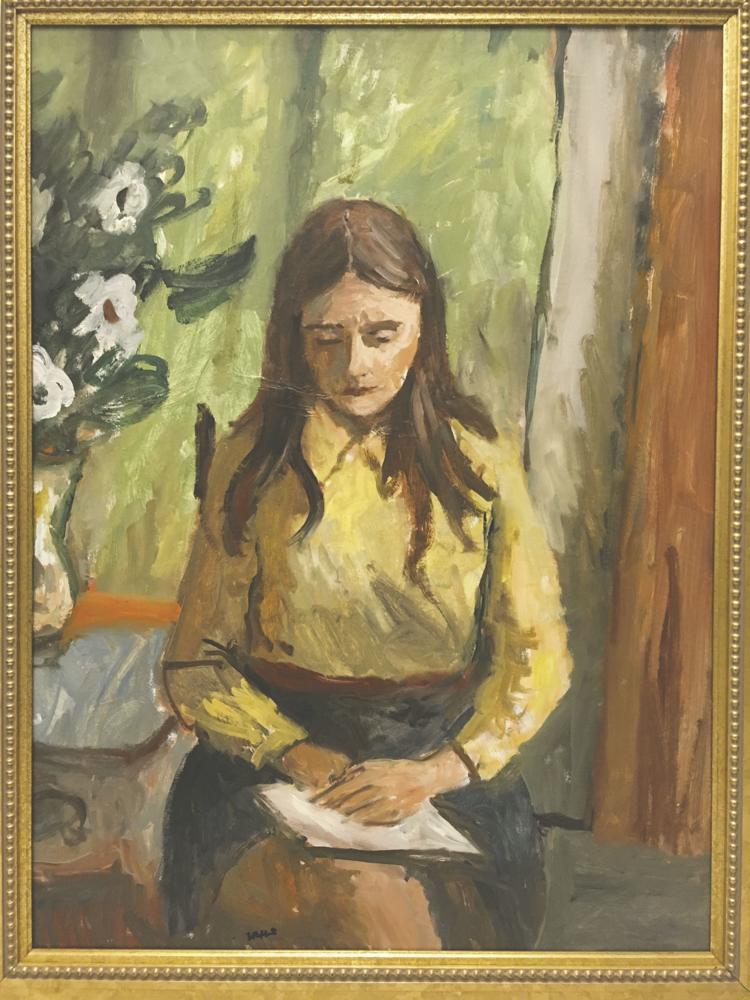 Seated Girl, mentioned previously, certainly bolsters that notion, as does the somber loveliness of Michigan Girl, an oil on board from 1973, and the beautifully studious Model Reading Paper, another oil on board, from two years earlier.
By comparison, Girl in Blue Blouse and Portrait of Girl in Blue Sweater – two oils on canvas from (respectively) 1948 and 1949 – strike the eye as almost overly rendered, if by no means unappealing. To an extent, following 1941's Kelse at Her Desk, they also suggest that the artist embraced and remained committed to visual experimentalism well into his maturity.
"His pictures themselves are like him in their lack of flourish," a Sheldon press release quotes a friend of Smith's as having written. "They are sensitive and economical, subtly subdued in color, restrained in their rejection of the stylized, and make no attempt at the dashing effect … "
That quotation continues by extolling Smith's works for their structure, atmosphere and persuasive tonality, concluding that "once observed, they shine like an open window." 
The Sheldon Concert Hall & Art Galleries, 3648 Washington Blvd., St. Louis, 314-533-9900, thesheldon.org
Be the first to know
Get local news delivered to your inbox!